Chicken liver pâté with pistachio nutty butter
Serves
6-8 as part of a picnic
|
total time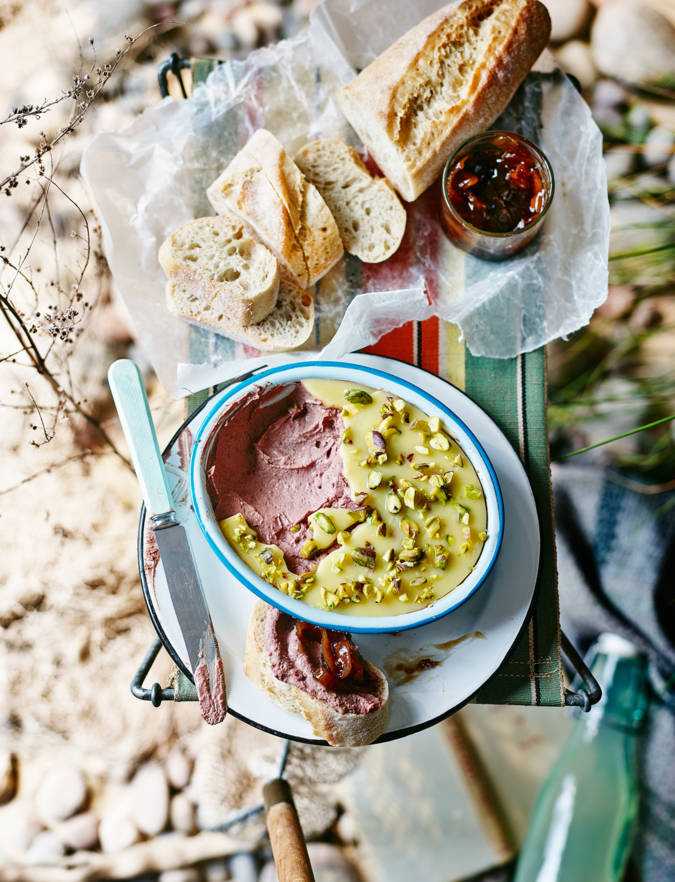 Nutritional information (per serving)
See more
Ingredients
175g unsalted butter

1 large shallot, finely chopped

3 sprigs thyme, leaves chopped, plus extra to garnish (optional)

1 x 400g pack fresh chicken livers, any connective tissue removed

150ml dry vermouth

50ml double cream

a pinch of ground mace or grated nutmeg

15g pistachio kernels, chopped

1 baguette caramelised onion chutney, to serve

8 tbsp caramelised onion chutney, to serve
Get ahead
The pâté will keep in the fridge for 3-4 days.
Melt 25g butter in a large frying pan and soften the shallot with the thyme leaves for 4-5 minutes. Increase the heat, add the chicken livers and stir-fry for 3-4 minutes until they have changed colour but are still slightly pink inside. Tip the contents of the pan into a food processor and whiz.
Pour the vermouth into the frying pan and boil rapidly until reduced to about 2 tablespoons and almost syrupy. Add 75g butter to the pan and let it melt. Scrape into the food processor along with the double cream, mace, a good pinch of salt and some freshly ground black pepper. Whiz until really smooth; adjust the seasoning to taste.
It's well worth passing the pâté through a sieve for an extra velvety texture; scrape with the back of a wooden spoon or a ladle to push it through the sieve into a serving dish or container. Level the top and chill in the fridge for 1 hour or until set.

Tip Instead of using muslin to strain the butter, try a new J-cloth. Or simply allow the solids to settle in the pan before pouring the clarified butter over the pâté, leaving the solids behind in the base of the pan.

Meanwhile, melt the remaining 75g butter in a saucepan, and heat until it starts to turn golden brown and smell nutty. Add a little seasoning then pass through a sieve lined with muslin (to remove any brown solids). Cool for 10 minutes before pouring over the pâté. Scatter with the pistachios plus extra thyme leaves, if using. Cover with clingfilm; return to the fridge to set.
Transport to the picnic, with an ice pack to keep the pâté cool, and serve with crusty baguettes or thin rye crisps, and caramelised onion chutney.