Salami crisps with baked ricotta dip
---
Prep time: 5 minutes
Total time: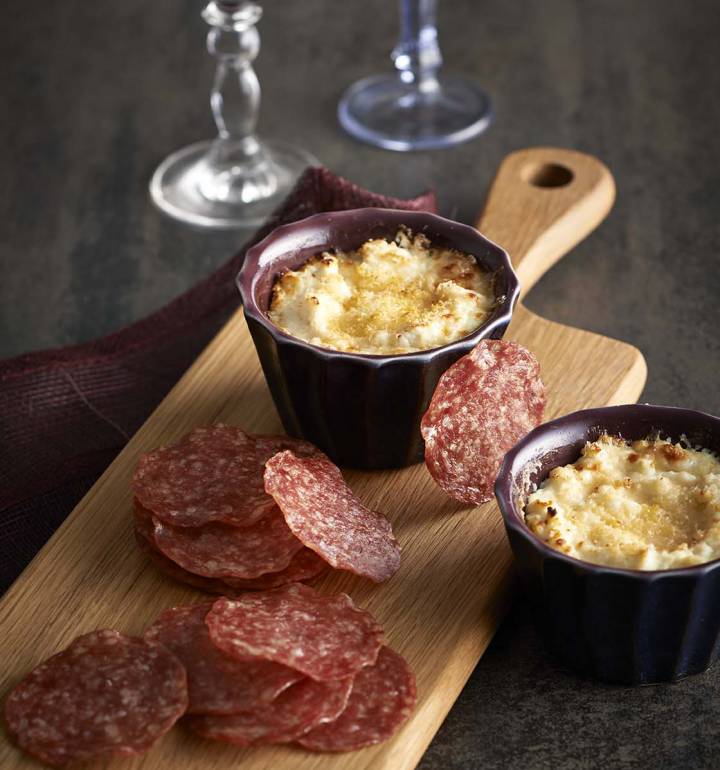 Salami crisps with baked ricotta dip
---
Prep time: 5 minutes
Total time:
---
See more recipes
Ingredients
16 Milano Salami Slices by Sainsbury's
For the ricotta dip
250g ricotta
60g grated Parmesan
1 garlic clove, minced
Step by step
Preheat the oven to 200C°C, fan 180°C, gas 6. Place the salami on a baking tray and bake in the oven for 3-5 minutes until they begin to crisp. Remove from the oven but leave it switched on. Drain the crisps on kitchen paper and leave to cool.
To make the dip, mix the ricotta together with most of the Parmesan and all of the garlic. Season to taste. Spoon into two small ovenproof ramekins and top with the remaining Parmesan. Bake in the oven for 20 minutes or until the top is golden brown.
Serve the cooled salami chips with the hot ricotta dip.
Don't miss

---