Twice-cooked goats' cheese soufflés with apple and walnut salad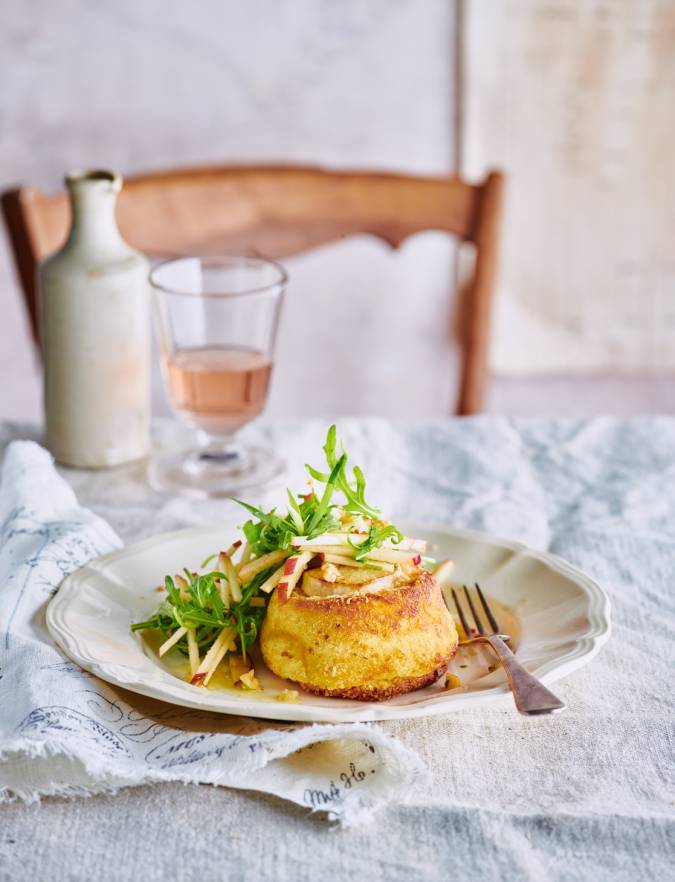 Nutritional information (per serving)
See more
Ingredients
2 tbsp extra-virgin olive oil

3 tbsp dried fine breadcrumbs

2 x 150g Chavroux La Bûche goats' cheese

60g butter

75g plain flour

1⁄2 tsp Dijon mustard

500ml whole milk

50g Parmesan, finely grated

4 large eggs, separated
For the salad
1 crisp apple, cored

30g toasted walnuts, chopped

50g rocket

2 tbsp walnut oil

1 tbsp cider vinegar

1 tsp chopped tarragon
Get ahead
Prepare to the end of step 5 up to 2 days ahead. Bring to room temperature 1 hour before continuing with the recipe.
Preheat the oven to 180°C, fan 160°C, gas 4. Lightly grease 8 x 175ml mini pudding basins with half of the olive oil and then dust the insides with breadcrumbs to coat. Put the dishes in a deep roasting tin. Remove all the rind from one of the goat's cheeses and crumble the cheese. Slice the other into 8 pieces, after removing the ends. Chill.
Melt the butter in a medium pan, add the flour and mustard, season with salt and pepper and stir with a wooden spoon over a low heat until the mixture comes together. Continue to cook, stirring for 1 minute.
Remove the pan from the heat and gradually whisk in the milk. Return to the heat and stir until it comes to the boil. Simmer gently for 2 minutes, stirring until the sauce is thickened. Cool for 5 minutes, then beat in the crumbled goat's cheese and 30g of the Parmesan until both have melted. Beat in the egg yolks, one at a time, and transfer the mixture to a large bowl.
Whisk the egg whites in a separate clean bowl until soft peaks form, then fold into the cheese mixture until evenly combined.
Divide it between the prepared basins, filling up to 1cm from the top. Pour boiling water into the roasting tin to come halfway up the sides of the basins and bake for 20-22 minutes, or until risen and lightly browned. Leave for 30 minutes or until the soufflés have cooled.
Run a palette knife around the edges of each soufflé and turn out into a baking dish. Scatter with the remaining Parmesan and top each with a slice of goat's cheese. Bake for 15-20 minutes or until they are golden.
Meanwhile, make the apple salad. Cut the apple into thin slices and then again into batons. Place in a bowl and add the walnuts and rocket. Whisk together the remaining olive oil, walnut oil, vinegar and tarragon and season with salt and pepper; use to dress the salad.
Transfer the soufflés to serving plates and arrange the salad around them. Serve at once.