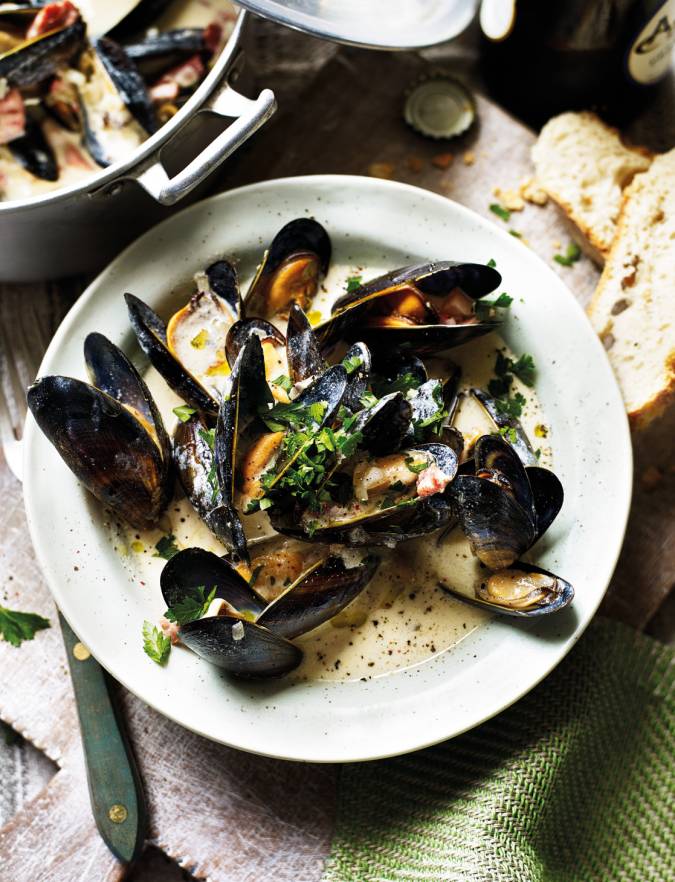 Nutritional information (per serving)
See more
Ingredients
1kg mussels (from the fish counter)

2 tsp olive oil

80g smoked bacon lardons

1 medium onion, finely chopped

1 garlic clove, crushed

125ml dry cider

4 tbsp crème fraîche or double cream

a handful of flat-leaf parsley, roughly chopped
Wash the mussels in plenty of cold running water and discard any that remain open when given a sharp tap. Remove any stringy 'beards' clinging to the shells, then drain in a colander.
Heat the olive oil in a large saucepan on a medium heat, add the bacon lardons and onion and fry, stirring regularly, until the onion has softened slightly and the lardons are starting to colour. Add the garlic and cook for another minute.
Turn up the heat and pour in the cider. Add the mussels and cover with a lid. Cook over a medium heat for 5 minutes or until all the mussels have opened (discard any that stay closed).
Stir in the crème fraîche or cream and parsley and season generously with freshly ground black pepper. Spoon the mussels and sauce into warm bowls and serve immediately with plenty of crusty bread for mopping up the sauce.