Reader recipe: Tomato, za'atar houmous and harissa tarts
---
Prep time: 30 mins
Total time: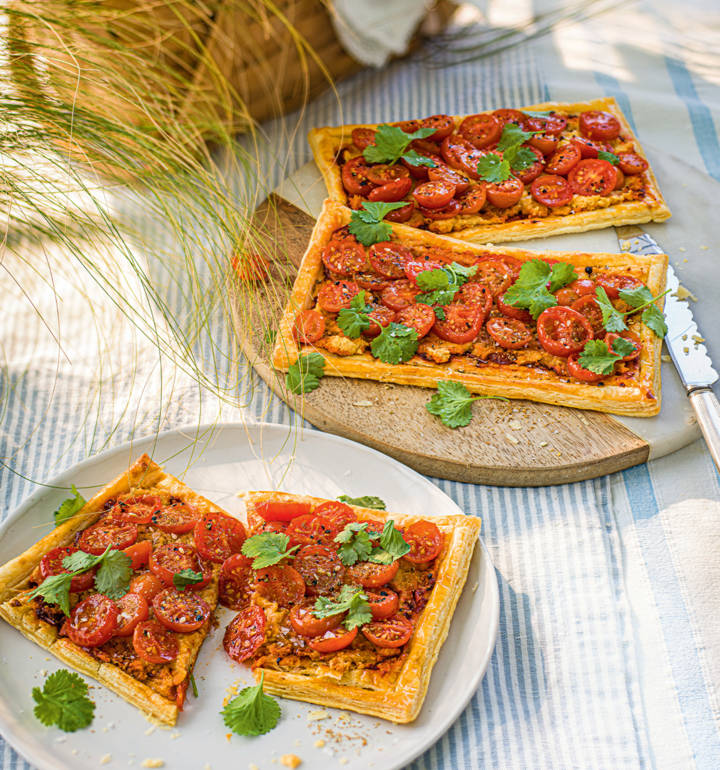 Recipe photograph by Ant Duncan
Reader recipe: Tomato, za'atar houmous and harissa tarts
Jasmine Doyle from Harrow entered our competition for an original picnic recipe using a sheet of puff pastry, and won with her simple-but-special Middle Eastern-influenced tomato tarts. 'It's my passion to embrace the seasons and I love combining classic dishes with a twist to suit the time of year. This is perfect to make ahead for summer picnics using seasonal tomatoes, on top of spiced houmous and a rose harissa base.'
---
Prep time: 30 mins
Total time:
---
See more recipes
---
Nutritional information (per serving)
---
Ingredients
1 x 375g sheet ready-rolled puff pastry (check your pastry is dairy-free, if required)
1 medium egg, beaten
1 x 400g tin chickpeas
3 garlic cloves, crushed
2 tbsp olive oil (preferably extra-virgin)
50g tahini, stirred
juice of 1 lemon
2 tsp za'atar, plus extra to serve
325g cherry tomatoes
4 tbsp rose harissa paste
sea salt flakes
small handful of coriander leaves (optional), to serve
Step by step
Best eaten on the day of baking but the tarts will keep in an airtight container in the fridge for 1-2 days.
Preheat the oven to 180°C, fan 160°C, gas 4.
Unroll the pastry and cut into four equal rectangles. Transfer to a large, lined baking tray (or use two trays if needed). Score a 1cm border around each pastry rectangle, prick the middles with a fork and lightly brush all over with beaten egg. Bake for 18-20 minutes until the pastry is crisp and golden.
Meanwhile, for the houmous, drain and rinse the chickpeas, reserving 2-3 tablespoons of the liquid. Put the chickpeas, garlic, olive oil, tahini, lemon juice and za'atar into a food processor and blitz until smooth, adding the reserved chickpea water to loosen. Season to taste.
Remove the pastry from the oven. Slice the tomatoes into thirds using a small, serrated knife. Carefully spread a thin, even layer of the harissa within the border of each pastry, then dollop and spread the houmous on top. Add the tomatoes and sprinkle with a pinch of sea salt flakes and extra za'atar.
Return the tarts to the oven for 20-25 minutes until the tomatoes are nicely roasted.
Let cool for a few minutes before serving warm, or enjoy at room temperature, topped with coriander if you like.
Don't miss

---