Vegetable pad Thai
Serves
4
|
prep
25 mins
|
total time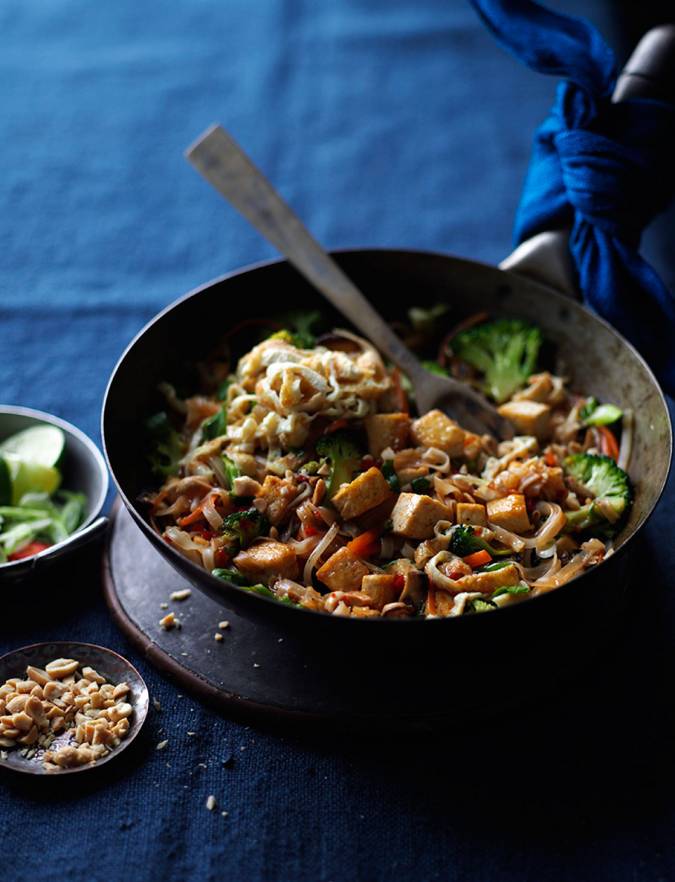 Nutritional information (per serving)
See more
Ingredients
4 tbsp vegetable oil

1 x 396g pack firm tofu, cut into small bite-sized cubes (we used Cauldron)

4 noodle nests from a 225g pack of Mama Instant Rice Noodles

1/2 tsp dried red chilli flakes, or more to taste

120g shiitake mushrooms, thinly sliced

1 small head broccoli florets (about 200g), very thinly sliced lengthways

1 carrot, cut into thin matchsticks

50g fresh beansprouts, rinsed

4 spring onions, thinly sliced on the diagonal

4 tbsp roasted salted peanuts, roughly chopped

a small handful of chopped coriander

a small handful of chopped mint leaves

lime wedges to serve

spring onion and red chilli slivers to garnish (optional)
For the pad Thai sauce
3 tbsp fresh lime juice (about 2 large juicy limes)

2 tbsp palm sugar or light brown sugar

1 red chilli, finely chopped

5 tbsp dark soy sauce

1 tbsp tomato ketchup

2 tbsp sweet chilli sauce

75ml water
Make the pad Thai sauce by placing all the ingredients in a small saucepan. Bring to a boil, then reduce the heat and simmer on low for about 2 minutes. Turn off the heat and set aside.
Heat 1 tablespoon of the oil in a large, nonstick wok or frying pan. Add the tofu and stir-fry for 3-4 minutes or until lightly browned and crisp. Transfer to a plate and set aside.
Place the noodle nests in a wide bowl and pour over boiling water to cover. Leave to stand for 45 seconds to 1 minute, then drain and rinse under cold water and drain well, then use 1 tablespoon of the oil to coat your hands and run them through the noodles to help prevent sticking.

Tip Draining and pressing the tofu will give extra firmness. Drain the tofu and wrap in several layers of kitchen roll. Press the tofu block between 2 chopping boards and weight with a heavy pan or cookery book for 10 minutes before cutting into cubes.

Heat the remaining oil in the wok and add the dried chilli. As soon as they sizzle, add the garlic, mushrooms, broccoli, carrots and beansprouts. Stir-fry over a medium-high heat for 1 minute, then add 2 tablespoons of water. Stir-fry for 3-4 minutes or until still crisp but just becoming tender.
Stir in the noodles, tofu and the pad Thai sauce mixture. Stir-fry over a medium-high heat till everything is well combined and the noodles are cooked, but not mushy. Turn off the heat, and stir in the spring onions, chopped herbs and toss to mix well.
Divide between 4 warmed plates or shallow bowls and garnish with the peanuts. Serve with lime wedges on the side and top each serving with a garnish of spring onion and red chilli slivers (if using).
If you would like this to be a gluten-free recipe, please ensure that your soy sauce is guaranteed gluten-free.