Oven-roasted chicken and avocado with asparagus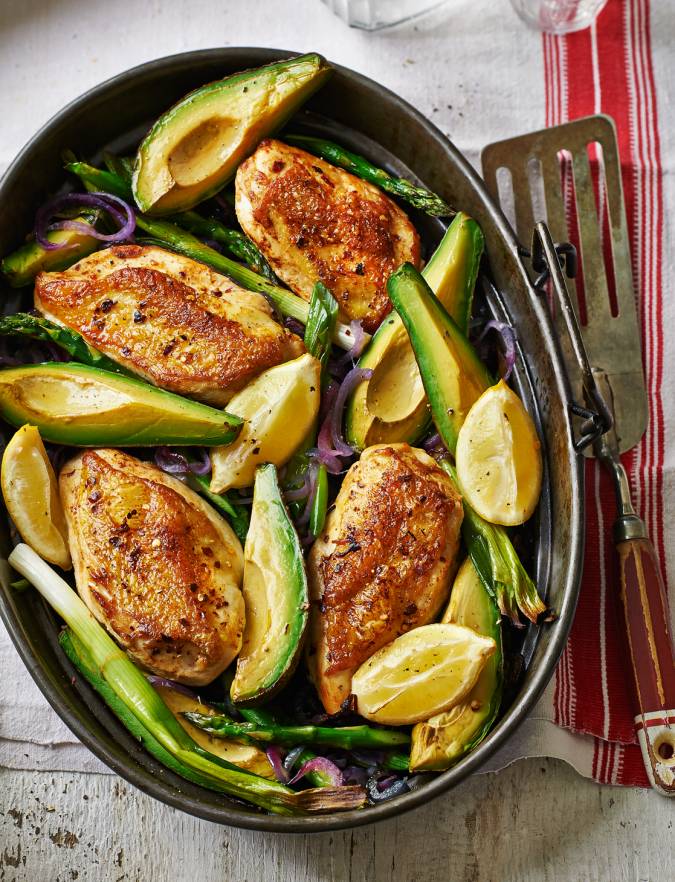 Nutritional information (per serving)
See more
Ingredients
3 tbsp olive oil

2 red onions, finely sliced

4 x 200g boneless chicken breasts, skin on

1⁄4 tsp paprika

pinch chilli flakes

1 bunch spring onions, trimmed

1 x 250g asparagus, trimmed and cut in half on the diagonal

2 ripe and ready avocados

1 lemon, quartered, pips removed

1 tbsp balsamic vinegar
Preheat the oven to 200°C, fan 180°C, gas 4. Put 1 tablespoon oil and the onions in a large roasting tray; season. Roast for 10 minutes.
Meanwhile, heat 1 tablespoon oil in a frying pan. Fry the chicken, skin-side down, on a medium/high heat for 4-5 minutes until the skin is golden and crisp. Turn and fry for a further 1-2 minutes. Remove from the heat, season with salt, pepper, paprika and chilli flakes.
Add the spring onions and asparagus to the red onions; mix. Put the chicken on top of the veg, skin-side up. Scrape any pan juices over the chicken and veg.

Tip Baking avocados gives an extra-creamy texture, but you can simply slice fresh avocado over the top if you prefer



Cut the avocados into quarters, keeping the skin on (remove the stone) and put around the chicken with the lemon quarters. Season and drizzle with 1 tablespoon oil.
Roast in the oven for 20 minutes, until the vegetables are tender and the chicken is cooked. Serve drizzled with the balsamic vinegar.