Mushroom and spinach quinoa 'risotto'
---
Prep time: 20 mins
Total time: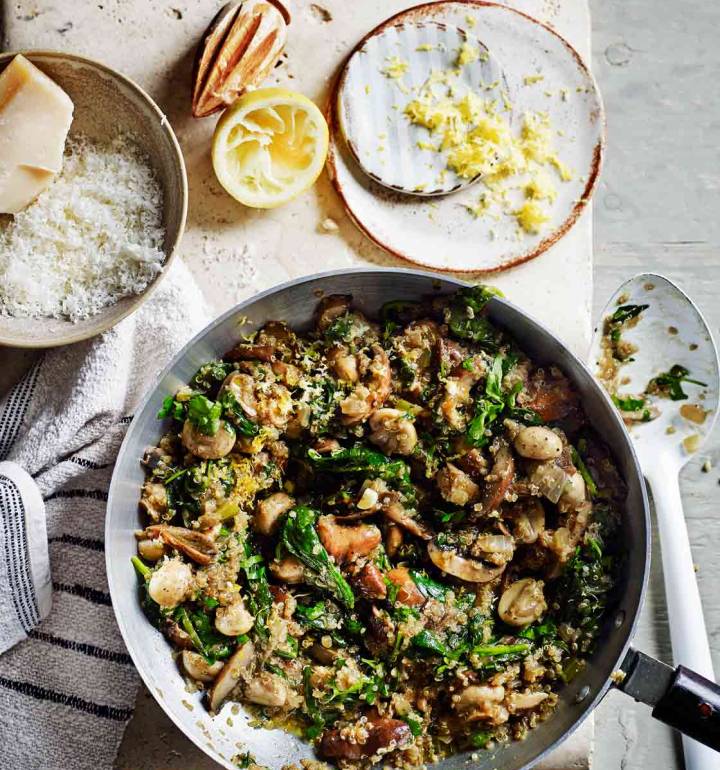 Photographed by Martin Poole
Mushroom and spinach quinoa 'risotto'
---
Prep time: 20 mins
Total time:
---
See more recipes
---
Nutritional information (per serving)
---


Ingredients
300g quinoa
15g dried porcini mushrooms
1 tbsp ghee (or butter)
2 medium onions, diced
3 celery sticks, diced
4 garlic cloves, finely chopped
2 tsp dried thyme or 4 tsp fresh thyme leaves
650g mixed mushrooms, sliced and stalks chopped (we use a mix of chestnut, mini Portobello and shiitake, but use your favourites)
1 tbsp cider vinegar
1-1.3 litres good-quality vegetable stock
400g baby spinach
100g Parmesan (or vegetarian hard cheese), plus extra to serve
2 handfuls of flat-leaf parsley, leaves chopped
grated zest and juice of ½ unwaxed lemon
sea salt, to taste
Step by step
Soak the quinoa the night before.
The night before you plan to cook this (or 8 hours before), soak the quinoa in 600ml cold water.
Put the porcini mushrooms in a bowl and cover with 150ml hot water from the kettle. Leave to soak for 20 minutes. Meanwhile, heat the ghee in a large saucepan over a medium heat and gently fry the onion and celery for 15 minutes, until softened.
Add the garlic, thyme and the fresh mushrooms (not the porcini), stir and leave to cook over a medium heat for 3-4 minutes.
Add the drained quinoa to the pan, stir and leave for a minute until the quinoa is almost sticking. Add the vinegar and stir to deglaze the pan of all the juicy bits. Pour in 1 litre of the stock, turn up the heat to bring to the boil then turn down to a medium simmer.
Simmer for 8 minutes (or about 12 minutes if you didn't soak the quinoa); the quinoa should be almost tender. Roughly chop the porcini mushrooms before adding them to the pan with the soaking liquid; turn upthe heat because the soaking liquid will cool the heat in the pan.
Cook for a further 5 minutes, taste the quinoa. It should be cooked and tender with a nutty texture. Turn off the heat, stir in the spinach in stages until wilted, add another ladle of stock if you want a more saucy risotto. The risotto will continue absorbing the liquid for the next few minutes.
Stir through most of the Parmesan (reserving a little to serve), parsley, lemon zest, lemon juice and salt and pepper, to taste. Taste and add more lemon for freshness if you like, or stir through a little more liquid if you think it seems a bit dry.
Divide the risotto between 4 bowls and serve with a little extra Parmesan for everyone to sprinkle over.
We use quinoa instead of rice to make risotto as it's very nutritious – it's a protein-rich seed which can be cooked like grains, but is easier as it needs less stirring. We believe that soaking "pseudocereals" (like quinoa and buckwheat) before using them activates their nutrients and makes them easier to digest.
Don't miss

---