Monkfish, chorizo and vegetable paella with saffron aioli
Serves
6
|
prep
1 hour
|
total time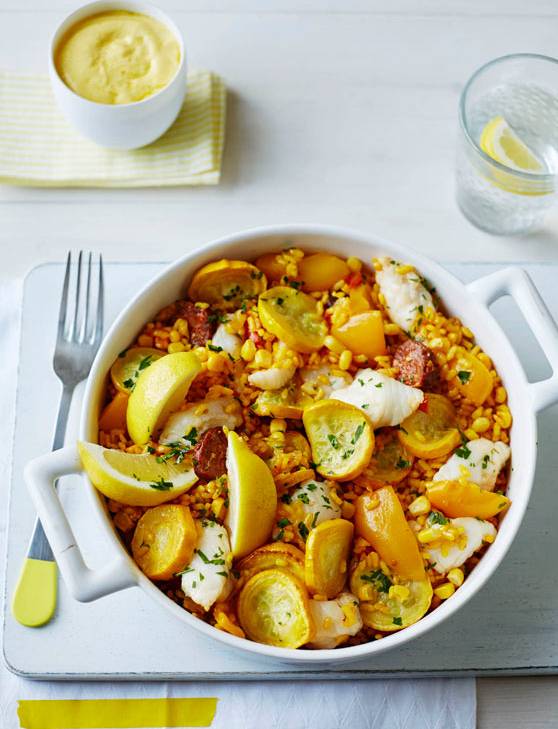 Nutritional information (per serving)
See more
Ingredients
1.2 litres good-quality chicken stock

4 tbsp olive oil

1 x 250g pack mini cooking chorizo, skinned and thickly sliced

1 large onion, finely chopped

4 garlic cloves, crushed

1 large yellow pepper, deseeded and cut into chunky strips

2 green chillies, deseeded and finely chopped

½ tsp sweet smoked paprika, plus extra for sprinkling

200g vine-ripened tomatoes, skinned (see Kitchen Secret) and chopped

2 sweetcorn cobs, kernels removed, or 200g tinned sweetcorn

1 x 500g pack Spanish paella rice

200g courgettes, sliced

3 monkfish tails (approx 750g), from the fish counter, trimmed of all membrane

a handful of chopped flat-leaf parsley, to serve

1 lemon, cut into wedges, to serve
For the saffron aioli
½ x 0.4g jar saffron

4 small garlic cloves, crushed

2 medium egg yolks

175ml light-flavoured olive oil

2-3 tsp lemon juice
Get ahead
Make the aioli up to a day ahead; cover and chill.
Start by making the aioli. Heat a small dry frying pan over a high heat. Lower the heat, add the saffron strands and shake around for 10-20 seconds without letting them colour, then tip them into a mortar and leave them to go cold. Once cold, grind them with a pestle to a powder. Put the crushed garlic into a small bowl and add a pinch of the saffron powder (save the rest for the rice) and the egg yolks. Using an electric hand mixer, gradually whisk in the olive oil (drop by drop to begin with, then in a very thin drizzle, whisking constantly) to make a thick, mayonnaise-like mixture. Add the lemon juice and season with salt and pepper to taste. Chill until needed.
Put the chicken stock into a pan and bring it to the boil; turn off the heat. Stir in the remaining ground saffron.
Heat 2 tablespoons of the oil in a large, deep sauté pan or frying pan, add the chorizo and fry briefly until lightly browned. Add the onion, garlic, yellow pepper and chillies to the pan and fry gently for 5-7 minutes until the onion is soft and lightly golden and the pepper is just beginning to soften. Stir in the paprika and fry for a few seconds, then add the tomatoes and sweetcorn, and stir around for a minute or two.

Tip To skin tomatoes, put them in a bowl, cover with boiling water and leave for a minute. You can then easily peel off the skins.

Add the saffron-infused stock and some salt and bring to the boil. Sprinkle in the rice, stir once so that it is evenly distributed over the base of the pan, and leave to simmer over a medium-high heat for 6 minutes. Then lower the heat and leave to simmer for a further 12 minutes, until the liquid has been absorbed and the rice is pitted with small holes.
Meanwhile, heat 1 tablespoon of olive oil in another frying pan, add the sliced courgettes and fry for 2-3 minutes until just tender. Season lightly and set aside.
Remove the monkfish fillets from each tail piece using a sharp knife to cut straight down either side of the central bone. Cut the monkfish fillets into 2-3cm thick slices; season with a little salt and paprika. Heat the remaining tablespoon of oil in the frying pan; fry the slices briskly for 1 minute on each side, until opaque and almost cooked.
Lay the monkfish pieces and the courgettes on top of the rice, turn off the heat, cover with a tight fitting lid (or a double layer of foil) and leave to rest for 5 minutes. Serve from the pan, or transfer to a serving dish, scatter with a little chopped flat-leaf parsley and garnish with the lemon wedges, with the saffron aioli on the side.