Miso soup bowl with prawns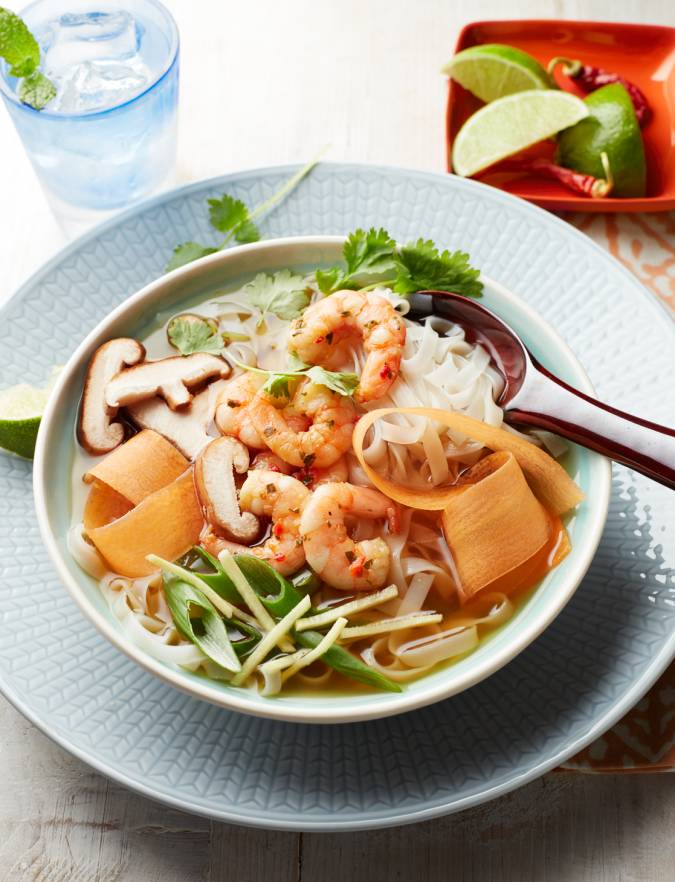 Nutritional information (per serving)
See more
Ingredients
2 x 45g nests instant rice noodles (we used Mama)

1 carrot, peeled

75g shiitake or chestnut mushrooms, thinly sliced

2 spring onions, sliced on the diagonal

50g miso soup paste (we used Itsu sachets)

1 tbsp root ginger, cut into matchsticks

1⁄2 x 28g pack coriander

1 x 150g pack cooked chilli and coriander king prawns

lime wedges, to serve
Bring a kettle full of water to the boil. Pour over the instant rice noodles in a bowl and leave them to soak and soften for 3 minutes, then drain and rinse briefly in cold water to separate them. Divide between 2 deep bowls. Meanwhile, refill and boil the kettle for the miso soup.
Shave the carrot into ribbons using a vegetable peeler. Divide the carrot ribbons, mushrooms and spring onions between the bowls.
Squeeze the miso paste into a measuring jug, add the root ginger and make up to 600ml with boiling water from the kettle, stirring to dissolve the paste. Pour over the noodles and raw vegetables in the bowls.
Tuck the coriander sprigs into the bowls and top with the chilli and coriander king prawns. Serve immediately with lime wedges.
It's true – this is a no-cook soup! You just need a kettle of boiling water to soak the noodles and make up the miso soup. Chilli and coriander prawns add an extra layer of flavour, but unflavoured ones work well too.