Mackerel and broccoli pasta
---
Prep time: 30 mins
Total time: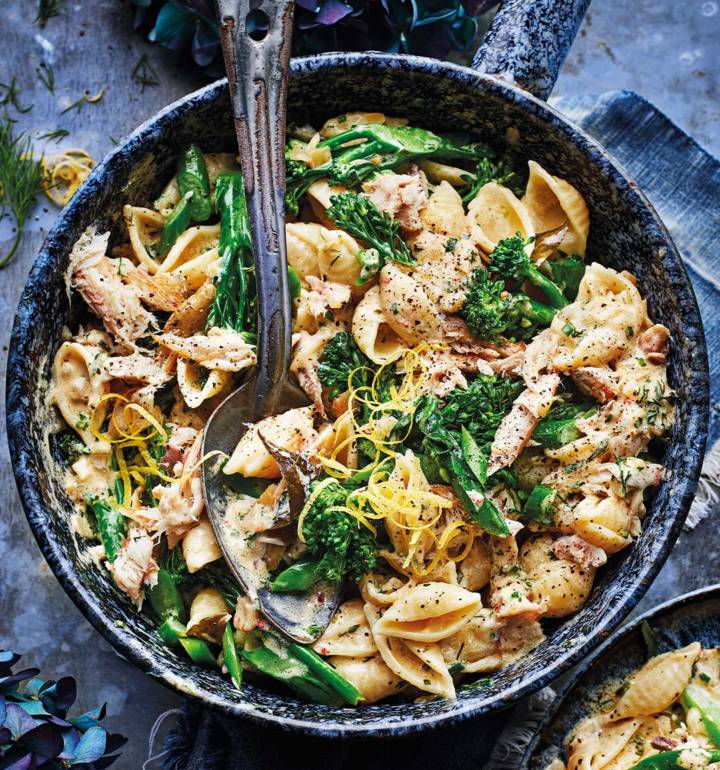 Recipe photograph by Kris Kirkham
Mackerel and broccoli pasta
Chef Nicole Pisani says: 'Working in schools, I meet many children suspicious of real food, disinterested in vegetables and frightened of fresh fish. In honour of all the school chefs filleting, breadcrumbing and cooking fresh turmeric-oat-coated hake every Friday, I dedicate this recipe to them.'
---
Prep time: 30 mins
Total time:
---
See more recipes
---
Nutritional information (per serving)
---
Ingredients
x 125g tins mackerel fillets in sunflower oil (or about 160g smoked mackerel, skinned)
1 large onion, finely chopped
3-4 sprigs curry leaves (or a small handful of dried)
½-1 tsp chilli flakes, as desired
50g white miso paste
1 chicken stock cube, crumbled
50g unsalted butter, diced
300g Tenderstem broccoli (or regular, cut into florets), roughly chopped
600g-750g conchiglie pasta, depending on appetite
1 x 20g pack dill
1 x 20g pack tarragon, leaves picked
1 x 20g pack chives
200ml crème fraîche
zest of 1 lemon
Step by step
Drain 2 tablespoons of oil from the mackerel tins into a large frying pan (if using smoked mackerel, use 2 tablespoons of olive oil here instead). Place on a high heat and add the onion, curry leaves and chilli flakes. Once the onions start to sizzle, reduce the heat to medium and cook until the onions become golden and soft.
Dissolve the miso and stock cube in 500ml of boiling water then pour this into the onions. Flake the drained mackerel into the pan and add the diced butter. Simmer briskly, uncovered, for 10-15 minutes or until the liquid is reduced by half.
Bring a large pot of salted water to the boil. Put the chopped broccoli in a colander and place inside the pan so that it is submerged in the boiling water. Cook for 5 minutes until soft then carefully lift the colander from the pan and rinse under cold water to refresh the broccoli.
Now cook the pasta in the boiling water for 10 minutes or until al dente (when cooking for children it is better to cook the pasta for slightly longer, so it is softer). Bear in mind the pasta will continue to cook in the sauce for a further few minutes. Drain the pasta but retain a cupful of the pasta water on the side. Roughly chop the herbs.
Tip the pasta into the sauce and mix through the broccoli, crème fraîche and chopped herbs, adding pasta water as needed to give a good saucy consistency. Bubble for 2-3 minutes until piping hot.
Finish with pared lemon zest just before taking to the table.

Curry leaves freeze well. Sizzle in hot oil; they are soft enough to eat and are delicious in an Indian-style omelette with red onion, chilli and tomato.
Don't miss

---