Ham, egg and chip tortilla
---
Serves:
4 as a meal, 8 as tapas
Prep time: 10 mins
Total time: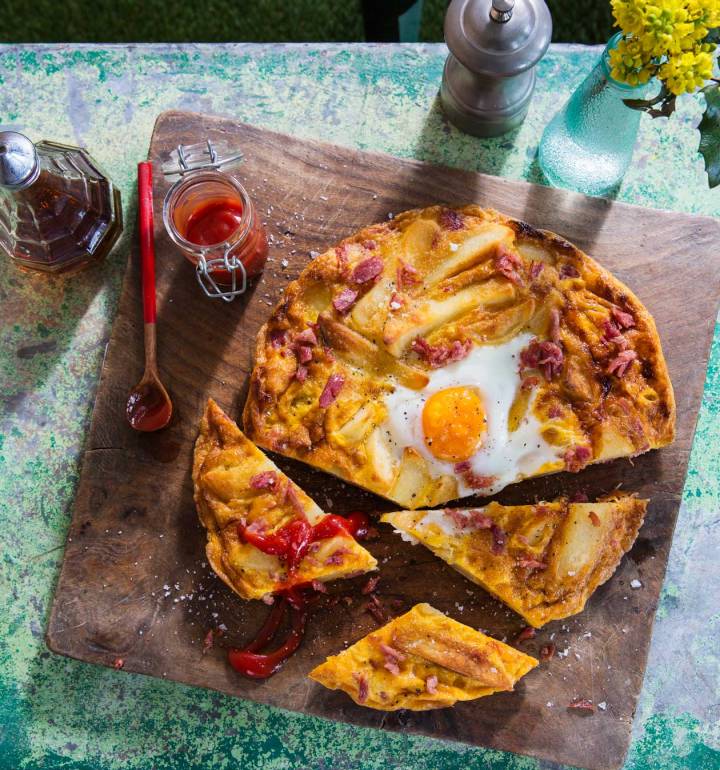 Recipe photograph by Catherine Frawley
Ham, egg and chip tortilla
This Spanish take on ham, egg and chips is perfect for lunch in the garden. The final egg is optional, but an oozy yolk is particularly delicious if you're serving the dish warm
---
Serves:
4 as a meal, 8 as tapas
Prep time: 10 mins
Total time:
---
See more recipes
---
Nutritional information (per serving)
---


Ingredients
200g frozen chips (we used Taste the Difference Triple Cooked Chips)
7 medium eggs (or 6 if not topping the frittata with one)
2 tbsp olive oil
120g shredded ham hock
Step by step
You can use leftover cooked chips. The tortilla keeps for a day in the fridge.
Cook the chips according to pack instructions. Beat together 6 of the eggs and season well. Put a small ovenproof frying pan (about 20cm base diameter) over a medium heat and add the oil.
Sprinkle over two-thirds of the ham, then pour in the beaten eggs and top with the remaining ham. The mixture should almost fill the pan. Add the chips, spreading them out. Heat the grill to medium.
Turn the heat down and cook the tortilla until it comes away from the side of the pan easily and is almost set but still wobbly on top – 5-7 minutes. Meanwhile, separate the final egg if using.
Tip the egg white into the middle of the tortilla, then put the pan under the grill until it has almost set – about 2 minutes. Add the egg yolk to the middle of the white and cook for another 1-2 minutes, until cooked to your liking. If you're not using the extra egg, simply cook the tortilla under the grill until firm but still slightly squidgy in the middle – 4-5 minutes.
Remove the pan from the grill, bearing in mind the handle will be hot, lift out the tortilla, and allow to cool slightly before slicing. Serve with tomato ketchup if you like.
Don't miss

---