Cumin chicken with giant couscous, courgette, peas and mint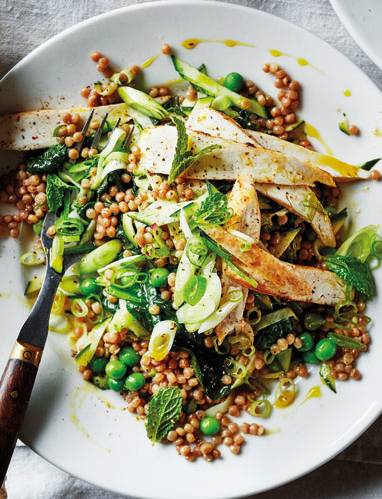 Nutritional information (per serving)
See more
Ingredients
3 tbsp light olive oil

200g wholewheat giant couscous

5 spring onions, sliced

2 medium courgettes, coarsely grated

175g frozen peas, thawed

100g baby leaf spinach

400ml hot vegetable stock

4 skinless chicken breasts, halved horizontally

1 tsp ground cumin

2 tbsp chopped fresh mint, plus a few whole leaves
Heat 2 tablespoons oil in a medium saucepan. Add the couscous, 4 spring onions and courgettes and cook, stirring, over a medium heat for 5 minutes until the vegetables are softened. Add the peas, spinach and stock; season and simmer on a low heat, stirring occasionally, for 8-10 minutes, until the stock has been absorbed, adding more hot water if necessary.
Meanwhile preheat a large frying pan until smoking hot. Rub the chicken breasts with the remaining oil, ground cumin and some salt and pepper. Pan-fry the chicken for 8-10 mins, turning once, until cooked through. Slice the chicken thinly.
When the couscous is cooked, stir in the mint and serve topped with the chicken, mint leaves and remaining spring onion, sliced.