Cranberry and orange glazed ham
---
Prep time: 20 mins
Total time: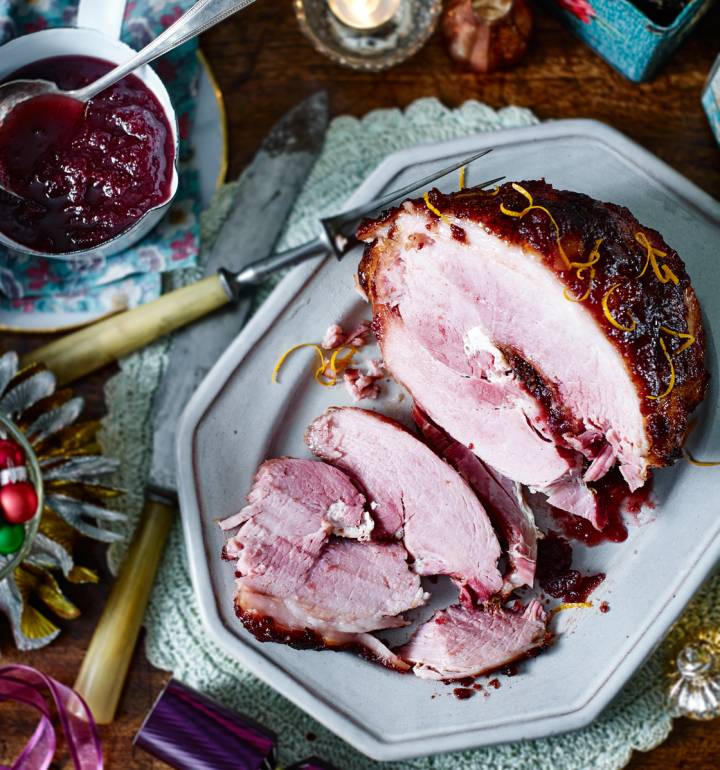 Recipe photograph by Toby Scott
Cranberry and orange glazed ham
---
Prep time: 20 mins
Total time:
---
See more recipes
---
Nutritional information (per serving)
---


Ingredients
1 unsmoked gammon joint, about 2.2kg
4 tbsp dark brown sugar
1 orange
1 tsp whole cloves (about 30)
For the glaze
500g chunky cranberry sauce
8 tbsp maple syrup or honey
2 tsp English mustard powder
Step by step
Cook the ham and glaze up to 2 days ahead, cover and keep chilled. Remove from the fridge a couple of hours before serving.
Put the gammon in a very large pan and cover with cold water – you'll need around 4 litres. Add the sugar, the pared zest of half the orange and the cloves. Cover and bring to a simmer, skim, then turn down the heat and cook gently, partially covered, for about 2 hours 30 minutes (or 35 minutes per 500g if your joint is a different size) until the internal temperature of the meat reaches 75°C. If you can't fit the whole joint under the water at once, turn it regularly. Lift the gammon out of the cooking stock – keep the stock, which can be frozen for future use in Asian-style braises or soups. Leave the gammon to cool for 10 minutes.
Heat the oven to 220°C, fan 200°C, gas 7. Mix the glaze ingredients into a paste. Cut off the skin of the gammon, leaving as much of the fat behind as possible, then score it in a criss-cross pattern. Put the joint in a large roasting tin lined with foil (to make the cleanup easier).
Divide the glaze between 2 bowls. Set one aside. Brush half of the glaze from one bowl all over the ham and bake it for 25 minutes, basting with more of the glaze from this bowl twice more during the cooking time. Meanwhile, zest the rest of the orange and set aside.
Tip the reserved bowl of glaze into a small pan, bring to the boil, then simmer for 10-15 minutes until reduced and syrupy. Serve this alongside the ham.
Allow the ham to cool, then sprinkle the remaining orange zest over the top before serving, carved into thin slices.
Who says cranberries are just for the turkey? Here, the bittersweet berries make a gorgeously tart and sticky glaze for that king of the festive buffet, a magnificent baked ham.
Don't miss

---