Courgette, lemon and mozzarella pizza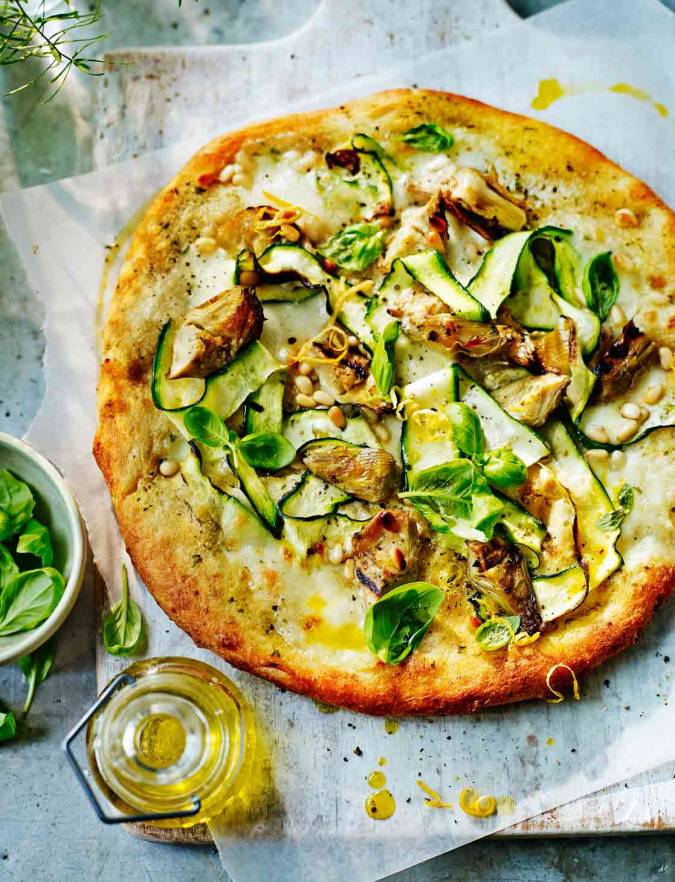 Nutritional information (per serving)
See more
Ingredients
1 large courgette

2 x 235g garlic pizza bread

1 x 180g pack Italian chargrilled artichokes, drained and halved

250g (drained weight) mozzarella, drained

2 tbsp pine nuts

zest of 1 lemon

½ x 28g pack basil, leaves only, torn

a drizzle of extra-virgin olive oil, to serve
Heat the oven to 220°C, fan 200°C, gas 7. Put two baking trays in the oven to preheat.
Peel the courgette lengthways into ribbons using a vegetable peeler; discard the seedy middle. Pat dry with kitchen paper to absorb as much water as possible. Divide the ribbons between the two pizza breads, then arrange the artichokes on top. Tear the mozzarella and divide it between the pizzas. Scatter with pine nuts; season.
Remove the baking trays from the oven and transfer the pizzas to the trays. Bake for 20 minutes, or until cooked through.

Tip Tearing rather than chopping basil will prevent the leaves from blackening.

Remove from the oven and transfer to boards. Scatter with lemon zest and torn basil leaves. Drizzle with extra-virgin olive oil and serve straight away.