Chicken madras sandwich
---
Prep time: 20 mins
Total time: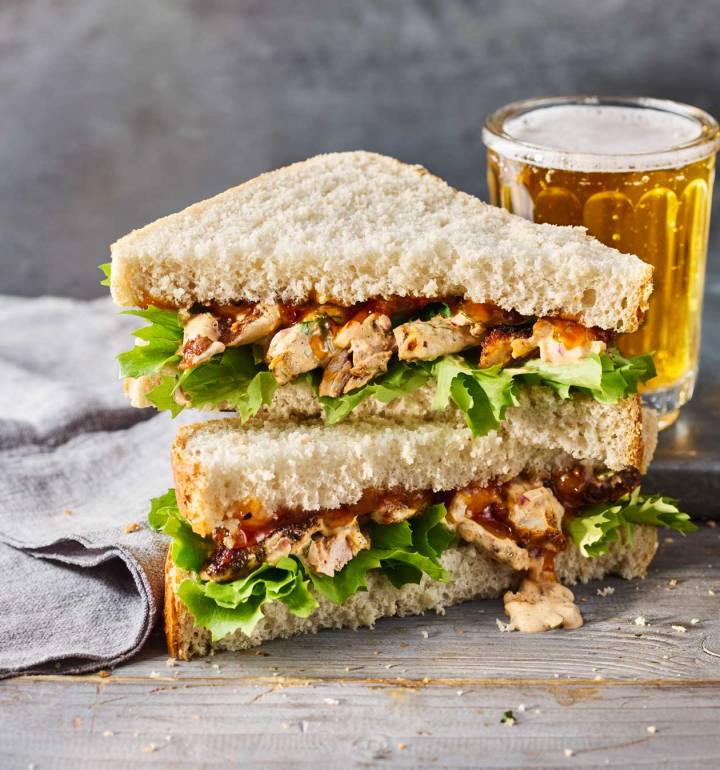 Recipe photograph by Rob Streeter
Chicken madras sandwich
Think of this as a slightly spicer take on coronation chicken
---
Prep time: 20 mins
Total time:
---
See more recipes
---
Nutritional information (per serving)
---
Ingredients
11⁄2 tbsp Madras curry paste
3 boneless chicken thigh fillets
1 garlic bulb
1 tbsp olive oil
1⁄2 tbsp lemon juice
2 tbsp mayonnaise
2 tbsp natural yogurt
1-2 tbsp finely chopped red onion, to taste
1 tbsp chopped coriander leaves, plus a few sprigs
4 slices soft white farmhouse loaf
1-2 tbsp mango chutney
a few curly lettuce leaves
Step by step
Cook the chicken and garlic up to 2 days ahead; chill. Bring to room temperature before making the sandwich.
Preheat the oven to 180°C, fan 160°C, gas 4. Rub 1 tablespoon curry paste into the chicken thighs and season with salt. Break the garlic into separate cloves but don't peel them. Place them in a baking dish with the chicken thighs and coat lightly with olive oil. Cook for 30-40 minutes (depending on size of thighs), or until fully cooked through, then leave to cool.
Once cool enough to handle, slice the chicken. Mix the lemon juice and 1⁄2 tablespoon curry paste in a bowl with the mayonnaise, yogurt, red onion and coriander, then mash in the soft flesh from a few cloves of the roasted garlic. Season and mix in the chicken.
Spread one slice of bread with mango chutney and top with half the filling mixture. Tuck in some lettuce leaves and coriander sprigs then top with the second slice of bread. Repeat for the second sandwich and cut into halves or quarters.
Don't miss

---