Waakye lamb stew
Serves
6
|
prep
25 mins
|
total time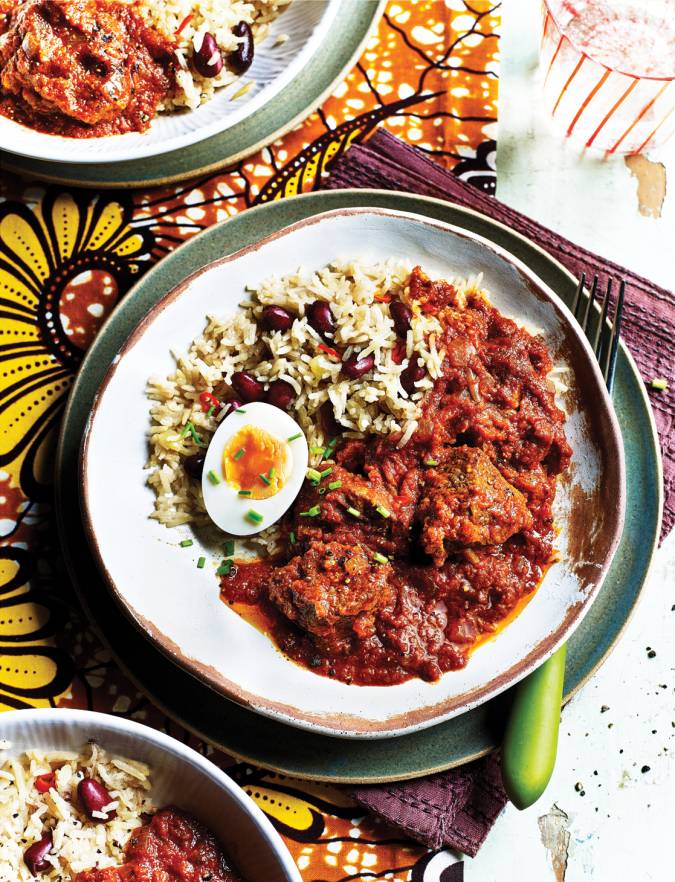 Nutritional information (per serving)
See more
Ingredients
1kg boneless leg of lamb, trimmed of excess fat and cut into large chunks (about 4cm)

1 garlic clove, very finely chopped

1 tsp light brown soft sugar

½ tbsp fine sea salt, plus extra to taste, if needed


1 tsp smoked paprika

½ tsp ground turmeric

1 tsp cornflour



150ml groundnut oil


For the sauce
3 large red onions, finely diced


½-1 tsp cayenne pepper, according to taste

5cm piece root ginger, grated

2 red Scotch bonnet chillies, deseeded

125g tomato purée mixed with 150ml water to a smooth paste

650g ripe fresh plum tomatoes, cut into chunks (or 2 x 400g tins chopped tomatoes)

3 red peppers, cored, deseeded and cut into chunks

2 tsp Ghanaian five-spice mix (optional, see below – or see Kitchen Secret)

100ml hot fish stock

For Zoe's Ghanaian five-spice mix, if using (makes 1½ tbsp)
½ tbsp ground allspice

½ tbsp freshly ground black pepper

¼ tsp ground or freshly grated nutmeg

½ tsp ground cloves


¼ tsp ground cinnamon



¼ tsp ground ginger
Get ahead
Make the stew up to 1 day ahead, cool then chill. To reheat, slowly bring to the boil on the hob, covered, and simmer for 15-20 minutes or until piping hot. It can also be frozen. Defrost slowly in the fridge before reheating. The spice mix keeps for up to 2 months in an airtight container in a cool, dark place.
Put the lamb in a large, heavy-based saucepan or casserole with the garlic, sugar, sea salt, paprika, turmeric and cornflour over a medium heat, stir well. Cover and leave to steam in its own juices for 20 minutes or until the meat juices run clear. Remove the meat and set aside. Drain off the juices to add back later.
Return the pan to the heat, add 1 tablespoon of the oil over a medium-high heat, add the meat in batches and cook until browned all over, adding another 1 tablespoon of oil to the pan to brown each batch. Remove from the pan and set aside in a bowl.
Add the remaining oil to the same pan, add half the onions and the cayenne pepper and sauté over a medium heat. Meanwhile, put the remaining onions, ginger and chillies in a blender or food processor and blend to a paste, then add to the frying onions. Reduce the heat slightly and cook, stirring continuously, for 3–4 minutes.

Tip If you don't want to make the Ghanaian spice mix, add ½ tsp ground allspice plus a good grating of nutmeg and a pinch of cinnamon to the stew instead, to add fragrance.

Stir in the tomato purée mixture and cook down the sauce for 10–12 minutes until it thickens to a paste and the mixture is reduced by about half. Return the lamb to the pan.
If using the spice mix, mix all the spices together in a bowl – you only need a little for this recipe, any leftovers can be stored in an airtight container.
Blend the tomatoes and peppers in the blender or food processor until smooth, then add to the pan along with 2 teaspoons of the five-spice mix, if using, the fish stock and reserved meat juices, and keep stirring until everything in the pot is blended together. Reduce the heat to low, cover and simmer for 30-35 minutes or until the meat is tender and the sauce is reduced and thickened.
Check for seasoning; add black pepper to taste. Cook for another 15 minutes, uncovered, stirring often. The sauce should transform into a rich, dark colour. Serve over Ghanaian rice (see related recipes), with soft-boiled eggs.
An authentic waakye stew is made with goat or mutton. Lamb is used here as it's more readily available, but do try with goat meat if you can get hold of some. There's a generous amount of sauce in this dish, so it's best served with rice to soak it all up