Spiced cranberry Martinis
---
Prep time: 5 mins
Total time: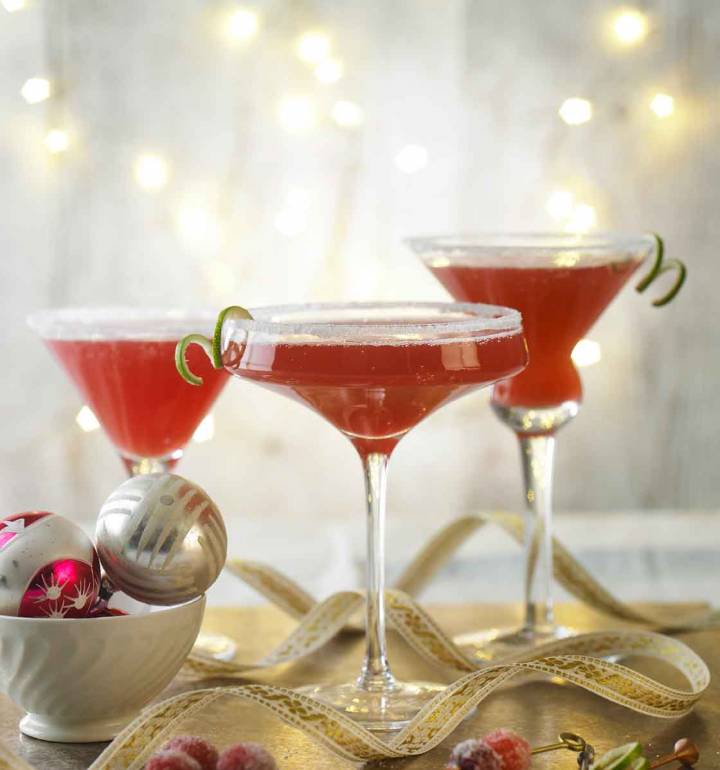 Photograph by Dan Jones
Spiced cranberry Martinis
---
Prep time: 5 mins
Total time:
---
See more recipes


Ingredients
200g cranberries
juice of 2 limes
juice of 1 orange
100g caster sugar, plus extra for the glass rims
1 wine-mulling spice bag
a few slices of root ginger
1 cinnamon stick
a squeeze of lemon juice for the glass rims
6 tsp vermouth, chilled
180ml vodka (or gin)
soda water, chilled
a handful of frosted cranberries, to decorate
Step by step
Tip the cranberries, lime and orange juices, sugar, wine-mulling spice bag, root ginger, cinnamon stick and 300ml water into a pan.
Simmer for 15 minutes, then sieve over a jug. Leave to cool, then chill.
Divide the chilled liquid between 6 glasses (first, dip the rims in lemon juice, then caster sugar). Add 1 teaspoon vermouth and 2 tablespoons vodka (or gin) to each. Top with chilled soda water. Decorate with frosted cranberries and lime zest twists.

Prefer fizz? Top up with chilled Prosecco or Champagne instead of vermouth, vodka and soda water.
Don't miss

---