Strawberries and cream summer pie
---
Prep time: 35 mins
Total time: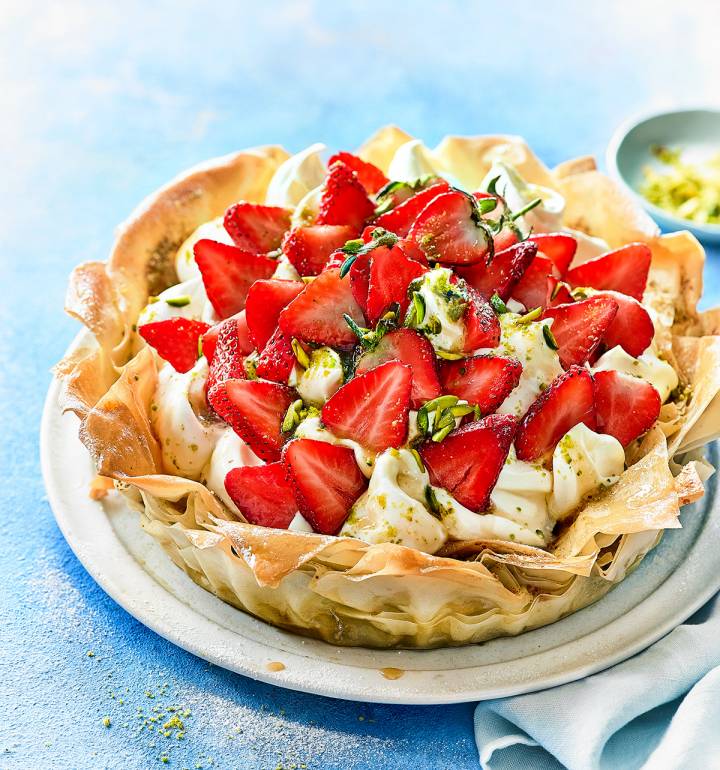 Recipe photograph by Martin Poole
Strawberries and cream summer pie
With a baklava-style base, this is a sticky and sweet delight
---
Prep time: 35 mins
Total time:
---
See more recipes
---
Nutritional information (per serving)
---


Ingredients
100g pistachios
50g pecans or walnuts
½ tbsp ground cinnamon
seeds from 8 cardamom pods, ground
60g light brown sugar
100g unsalted butter, melted
1 x 270g pack filo pastry
For the filling
4 tbsp Greek or other clear honey, plus extra to drizzle
seeds from 8 cardamom pods, ground
800g strawberries, roughly chopped or sliced
300ml double cream
500g thick Greek yogurt (we used Total brand)
1 tsp concentrated rose water or orange extract, to taste
icing sugar, to dust, optional
Step by step
Make the tart case up to 3 days ahead; store in an airtight container. Prepare the strawberries and the yogurt cream up to 2 hours before assembling
Preheat the oven to 180°C, fan 160°C, gas 4. Reserve 20g of the pistachios for decoration and put the rest in a food processor with the pecans or walnuts, spices and light brown sugar. Whiz until quite finely chopped but still with some texture (alternatively, finely chop the nuts with a knife and mix together with the spices and light brown sugar).
Set a 5cm-deep 23cm tart tin (or springform tin) on a baking tray and brush well with melted butter. Take the first sheet of filo pastry, brush one half generously with melted butter, then fold over to make a rough square and brush the top with more butter. Place centrally in the bottom of the tin as your tart base, letting the excess pastry come up the sides of the tin. Repeat the buttering and folding for the next 4 sheets. Place the first of these in the tin, setting it off to one side so the edges overhang the side of the tin slightly. Scatter with a quarter of the nut mixture. Give the tin a quarter turn and repeat with the next 3 buttered filo sheets and nuts, to create a four- pointed star, overlapping the pastry as you go. Finish with any remaining pastry sheets and butter, once again laying them centrally across the base of the tin.
Bake for 20-25 minutes until crisp and golden. Cool fully before removing from the tin.
For the filling, stir 1 tablespoon of honey and the cardamom into the strawberries and set aside for 30 minutes to develop the flavour. Whip together the cream, yogurt, rose water and 3 tablespoons of honey until thick. Chill until needed.
When ready to serve, place the tart case on a serving plate or board and spoon half the yogurt cream into the tart. Spoon a third of the strawberries on top, then cover with the rest of the cream mixture and strawberries. Roughly chop the reserved pistachios and scatter over the top, drizzling with extra honey. Add a dusting of icing sugar if you wish.
Don't miss

---