Coronation roast lamb
---
Prep time: 20 mins
Total time: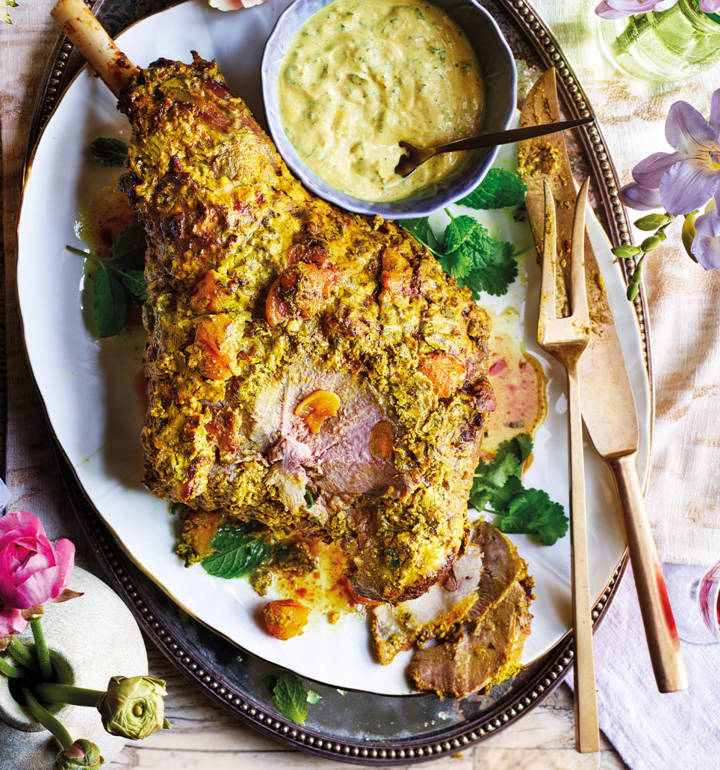 Recipe photograph by Kris Kirkham
Coronation roast lamb
This marinade recipe could be halved to go with a rack of lamb, lamb rump, lamb chops or any other cut. Recipe by chef Kevin Usher
---
Prep time: 20 mins
Total time:
---
See more recipes
---
Nutritional information (per serving)
---
Ingredients
a bone-in leg of lamb (2-2.5kg)
2 tbsp mild or medium curry powder
1⁄2 tbsp garam masala
1⁄2 tbsp ground cumin
1⁄2 tbsp ground coriander
1⁄2 tbsp ground turmeric
1 tsp fine sea salt
12 dried apricots, halved
1 x 30g pack coriander
1⁄2 x 30g pack mint
300g natural yogurt
2 garlic cloves, crushed
juice of 1⁄2 lemon
Step by step
Marinate the lamb the day before roasting. Trim the hard outer fat from the lamb and remove the disposable cap covering the end of the leg bone. Stab all over with a skewer to help the flavours penetrate. Mix the spices with the salt and rub two-thirds of this all over the lamb. Use a small knife to make 24 deep incisions in the meat. Push the apricots into these slashes.
Finely chop the herbs and mix with the yogurt, garlic, the rest of the spice mixture and seasoning. Rub two-thirds of this all over the lamb, massaging it in well, and reserve the rest to serve as a sauce. Cover the lamb and marinate for a couple of hours at room temperature, then overnight in the fridge.
Remove the lamb from the fridge about an hour before cooking. Towards the end of this time, preheat the oven to 220°C, fan 200°C, gas 7 and place the lamb in a roasting tin.
Roast for 15 minutes at this temperature, then turn the oven down to 190°C, fan 170°C, gas 5 and roast for a further 1 hour 20 minutes for a 2kg leg (or 20 minutes per 500g if your joint is a different size), to give slightly pink lamb. Cover with foil after about 45 minutes if the crust is getting too dark.
When the lamb is ready, cover loosely with foil and rest for at least 20 minutes before carving. Serve with the herby yogurt sauce.
Don't miss

---