Pecan and apricot tart
---
Prep time: 40 mins
Total time: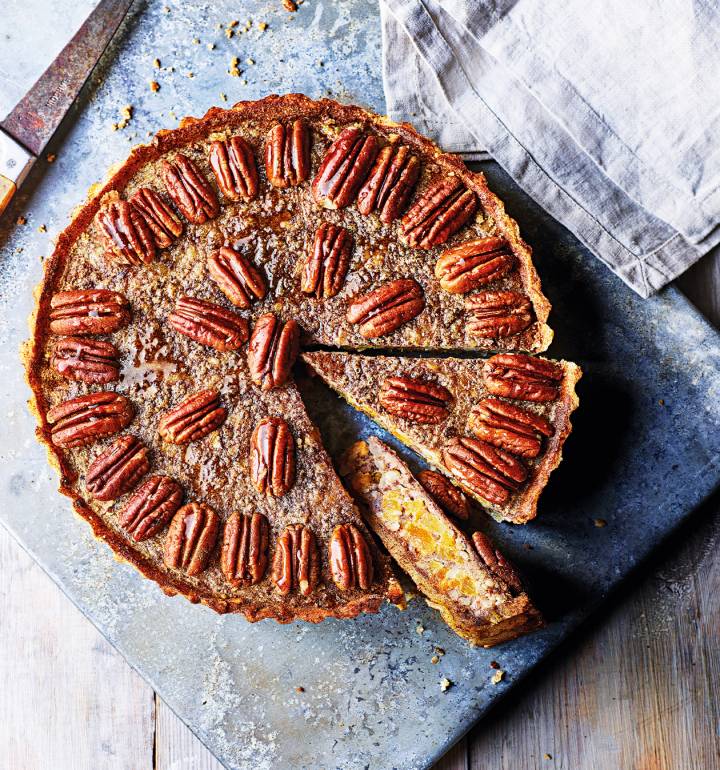 Recipe photograph by Kris Kirkham
Pecan and apricot tart
This tart is a great option when you're looking for a treat with extra goodness. The dried apricots provide fibre, vitamin A and catechins (flavonoid phytonutrients), while also adding sweetness without the need for refined sugar. Using unrefined wholemeal flour rather than white also adds extra fibre, plus B vitamins
---
Prep time: 40 mins
Total time:
---
See more recipes
---
Nutritional information (per serving)
---


Ingredients
160g wholemeal plain flour, plus extra to dust
¼ tsp fine sea salt
½ tsp sugar or clear honey
½ tsp grated orange zest
100g chilled and solid coconut oil, plus extra to grease
Greek yogurt* or dairy-free yogurt, to serve, optional
For the filling
150g dried apricots
3 medium eggs
2 tbsp coconut oil, melted; cooled
60g clear honey, plus 1 tbs
1 tbsp milk* of choice
1 tsp vanilla extract
1 tsp ground cinnamon
½ tsp ground nutmeg
½ tsp grated orange zest
200g pecans
3 tbsp wholemeal plain flour
Step by step
The tart keeps for 2-3 days in an airtight container (or leftover slices can be frozen).
Make the pastry: put the flour, salt, sugar and orange zest in a food processor; pulse to combine. Add the solid coconut oil, and pulse until crumbly. Add 2-3 tablespoons ice-cold water, a tablespoon at a time, pulsing until the dough starts to come together. Shape into a disc, wrap and chill for 20 minutes. Leave at room temperature for 10-15 minutes.
Preheat the oven to 200°C, fan 180°C, gas 6 and lightly grease a 20cm diameter tart tin. Roll out the pastry on a floured surface and carefully lift into the prepared tin. Gently press into the bottom and sides; it can be quite a crumbly pastry, but just patch it as needed. Trim the edges. Chill again for 15 minutes, until firm.
Line the pastry with crumpled baking paper, add baking beans and bake for 15-20 minutes until the bottom of the tart is no longer raw and it is just starting to colour. Remove the paper and baking beans and bake the case for a further 5 minutes. Remove from the oven and turn the oven up to 220°C, fan 200°C, gas 7.
Meanwhile, make the filling. Put the apricots in a heatproof bowl, cover with boiling water and soak for about 5 minutes. Put the eggs, melted coconut oil, honey, milk, vanilla, cinnamon, nutmeg, orange zest and a pinch salt in a bowl and whisk until slightly frothy. Reserve 80g of whole pecans to decorate, then finely chop the remainder; add these to the bowl, plus the flour. Stir to combine.
Drain the apricots, chop finely and scatter in the tart case, then pour in the filling. Arrange the reserved pecans on top. Bake for 10 minutes, then reduce the temperature to 200°C, fan 180°C, gas 6 and cook for another 12-15 minutes until the top is set and browned. Remove from the oven. Heat the extra honey gently and brush all over the top of the tart while warm. Leave to cool slightly before slicing. Serve with thick yogurt, if you like.

*Use dairy-free milk and yogurt if required.
Don't miss

---