Mint drizzle ice cream cake with brownie layers
Serves
10-12
|
total time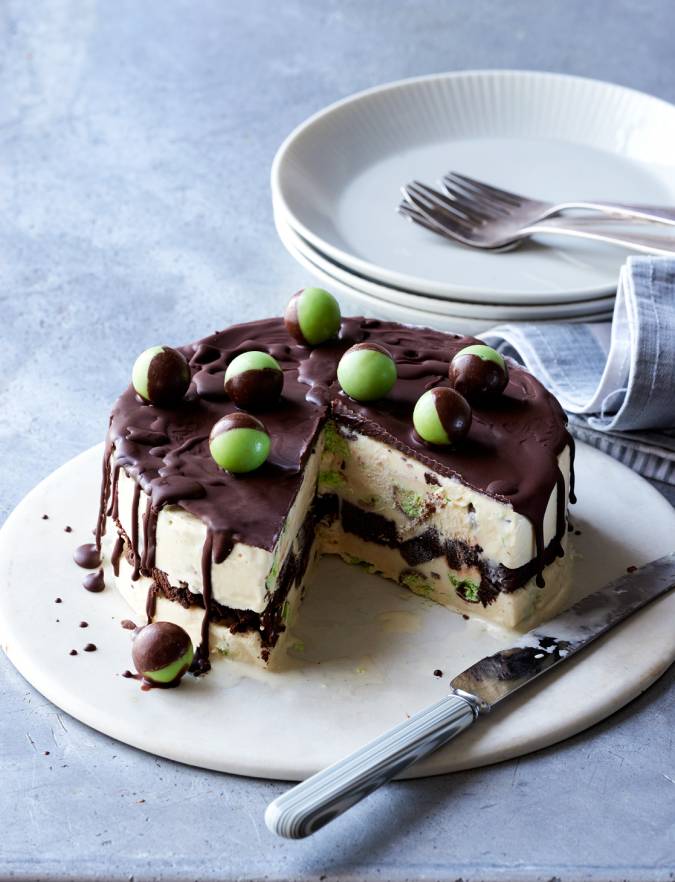 Nutritional information (per serving)
See more
Ingredients
900ml vanilla ice cream

1 x 113g pack Aero peppermint bubbles

3 brownie slices (180g, from the bakery)
For the chocolate coating
75g dark cook's chocolate (85% cocoa solids), broken into pieces

25g coconut oil
Get ahead
Make this a day in advance so it is set firm before serving. This will keep in the freezer for up to 1 month.
Remove the ice cream from the freezer and soften at room temperature for about 15 minutes. Meanwhile, set aside a handful of Aero bubbles, roughly chop the remainder and cut the brownies into small pieces. Line the base of the tin with baking paper.
Scoop the ice cream into a large mixing bowl and quickly fold in the chopped Aero bubbles – don't allow the ice cream to melt too much.
Quickly spoon half the ice cream into the prepared tin and spread the surface flat with a spoon. Scatter with the brownie pieces then spread the remaining ice cream on top and pack down well, smoothing the top surface. Cover with clingfilm and freeze for at least 4 hours or overnight.
To make the chocolate coating, heat the chocolate and coconut oil together in a small pan over a low heat, stirring until just melted and smooth. Set aside to cool but not set (if necessary you can re-warm it gently).
When ready to serve, have a large bowl of very hot water ready and dip the base of the tin into the bowl for just a second or two. Turn the tin upside down onto a plate to turn out the ice cream cake. Remove the tin and baking paper. Return the ice cream cake to the freezer to set for 10 minutes.
Drizzle the chocolate sauce over the top and decorate with the remaining whole Aero bubbles, working quickly before the topping sets.
To serve, dip a sharp knife into boiling water and mark the chocolate topping into portions; the heat should melt through the chocolate without cracking. You can then cut through the ice cream easily to serve.
For this recipe you need to use a medium-fat ice cream; a soft-scoop is not suitable and a full-fat ice cream would be too hard to cut when made into a cake. We used a 900ml tub of Sainsbury's vanilla ice cream. You'll also need a deep 15cm round cake tin or a 450g loaf tin.