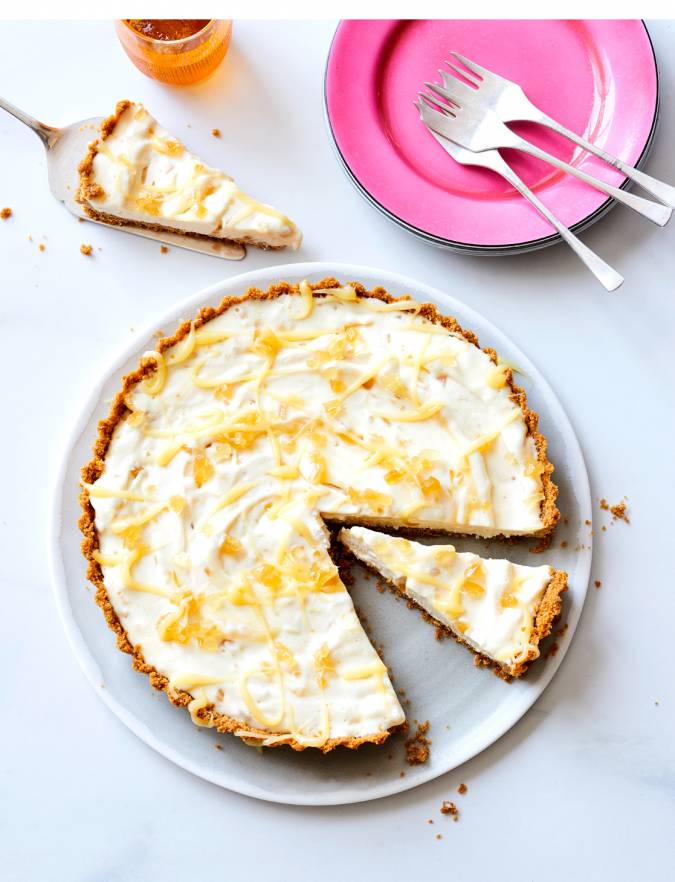 Lemon ginger crunch tart
Subscribe to Sainsbury's magazine
Take a tub of ice cream, a pack of ginger snaps and a jar of lemon curd and turn it into this easy summer pud
Nutritional information (per serving)
See more
Ingredients
1 x 200g pack ginger snap biscuits

50g butter, melted
For the filling
1 x 500ml tub good-quality full-cream vanilla ice cream

6 tbsp Taste the Difference lemon curd

3 tsp yuzu citrus seasoning (optional)

5 pieces stem ginger, finely chopped
Get ahead
You can make this 1 day in advance. Keep in the freezer for up to 1 week.
Remove the ice cream from the freezer for 15-20 minutes to allow it to soften. Line the base of the tin with baking paper. Whiz the biscuits to crumbs in a food processor, add the butter; pulse to combine.
Press the biscuit crumbs into the tin, pushing them against the sides and firmly on the base (use the end of a rolling pin to compact the mixture). Chill for 15 minutes until firm.
Scoop the ice cream into a mixing bowl and add 5 tablespoons lemon curd and the yuzu, if using, folding in to combine. Reserve 1 tablespoon chopped ginger for decoration and stir the remainder into the ice cream. Quickly spread it onto the biscuit base before it has melted too much. Smooth the surface, cover and chill in the freezer for at least 4 hours or overnight until really firm.
Carefully remove from its tin and put on a serving plate. Leave at room temperature for 10 minutes to make slicing easier. To serve, drizzle the last tablespoon of lemon curd over the top (it's easiest if you can put it in a little piping bag and pipe it over the top). Scatter with the reserved chopped ginger. Cut into thin wedges to serve.
Yuzu is an Asian citrus fruit, used here in a sauce as a flavouring; if you prefer, replace it with the juice of 1⁄2 lime. You will need a loose-based fluted 22cm round flan tin.