Lemon blueberry cheesecake
Serves
10-12
|
total time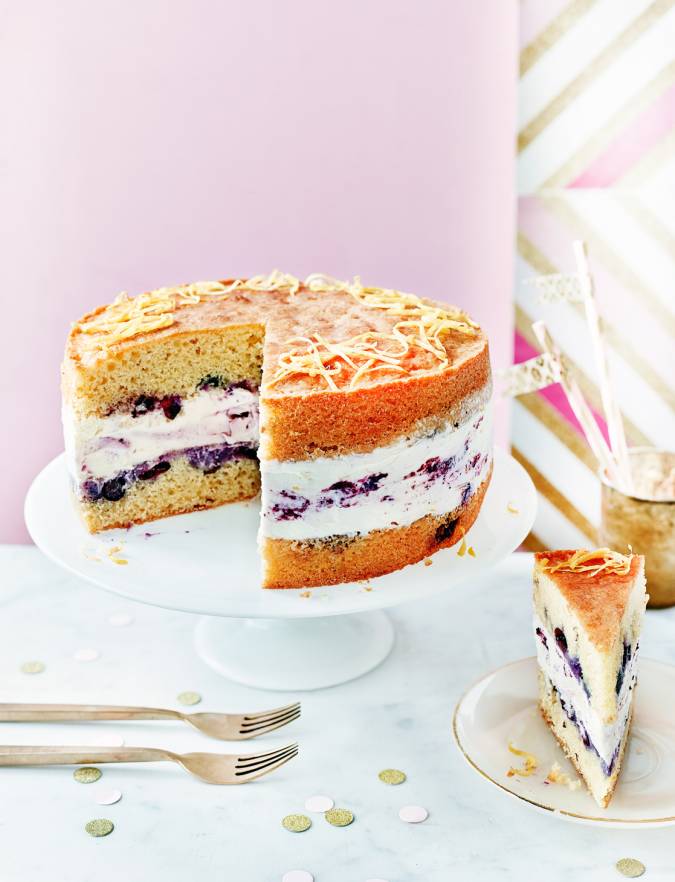 Nutritional information (per serving)
See more
Ingredients
For the cake
225g butter, softened, plus a little extra for greasing

225g caster sugar, plus 1 tbsp

zest of 1 lemon

4 large eggs, lightly beaten

225g self-raising flour, sifted

200g blueberries
For the drizzle
50g icing sugar, sifted

pared zest and juice of 1 lemon
For the cheesecake filling
360g full-fat cream cheese

100g icing sugar, sifted

zest and juice of 2 lemons

300ml double cream
Get ahead
Prepare the cake and chill overnight; leftovers will keep in the fridge for 2 days.
Preheat the oven to 180°C, fan 160°C, gas 4. Grease and line the base of 2 loose-based 20cm round sandwich cake tins. In a large bowl, beat together the butter, sugar and lemon zest until creamy and fluffy.
Gradually add the eggs, whisking between each addition. Don't worry if it looks curdled. Fold in the flour and 150g blueberries, in 2 batches, until well combined.
Divide the mixture equally between the cake tins and level with the back of a spoon. Bake in the oven for 25-30 minutes until golden and risen, and a skewer inserted into the centre comes out clean.
Leave the sponges to cool in the tins for 5 minutes, then turn out onto a wire rack. Mix the icing sugar and 1 tablespoon lemon juice together and brush all over the top of each cake. Leave the sponges to go cold.
Meanwhile, wash one of the cake tins. Take a 70cm-long strip of foil and fold in half lengthways, so it is 15cm high. Line the sides of the tin with the foil so it stands well proud of the top of the tin. Set aside.
For the purée, put the remaining 50g blueberries in a small saucepan with 1 tablespoon caster sugar. Heat for 2 minutes, crushing the berries to extract the juice. Set aside to cool.
When the cakes are cold, make the cheesecake filling. Put the cream cheese, icing sugar, lemon zest and juice into a large bowl and beat until smooth. In another bowl whisk the double cream to soft peaks, then fold into the cream cheese until smooth.
Discard the base paper from the cakes. Carefully put one cake top-side down into the lined tin. Spoon half the cheesecake filling onto the sponge, then dollop on the blueberry purée. Lightly swirl into the filling, using a teaspoon, then add the rest of the cheesecake filling and spread over evenly, right up to the edges.
Gently tap the tin on the work surface to remove any air pockets. Put the remaining cake top-side up onto the cheesecake filling. Lightly press down, cover with clingfilm and chill in the fridge for at least 4 hours, or overnight, until set.
Remove the cake from the fridge. Remove the cake from the tin by putting the base on the top of a can, then gradually pull the tin down. Discard the foil and then transfer the cake to a serving plate.
Scatter the lemon zest around the edge of the top of the cake; serve cut into wedges.
This blueberry sponge with a cheesecake centre is a real treat!