Coconut karanji
Makes
10 small karanji
|
prep
30 mins
|
total time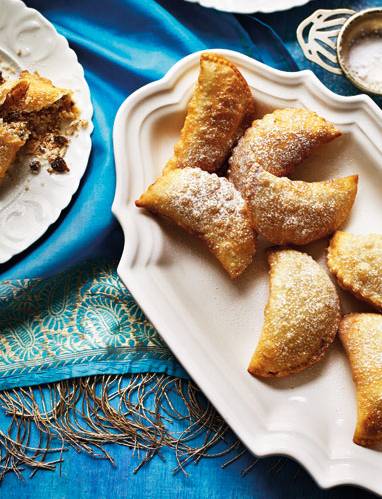 Nutritional information (per serving)
See more
Ingredients
For the dough
100g plain flour, plus extra for the sealing and rolling out

2 tsp semolina

1 scant tbsp ghee or clarified butter

3¾-4 tbsp coconut milk, milk or water
For the filling
2 tsp ghee (or 1 tsp butter and 1 tsp coconut oil or vegetable oil)

1 tbsp semolina

10 blanched almonds, roughly chopped

10 cashews, roughly chopped

2 tbsp sesame seeds

4 cardamom pods

25g desiccated coconut

a good grating of nutmeg

2 tbsp icing sugar, plus extra to dust

1 tbsp ground almonds

1½ tbsp raisins, roughly chopped
Get ahead
The karanji can be prepared and cooked a day in advance. Serve at room temperature, or reheat for 10 minutes at 180°C, fan 160°C, gas 4. They can also be frozen; defrost before reheating.
Make the dough. Put the flour in a mixing bowl. Add the semolina, a good pinch of salt and the ghee. Add most of the coconut milk to the dough and knead. Add the rest if it is dry. The dough should be fairly soft and pliable. Cover with damp kitchen paper, set aside and make the filling.
Heat half the ghee in a small frying pan. Add the semolina and stir-fry for 2-3 minutes until it has darkened a few shades to a sandy colour. Scrape into a bowl.
Now add the rest of the ghee into the pan and add the nuts. Stir-fry for 30 seconds until just colouring, then add the sesame seeds. Continue to stir-fry until these are also golden; scrape out into the same bowl.
Meanwhile, roughly crush the cardamom pods, using a pestle and mortar, to extract the seeds. Discard the husks and grind the seeds to a powder. Add to the bowl.
Put the coconut in the pan; gently stir-fry until golden then add to the bowl along with the nutmeg, icing sugar, ground almonds and raisins. Mix well and set the filling aside.
Make a smooth 'glue' from 1 tablespoon flour and 1-2 tablespoons cold water.
Heat a 3cm depth of oil to 180°C (use a kitchen thermometer, available in store) in an open wok or wide saucepan. As it heats, roll the dough into a fat sausage, 15cm long. Cut into 10 pieces. One at a time, make each into a little ball, dip in the extra flour and roll 5 of them out into 9-10cm discs. Dip your finger in the flour paste and run it around the edge. Put 2 teaspoons of the filling into the centre; fold over the top to make half circles. Press down, fold or fork the edge to seal. Make another 4 and then place all 5 into the hot oil, turn the heat to moderate and fry until golden brown for about 4 minutes, turning a few times. Lift out using a draining spoon onto doubled kitchen paper; repeat with the other 5. Serve warm or at room temperature, dusted with icing sugar.
These crescent-shaped pastries are synonymous with Holi. They are made in many regions, all with different fillings. This version from Maharashtra is really moreish.