Quick and easy base curry sauce
---
Makes:
About 1.5L (8 portions)
Prep time: 25 mins
Total time: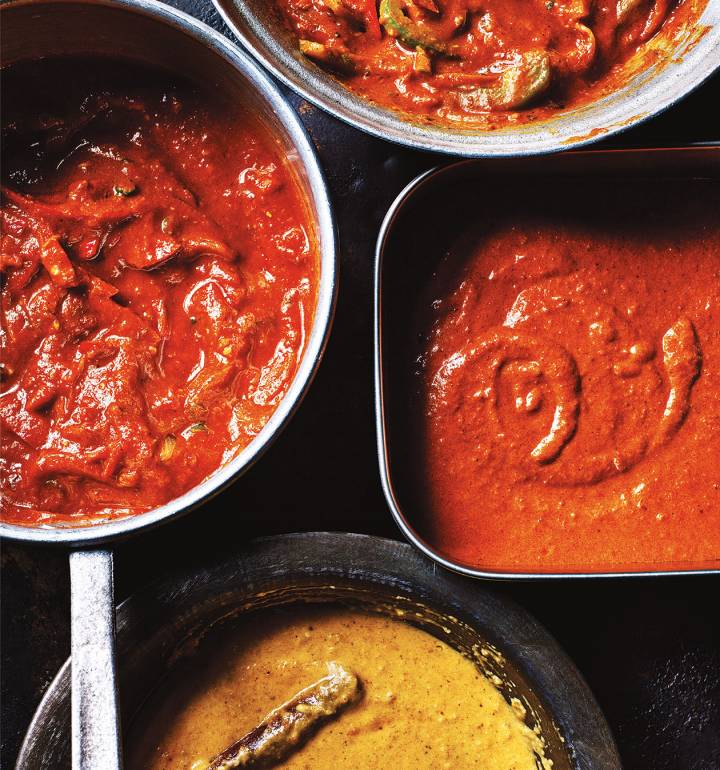 Recipe photograph by Kris Kirkham
Quick and easy base curry sauce
This recipe makes a base curry sauce, which you can use to make other curries such as prawn masala and aloo gosht (see below for the recipes). Store leftovers in the freezer
---
Makes:
About 1.5L (8 portions)
Prep time: 25 mins
Total time:
---
See more recipes
---
Nutritional information (per serving)
---


Ingredients
2 tbsp rapeseed oil
2-3 large onions (about 600g), finely chopped
¼ red pepper, diced
1 tbsp mixed garlic and ginger paste (see tip)
1 large tomato, diced
½ tsp ground cumin
½ tsp ground coriander
½ tsp paprika
¼ tsp ground turmeric
¼ tsp ground fenugreek
1 litre water, for thinning
Step by step
The base curry sauce will keep for 3 days in the fridge, or can be frozen in portions.
Use this sauce to make
prawn masala
and
aloo gosht
.
Heat the oil over a medium heat in a medium saucepan. When hot, toss in the chopped onions and red pepper and sauté for 5-10 minutes until the onion is soft and translucent but not browned. Add the remaining ingredients, except the water, and stir well. Fry for a further 30 seconds or so, then add 250ml of the water. Turn up the heat and simmer for 5–10 minutes until the water has evaporated by half and your veggies are soft.
Add another 250ml water and blend - either with a handheld or countertop blender – until very smooth. Depending on the blender you use, this can take a couple of minutes.
Once smooth, add up to another 500ml water. The sauce should be about the same consistency as full-fat milk, so add more water if needed.

Recipe adapted from The Curry Guy Easy by Dan Toombs (Quadrille, £12.99).

Mixed garlic and ginger paste
Peel equal amounts of garlic and ginger and blend with just enough water to make a paste. Or you can simply use grated or finely chopped garlic and ginger instead of the paste.
Don't miss

---