Peanut butter shortbread cookies
---
Prep time: 35 mins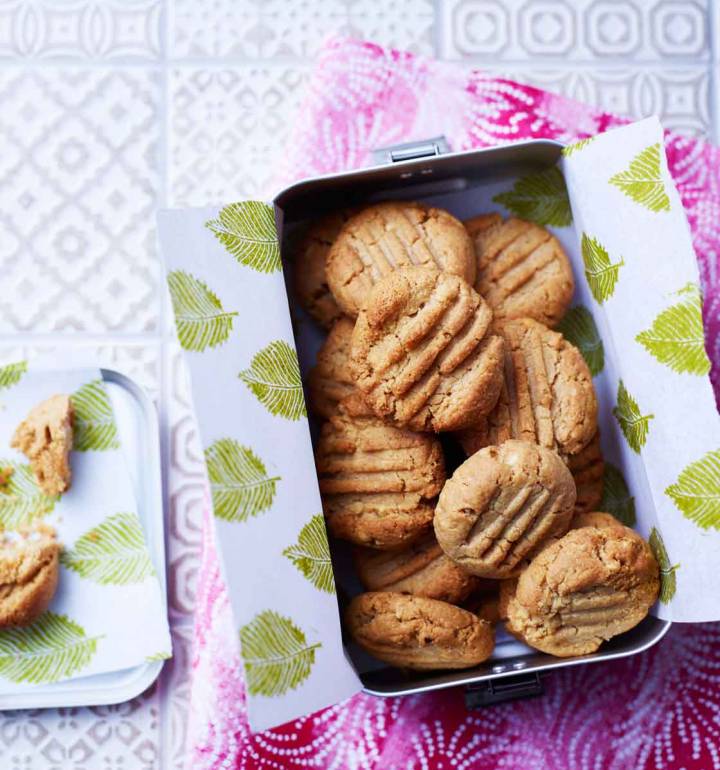 Photographed by Tara Fisher
Peanut butter shortbread cookies
---
Prep time: 35 mins
---
See more recipes
---
Nutritional information (per serving)
---


Ingredients
1 tbsp soft butter
8 tbsp chunky peanut butter
2 tbsp pure maple syrup
¼ tsp bicarbonate of soda
¼ tsp sea salt
¼ tsp ground cinnamon
1 tsp vanilla extract
1 x 100g bag ground almonds
Step by step
Make up to 2 days ahead; store in an airtight container. They can also be frozen.
In a large bowl, use a fork to mix together the butter, peanut butter, maple syrup, bicarbonate of soda, salt, cinnamon and vanilla. Fold in the ground almonds and mix well.
Put the bowl in the fridge for 30 minutes. Preheat the oven to 160°C, fan 140°C, gas 3, and line a baking tray with baking paper.
Scoop out 1 tablespoon of the cookie dough at a time, shape into a rough ball and place onto the baking tray, leaving a few centimetres between each ball.
Press down onto each cookie with the back of a fork to make indentations.
Bake for 15-20 minutes or until the edges just start to brown. Remove from the oven and allow to cool completely before transferring to a plate or cookie tin.
Don't miss

---