Fortnum & Mason's festive sausage rolls
---
Serves:
8 large sausage rolls
Prep time: 40 mins
Total time: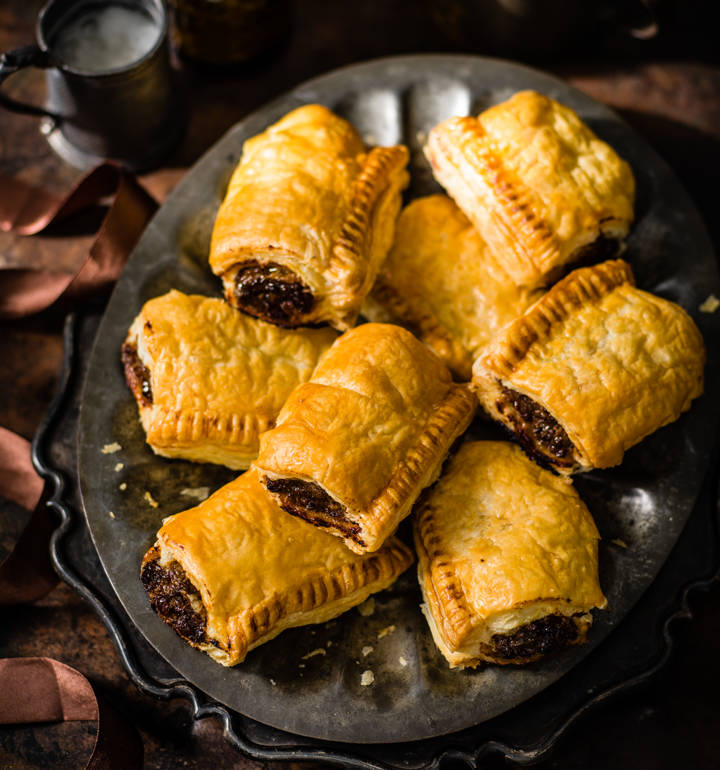 Recipe photograph by Ant Duncan
Fortnum & Mason's festive sausage rolls
Everyone loves a sausage roll but these have a particularly festive twist, with cranberries, prunes, cinnamon and brandy. When they're in the oven, they fill the house with a delicious aroma
---
Serves:
8 large sausage rolls
Prep time: 40 mins
Total time:
---
See more recipes
---
Nutritional information (per serving)
---
Ingredients
1 tbsp sunflower oil
1 small red onion, finely chopped
½ celery stick, finely chopped
1 small garlic clove, crushed
1⁄2 tsp chopped thyme
40ml port
25g pitted prunes
2 tbsp brandy
25g cranberries
400g sausage meat
¼ tsp ground coriander
¼ tsp ground white pepper
¼ tsp fennel seeds, ground
¼ tsp ground cinnamon
¼ tsp ground mace
¼ tsp fine sea salt
2 sage leaves, chopped finely
1 x 320g sheet ready-rolled puff pastry
plain flour to dust
beaten egg to glaze
Step by step
Prepare to the end of step 4 the day before and keep chilled, ready to bake.
Heat the oil in a small pan, add the onion and celery and cook gently until soft but not browned. Stir in the garlic and thyme and cook for 5 minutes longer. Pour in the port and simmer until it has completely evaporated. Leave to cool.
Put the prunes in another pan with the brandy and 2 tablespoons of water, and simmer until the liquid has evaporated. Put the cranberries in a third pan, add enough cold water to just cover and simmer until tender. Drain well. Roughly chop the prunes and the cranberries.
Put the sausage meat in a bowl and add the onion mixture, prunes, cranberries, spices, salt and sage. Mix well. Cook a little of the mixture in a frying pan until golden, then taste to check the seasoning, and adjust if necessary.
Take a disposable piping bag and snip off the end, with an opening about 2.5cm in diameter. Unroll the pastry on a floured surface and roll it out just a little across its width, so it is 1cm wider. Cut it in half, lengthways. Pipe half the sausage mixture down the centre of one piece of pastry. Brush all down one side with beaten egg, then fold the pastry over the sausage meat and press the edges together to seal. You should have a flat lip on one side where the edges join; press down all along this with a fork to mark and seal. Cut into 4 sausage rolls and place on a lined baking sheet. Repeat with the remaining pastry and filling. Chill for 15 minutes.

The piping bag may seem a faff, but have faith. It makes filling the sausage rolls much simpler.

Heat the oven to 180°C, fan 160°C, gas 4. Brush the sausage rolls with beaten egg and bake for 35-45 minutes until golden brown and cooked through – check the underneath; the pastry should be lightly golden. Serve slightly warm or at room temperature.

Fortnum & Mason: Christmas And Other Winter Feasts by Tom Parker Bowles, £30 (4th Estate) is out now.
Don't miss

---