Gluten-free clementine and pomegranate cake
Serves
10-12
|
prep
15 mins
|
total time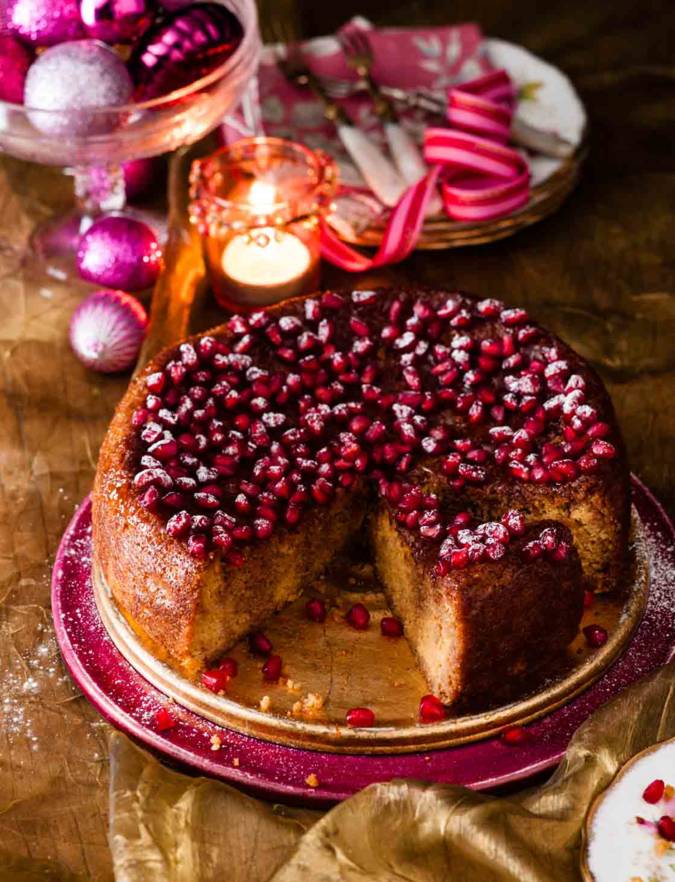 Nutritional information (per serving)
See more
Ingredients
350g (4-6) clementines or satsumas

2 cinnamon sticks

6 large eggs

250g light muscovado sugar

1 tsp gluten-free baking powder

300g ground almonds

2 pomegranates

1 tsp orange blossom water

½ tsp vanilla bean paste or a dash of vanilla extract

3 tbsp apricot glaze, warmed

icing sugar, for dusting
Get ahead
The cake can be made up to the end of step 6 a couple of days ahead. Cover and store in an airtight container. The cake can also be frozen at this stage.
Put the whole unpeeled clementines or satsumas and the cinnamon sticks in a medium pan. Cover with cold water, then bring to the boil. Reduce the heat and leave to simmer, covered, for 1½ hours, then drain the fruit and remove the cinnamon sticks. Leave to cool for 30 minutes.
Halve the cooked fruit, discard the pips and purée the fruit, including the peel, in a blender or food processor.
Preheat the oven to 180°C, fan 160°C, gas 4. Grease and line a 23cm round tin, about 9cm deep, with baking paper. Using an electric mixer, whisk the eggs and 225g sugar in a bowl over a pan of barely simmering water for about 5 minutes until pale and mousse-like. Take the bowl off the heat and add the baking powder, ground almonds and the purée. Fold in gently but thoroughly.
Transfer the mixture to the tin and bake the cake for 20 minutes, then reduce the oven temperature to 160°C, fan 140°C, gas 3, and bake the cake for another 30 minutes or until a skewer inserted in the middle comes out clean. Take the cake out of the oven and leave it to cool in the tin for 15 minutes, then transfer to a wire rack to cool completely.
To make the syrup, cut one of the pomegranates in half, squeeze both halves to extract the juice and pour the juice into a small saucepan; add the remaining 25g sugar. Bring to the boil and simmer for 2 minutes. Cool slightly, but the liquid should still be warm, then stir in the orange blossom water and vanilla.
Using a pastry brush, 'soak' the cake with the warm pomegranate syrup.
Next, brush the warm apricot glaze all over the cake, including the sides. Just before serving, cut the remaining pomegranate in half and remove the seeds; scatter them over the top of the cake and dust with icing sugar.
This moist cake is packed with festive flavours and is gluten- and lactose-free – a bonus if one of your guests is coeliac or lactose intolerant. The pomegranate seeds give a jewel-like effect and add a bit of glamour. Serve for tea or as a pudding with stewed winter berries and crème fraîche or non-dairy coconut yogurt.