Steaks with chimichurri salsa and baked sweet potatoes
---
Prep time: 25 mins
Total time: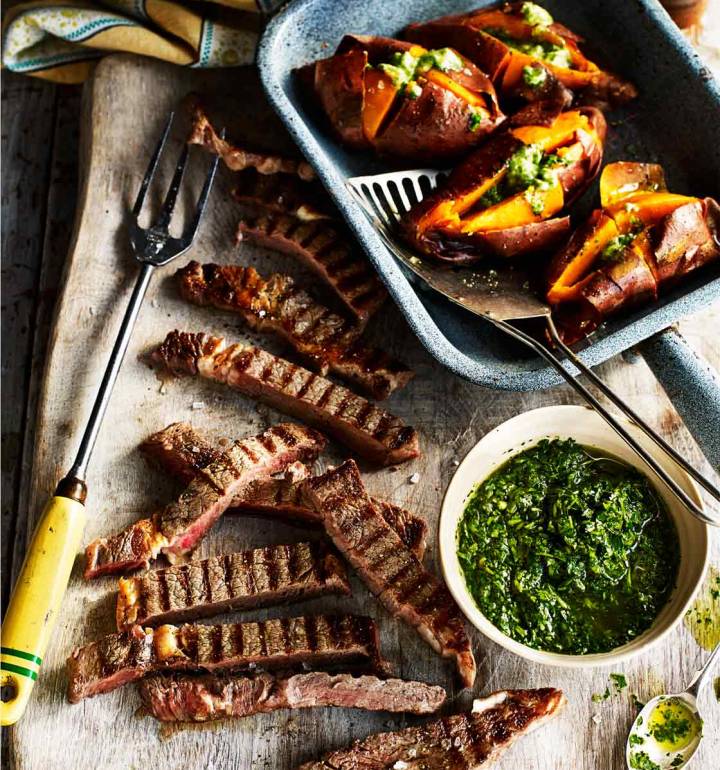 Photohraph by Kris Kirkham
Steaks with chimichurri salsa and baked sweet potatoes
---
Prep time: 25 mins
Total time:
---
See more recipes
---
Nutritional information (per serving)
---


Ingredients
2 x 1.25kg bags sweet potatoes
sea salt
8 rib-eye steaks, at room temperature
a sprinkle of smoked paprika
For the chimichurri salsa:
2 x 28g packs flat-leaf parsley
1½ x 31g packs coriander, leaves only
2 garlic cloves, crushed
juice of 2 limes
8 tbsp olive oil
2 tsp dried oregano
1 tbsp white or red wine vinegar
For the green chilli butter:
100g soft butter
2 green chillies, chopped
½ x 31g pack coriander, leaves only
Step by step
Make the salsa and chilli butter the day before; chill. The salsa will discolour slightly, but it will still taste delicious.
Preheat the oven to 200°C, fan 180°C, gas 6. Scrub the sweet potatoes and rub a little oil and sea salt on the skins, transfer to 1 large or 2 smaller baking tins and bake for 45 minutes-1 hour, or until they are tender.
For the salsa, put all the ingredients in a food processor with some seasoning and whiz together until chopped.
For the green chilli butter, mix the soft butter with the chilli, coriander and some seasoning in a small bowl; chill.
Shortly before the sweet potatoes are ready, season the steaks, rub a little oil on each one and sprinkle them lightly with salt and smoked paprika. Preheat a frying pan or griddle pan until it is really hot; fry the steaks in batches for 3 minutes on each side. Transfer them to a board to rest as they are ready.
Split open the sweet potatoes and add a little of the chilli butter to the centre of each.
Slice the steaks and serve with the chimichurri salsa and the sweet potatoes.
An easy Saturday night-style supper with lots of South American flavour. A big green leafy salad is a good accompaniment here. If you prefer, roast a beef joint instead of cooking the steaks, to serve with the salsa, sweet potatoes and green chilli butter.
Don't miss

---