Seeded overnight no-knead loaf
Makes
1 loaf (12-14 slices)
|
prep
10 mins
|
total time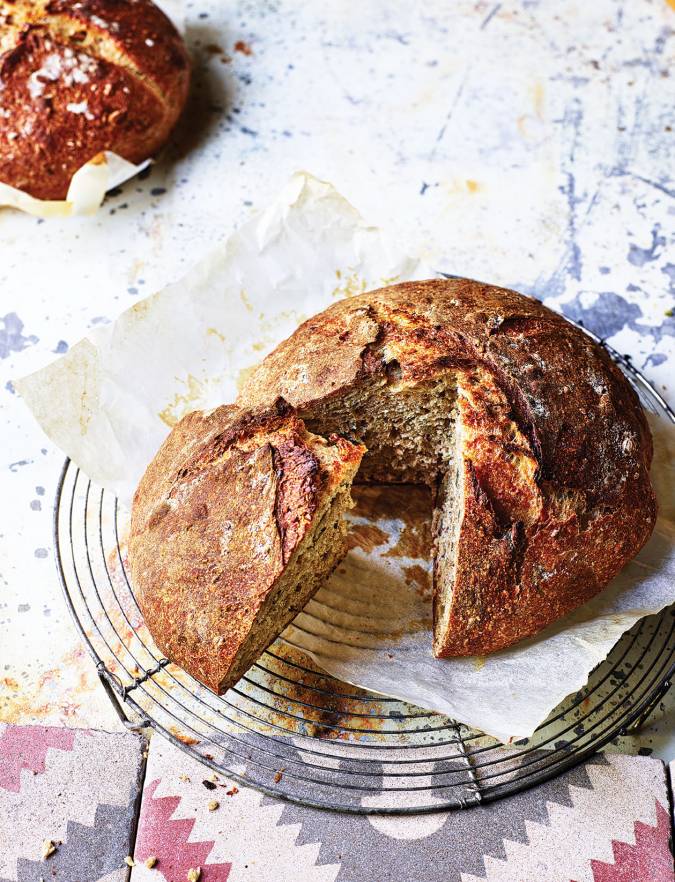 Seeded overnight no-knead loaf
Subscribe to Sainsbury's magazine
Makes
1 loaf (12-14 slices)
|
prep
10 mins |
total time
It's hard to believe that this no-knead, virtually hands-free loaf is really going to work, but rather like sourdough, it has a slightly tangy flavour, an open-crumbed texture and a wonderfully crisp crust. It's inspired by a legendary method popularised by food writer Mark Bittman in The New York Times
Nutritional information (Per slice )
See more
Ingredients
350g strong white bread flour, plus extra to dust

175g wholemeal bread flour

1⁄4 tsp fast action dried yeast

½ tbsp fine sea salt

75g mixed seeds

2 tbsp clear honey or maple syrup - if vegan, use maple syrup, not honey
Get ahead
Make sure you start this the day before baking. The loaf keeps for 2-3 days, or can be frozen
At least 12 hours before baking, combine the flours, yeast, salt and seeds in a large mixing bowl, making a well in the centre. Stir the honey or maple syrup into 350ml warm water in a jug, then pour this into the bowl. Use a wooden spoon to mix together into a slightly sticky, shaggy dough, without any loose flour left in the bowl. It will look decidedly unpromising at this stage, but don't worry, just cover the bowl and leave overnight.
Next day, the batter will look much wetter and slightly bubbly. Scrape the sticky, stringy dough out onto a floured surface and fold over once or twice. Turn the bowl over and use it to cover the dough (use a larger bowl if necessary). Leave to rest for 15 minutes.
Dust a square of baking paper with flour. Shape the loaf into a round and lift onto the paper. Sprinkle with a little more flour and cover again with the upturned bowl, or a clean cloth. Leave to prove for 2 hours or until roughly doubled in size.
About 30 minutes before the end of the proving time, put a ovenproof casserole (around 22cm base diameter) and its lid in the oven (or see tip below) and preheat to 220°C, fan 200°C, gas 7. When the 2 hours is up, score the top of the loaf with a crosshatch pattern, using a sharp knife. Use the paper to quickly lift the loaf into the hot casserole dish (keep the paper under the loaf); replace the lid (use oven gloves to handle the very hot lid).
Bake for 30 minutes, covered, then remove the lid and bake for a further 15-20 minutes until the loaf is browned and really crisp, and sounds hollow when the base is tapped. Remove from the casserole and cool on a wire rack before slicing. Resist the temptation to cut into your loaf too soon, as this will affect the crumb texture, making it doughy.

Tip If you haven't got a casserole you can prove and bake the bread in a 900g loaf tin, or bake the round loaf on a preheated baking tray. Add a roasting tin of boiling water to the oven bottom to create steam, to help the bread crisp up.