Travel
From Lebanon with love
by Felicity Spector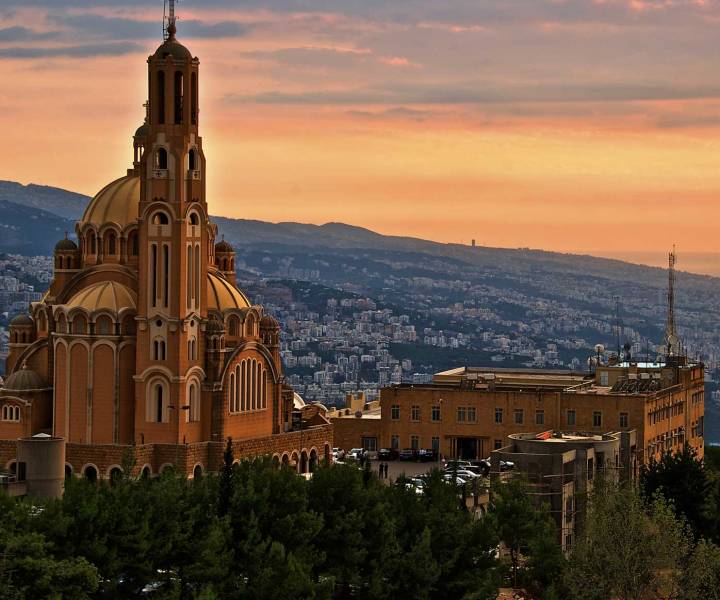 Image: Getty Images
Long mired in conflict, the gateway to the Middle East has emerged as one of the world's most dazzling culinary destinations. Now's the time to explore, says Felicity Spector...
I've wanted to visit Lebanon for almost 30 years, ever since the civil war ended, after the guns and tanks finally fell silent, when Beirut was no longer synonymous with tragedy. It's a gateway to both the Orient and the West, full of incredible history and natural beauty. And, perhaps most attractively of all to a food writer, it's stuffed with amazing things to eat. Finally, I had a chance to go, travelling with chef and food writer Bethany Kehdy, who grew up in Lebanon and is passionate about its culinary heritage, its artisan producers and the stories behind the country's food. Her company Taste Lebanon runs week-long food tours around the country (as well as shorter trips), and I couldn't wait to take part.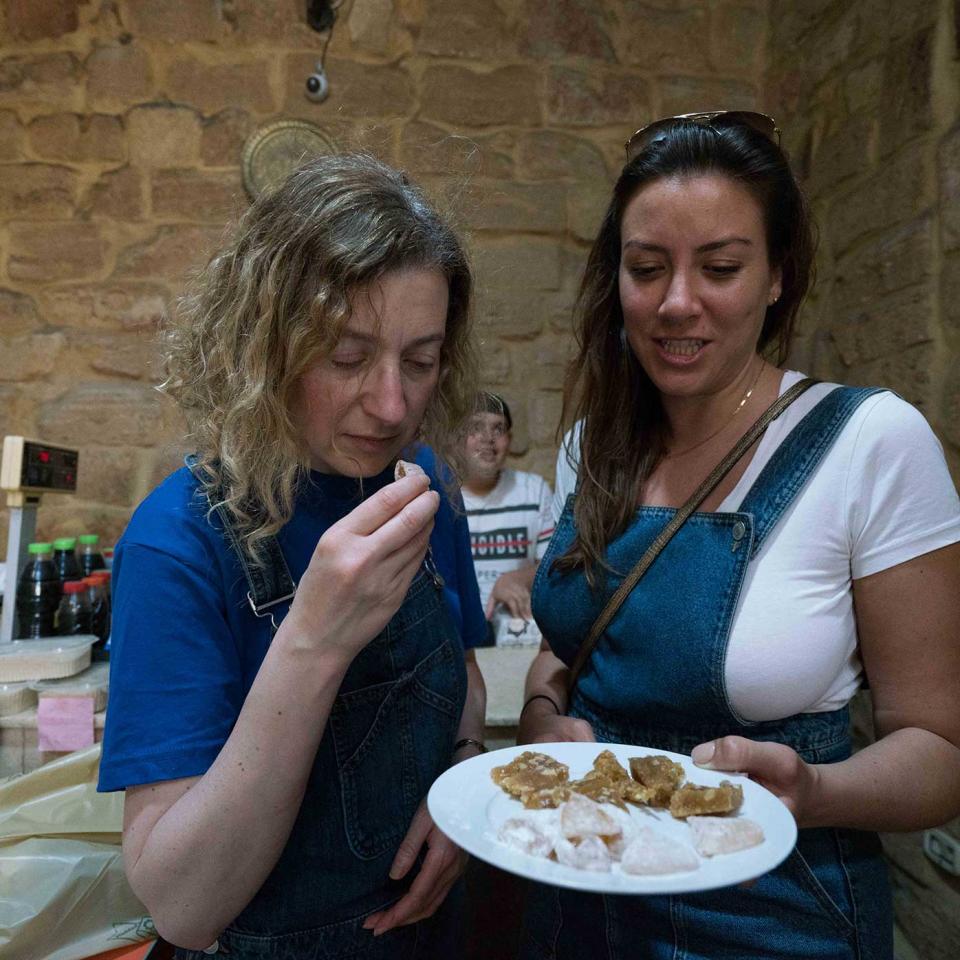 Felicity and Taste Lebanon's Bethany Kehdy. Image: Shaima Al-Tamimi
Arriving late at night, we take a whirlwind journey through the narrow streets of the capital – the traffic in Lebanon is manic. Crossing the street requires a certain amount of courage: you basically hold out an outstretched hand and run for the other side. Thankfully, the city's restaurants prove a haven of tranquility – like classically elegant Liza, where we sink gratefully onto embroidered banquettes for our first experience of the sheer generosity of Lebanese food.
Our table is heaped with impossibly creamy houmous, a smoky aubergine dip called mouttabal, little pastries stuffed with spinach and huge bowls of Middle Eastern salads like fattoush and tabbouleh. All of it is scooped up with warm rounds of Arabic bread – and it's just the first course. The waiters somehow clear a space and bring in vast platters of grilled meat and vegetables, and bowls of freekeh – a smoky, cracked wheat – with roast chicken.
The next day, under the searingly hot sun, we join our culinary guide Iffat for a tour of Beirut's street food, through neighbourhoods that were once completely off limits due to the wartime Green Line which divided the city's predominantly Christian East from the mainly Muslim West. There are still buildings pockmarked by bullet holes and shells: on the roof of one, an olive tree grows as a symbol of renewal and peace.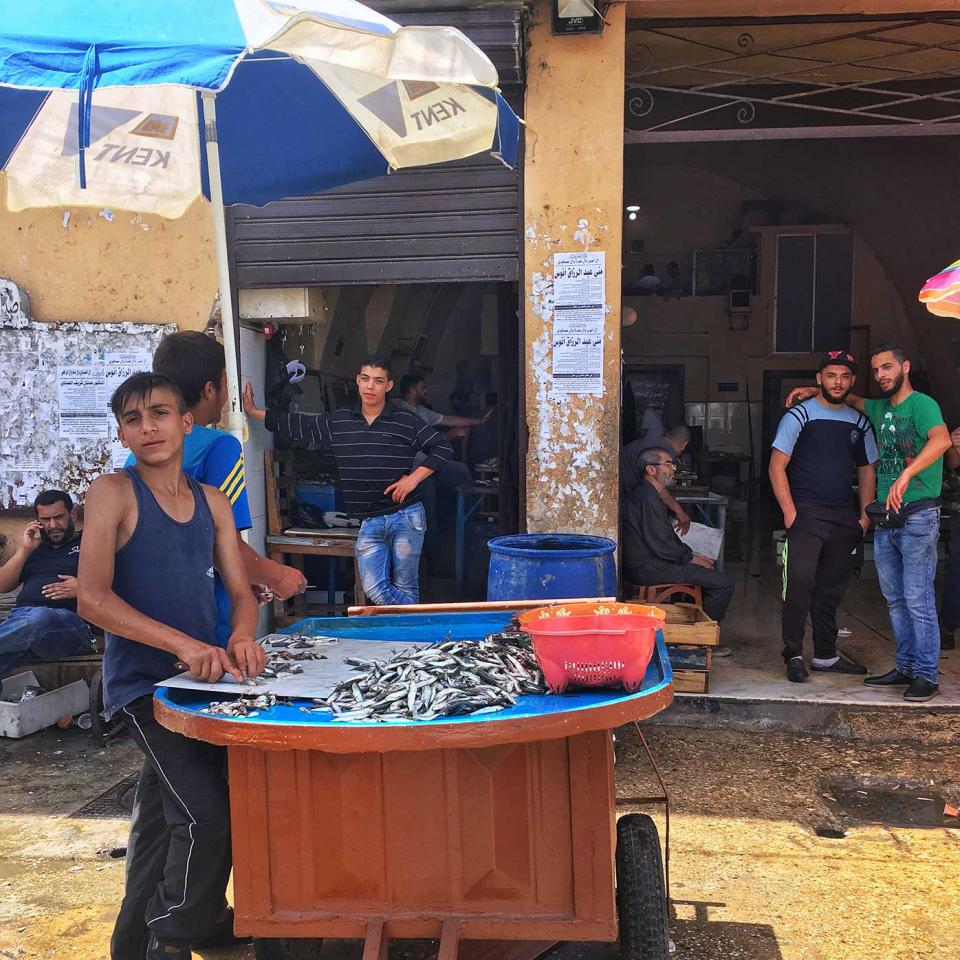 Selling fish on the streets of Tripoli. Image: Felicity Spector
We stop at the Armenian Ichkhanian bakery, which opened in 1946 and has never closed, not even during the worst days of the civil war. Inside, we try the irresistible freshly baked lahmadjun, flatbreads topped with tomatoes, onions, mushrooms and herbs, and tiny, meat-stuffed dumplings called manti, which are so intricate and perfectly made, they resemble a work of art. At the dessert specialist Rafic al Rashidi we sample the sticky, cheese-filled semolina pastries called kunafe, and atayef, little pancakes stuffed with a creamy ricotta-type cheese, topped with pistachios.
You add your own syrup from a squeezy bottle, trying not to get it all down your front. Then it's time for ice cream at the legendary Hanna Mitri. There's a choice between fruit sorbets and ice cream made the traditional way with milk, no cream or eggs, and a special wafer biscuit which you can fill with as many flavours as you like. In the heat of the afternoon, the apricot sorbet studded with kernels, plus a wedge of pistachio ice cream for luck, is about as perfect as it gets.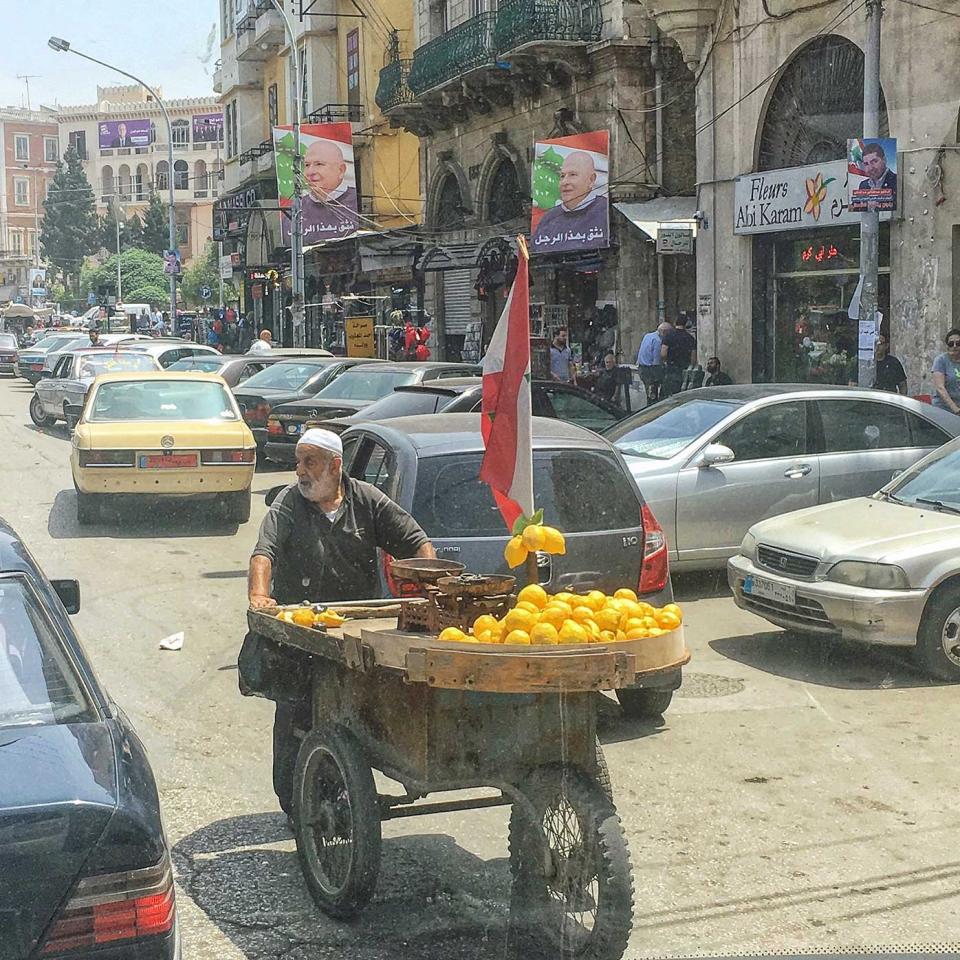 A lemon seller in Tripoli. Image: Felicity Spector
Later, we explore the countryside beyond: first, a stop in the village of Amchit and a bakery run by three sisters, dressed identically in white T-shirts and navy shorts. They deftly knock out incredible flatbreads topped with eggs, cheese and herbs, some flecked with preserved meat – and marourwaka, an intricate spiral pastry stuffed with minced nuts and brushed with syrup. The skill involved in making these treats is mind-blowing. From there we drive on to the coastal city of Batroun and the Jammal seafood restaurant, where the tables are on the very edge of the beach so the water laps around your feet as you eat.
The view, in this little cove nestled between the rocks, is spectacular; the food, from whole sea bass to huge prawns and octopus, even more so. On again, to the country's second city of Tripoli, not far from the Syrian border. Despite the turbulence a few miles away there's no sign of hostility here – the riskiest thing we encounter is probably the traffic. Bethany leads us deftly through the maze of souks, stopping at one stall to pick up pillowy flatbreads, another for just-baked pastries stuffed with minced beef from the butcher.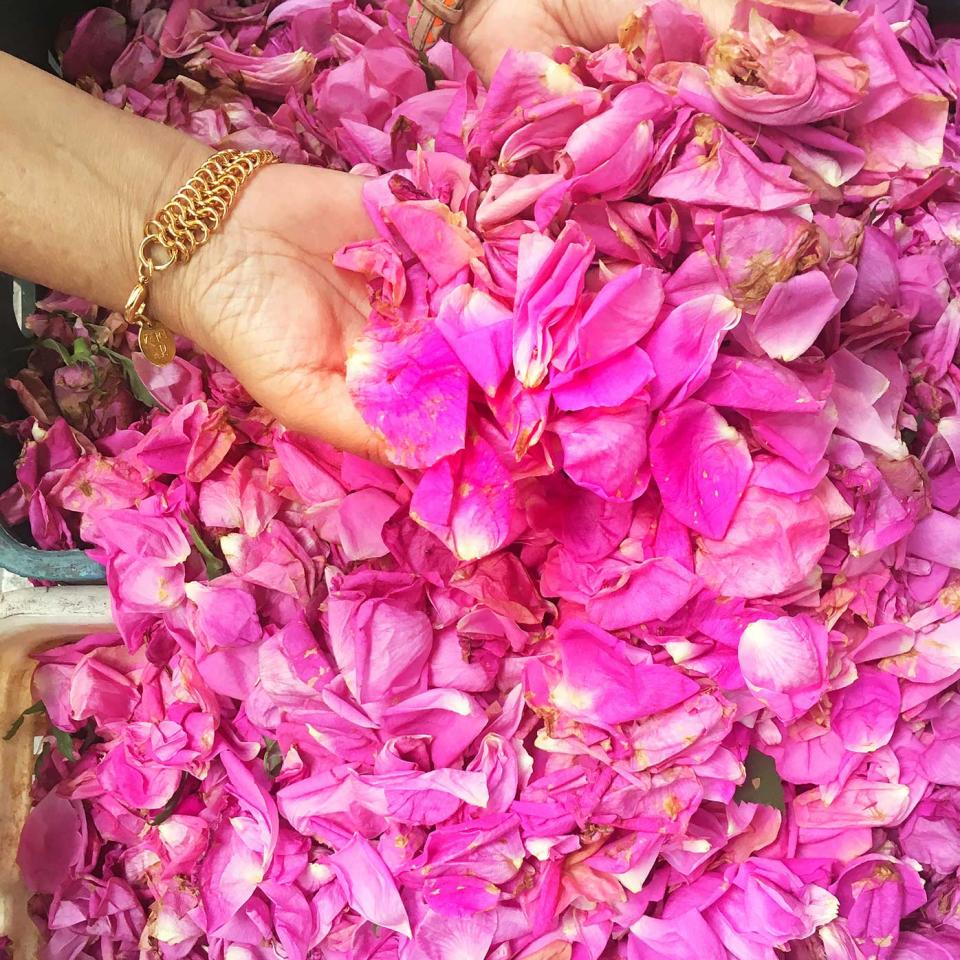 Rose petals. Image: Felicity Spector
Less than 10 miles from the border is Baalbek – and one of the most stunning ancient ruins in the world, a complex of temples dating back thousands of years. Incredibly, we have the place to ourselves. Visiting the Palmyra Hotel opposite feels like stepping back in time too, to the 1920s: at breakfast an old lady sets up on the floor in the corner of the restaurant to make delicious fresh breads stuffed with the classic Middle Eastern herb za'atar: a native plant which tastes like a mix of wild thyme, marjoram and oregano, and is also made into a spice mix of the same name.
We have one more stop to make – driving south this time, past many army checkpoints and Hezbollah flags, towards the Israeli border. At Nabatiyeh we visit the Zawtar za'atar farm, run by the gentle Abu Kassem, one of the first Lebanese farmers to domesticate the plant. By the banks of the Litani river, his wife Fatima serves up a picnic lunch of a delicious lentil stew called mujaddara, with fresh za'atar salad and flasks of strong black tea. Their kindness is overwhelming.
'You have your Lebanon and its dilemma. I have my Lebanon and its beauty,' wrote the country's most celebrated poet Khalil Gibran. It is a beauty which is chaotic, which is fractured, but which brims over with life and colour and flavour. I'm already planning when to go back.
To find out more about Taste Lebanon tours, visit tastelebanon.co.uk.
5 delicious things to eat in Lebanon
1. Manoushe flatbreads at Halani Tanoor
I scoffed many flatbreads on the trip, but the best were from the Halani Tanoor bakery on the edge of a dusty road outside Baalbek, made fresh in a wood-fired oven, stuffed with halloumi-style cheese or spinach and tomatoes – utterly delicious.
2. Mouwaraqa at the Furn el Sabaya bakery
This Amchit bakery's signature dessert is a thin dough filled with a mix of finely chopped nuts and orange blossom water, brushed with syrup and baked until flaky and crisp.
3. Karabij at Bkerzay
At this impossibly gorgeous eco resort we had a dessert of warm, shortbread-style biscuits filled with a vibrant green pistachio paste, along with a marshmallowy dip spiked with rose blossom. It was incredible.
4. Labneh and houmous at Liza in Beirut
I could happily eat this all day long: rich, creamy labneh flecked with nigella seeds and the creamiest, smoothest houmous, with a mountain of flatbreads to scoop it all up.
5. Salads at Tawlet
A social-enterprise kitchen with outstanding food. The help-yourself buffet features dishes cooked by women from all over Beirut – they're fresh, tasty and pretty much the ideal lunch.
Don't miss these Lebanese dishes
Don`t miss

---