Travel
Staycation: The House in Hastings
by Liz Stansfield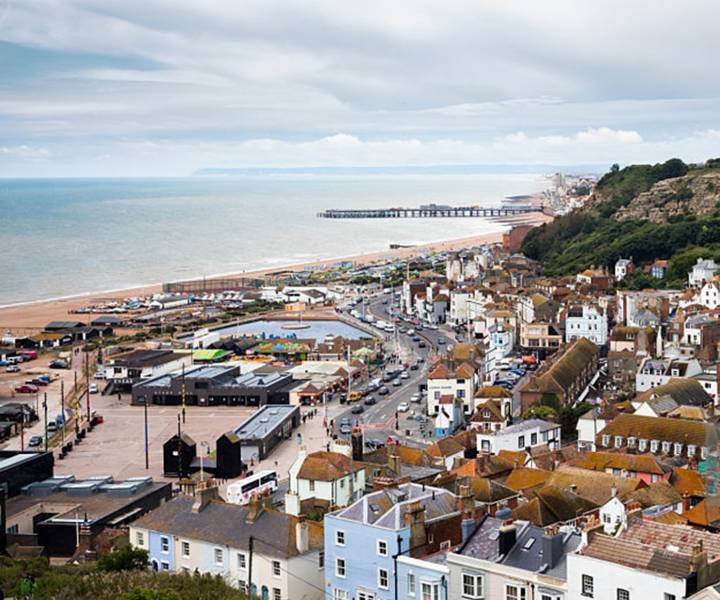 The 'atmospheric' streets of Hastings
The Sainsbury's magazine team escaped London's fume-filled streets and headed to Hastings for a couple of days of brainstorming and team bonding. Liz Stansfield, our digital editor, reports.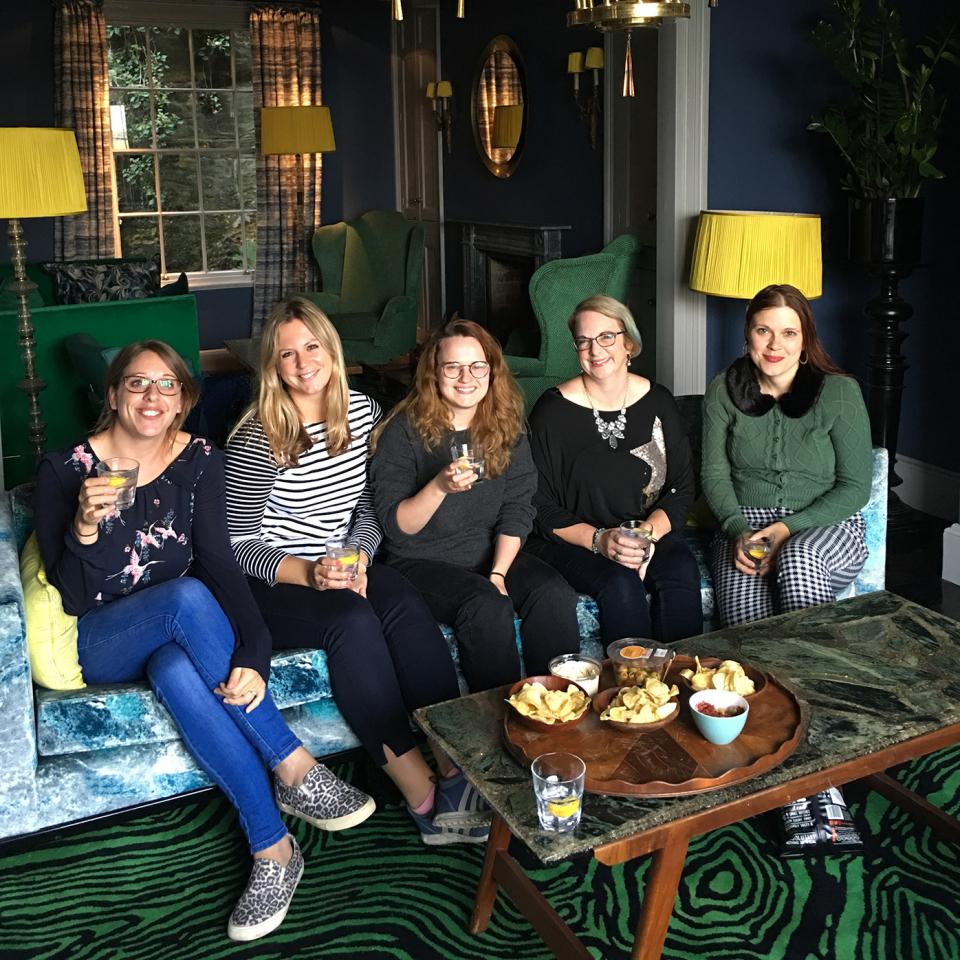 The Sainsbury's magazine team
Our arrival at Hastings railway station is the usual British seaside town affair – no taxis, drizzling rain and a seemingly chaotic bus queue filled with art students. So we're mightily relieved when a couple of taxis eventually turn up and we head to the atmospheric Old Town, with its cobbled streets and gorgeous higgledy-piggledy houses – a mix of quaint clapboard cottages, revamped Victorian terraces and grand Georgian villas.
Tucked away in a back street we find our home for the next few days, simply known as The House In Hastings. This smart, five-storey Regency former sea captain's house has kept its traditional charms while undergoing a complete interior makeover to become a self-catering property for large groups.
Chandelier chic
We 'ooh' and 'aah' our way around, admiring the cool mid-century furniture, the rich jewel tones in the ombré velvet curtains and quirky collectibles. The chandeliers alone could have their own Instagram feed.
First things first, we celebrate the start of what will be a very busy few days with drinks in the dramatic dark blue sitting room, with its velvet furniture and views to the seafront. We'd ordered an online grocery delivery, which we unpack in the brilliantly equipped scullery-style kitchen. Snacks are served in the dining room, where we are to spend the next few days sitting at the ginormous round table, drilling down our plans for the magazine and website, and coming up with brilliant ideas.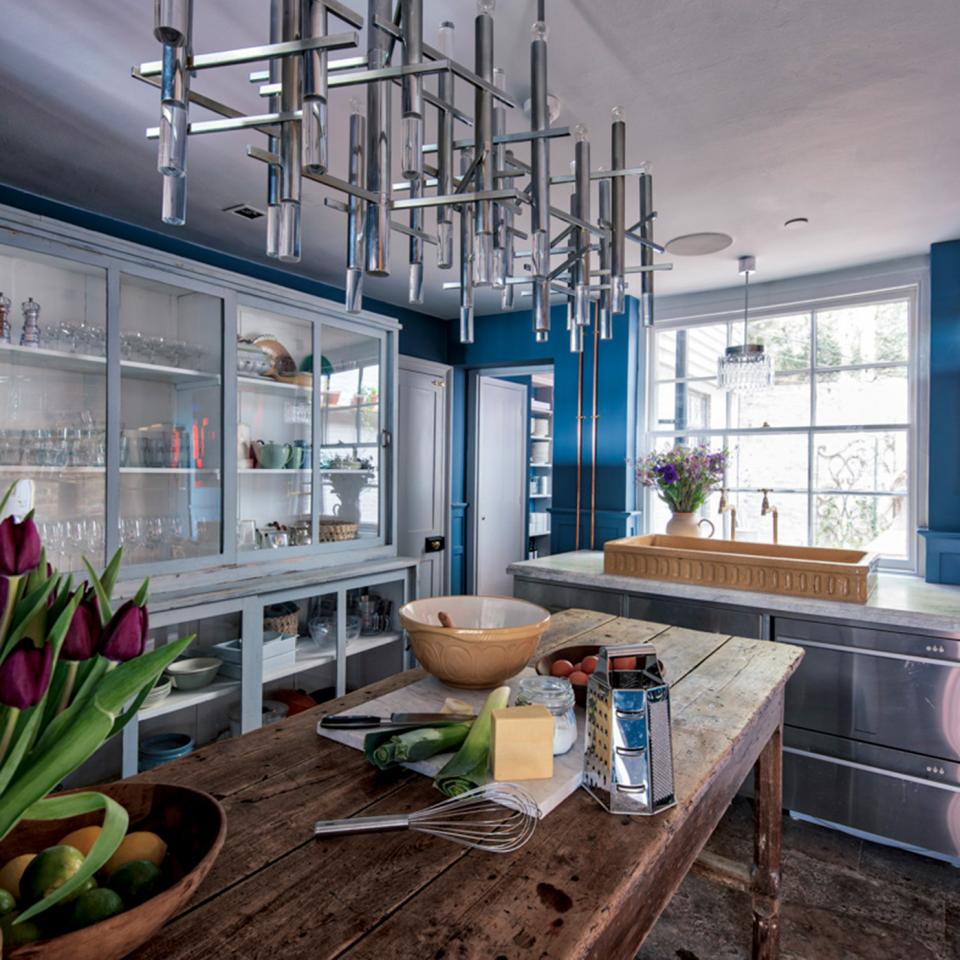 The very well-equipped kitchen
After unpacking, dinner is on the cards and, for our first meal, we choose nearby The Crown, a friendly gastropub packed with locals and their dogs. Here, we wolf down plates of ham, egg and chips, vegetarian kofte platters and succulent salt marsh lamb cutlets with sweetcorn. At bedtime there's no squabbling over bathrooms, as there are four between us, plus two separate loos. We make the most of the luxurious 'drench' showers, roll-top baths, piles of gorgeous REN products and fluffy towels.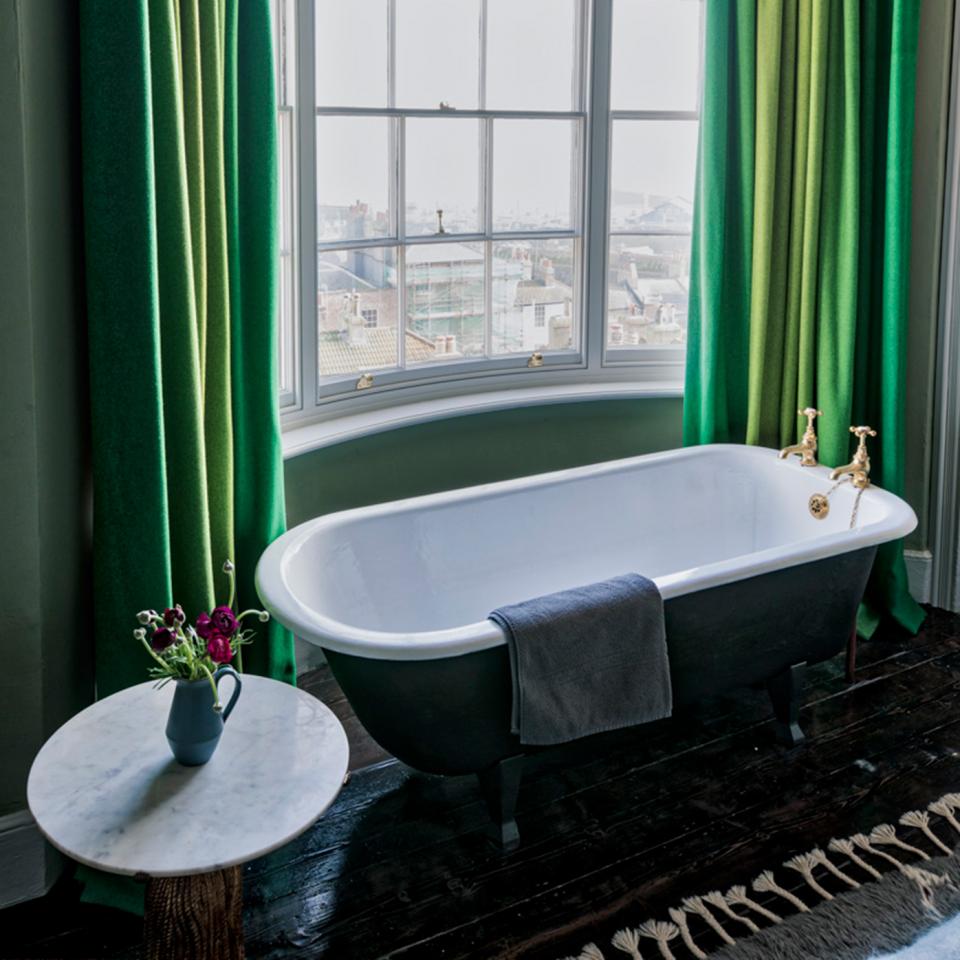 One of the roll-top baths
Overnight the weather changes and we wake to a glorious day. The healthiest among us drift off on runs or walks along the seafront, where we take photos of a beautiful sunrise before heading back for breakfast, picking up bread at Judges Bakery on the way. This quaint bakery has been delivering cottage loaves, giant homemade sausage rolls and glistening buns to the good people of Hastings since 1826, and becomes our go-to stop for lunch essentials and great coffee. That night we enjoy dinner at Dragon Bar, a cool hipster hangout (but don't let that put you off). It's got a fun, upbeat atmosphere with delicious dishes scrawled on a blackboard. We tuck into pork belly, steaks and pans piled high with paella.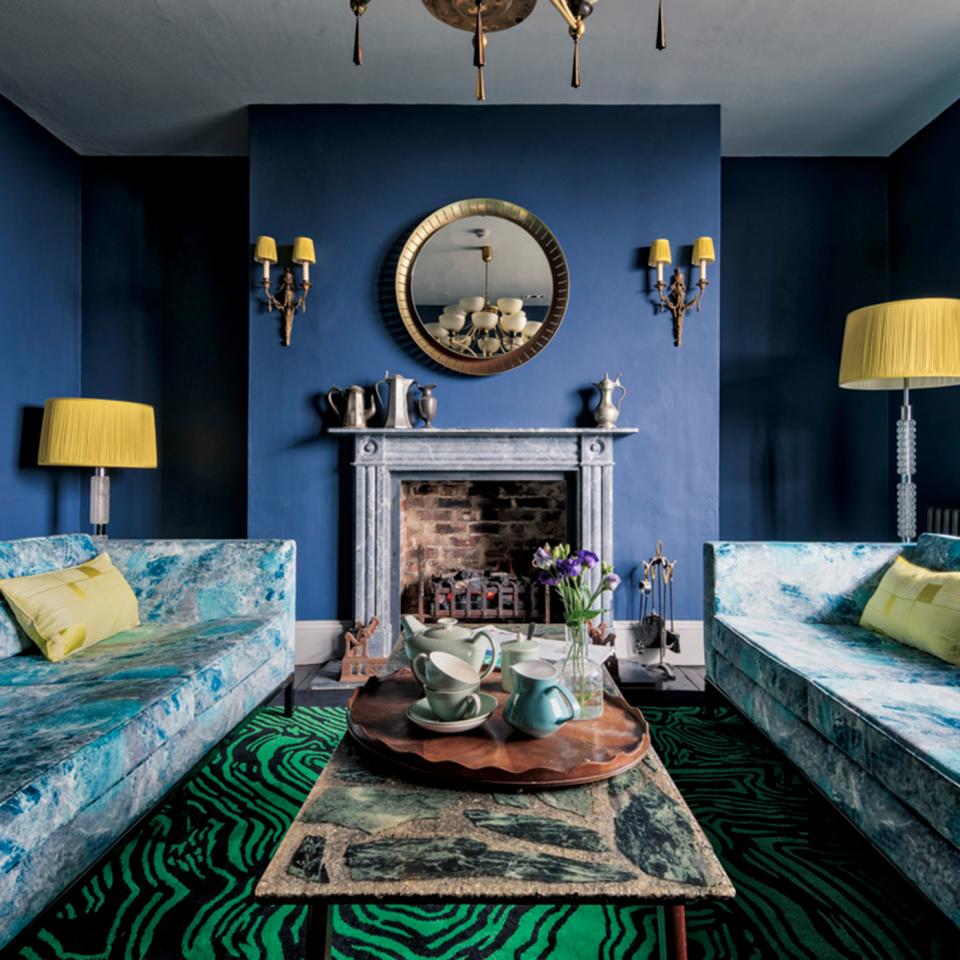 The 'dramatic dark blue' sitting room
The streets of Hastings are a bric-a-brac browser's paradise; the team snaps up bargains including leather handbags, collectable LPs, vintage clothing and arty homeware. Ex-food stylist and Sainsbury's magazine contributor Alastair Hendy has a must-visit shop, AG Hendy that sells cooking essentials and treats. He also runs a tiny seafood restaurant and cookery school. Other attractions include the small but beautifully contemporary Jerwood Gallery on the seafront and the charming funicular East Hill Cliff Railway.
Our last night in Hastings is a celebration of a brilliantly productive few days, so we dive into the First In Last Out pub, a proper boozer with no fruit machines or jukebox, just lively banter, an amazing selection of beers, and good, classic pub grub such as (yes, our favourite) ham, egg and chips with bubble and squeak and coleslaw, beef and ale pies and proper old-school fish and chips. If the locals had started singing sea shanties, we wouldn't have been surprised.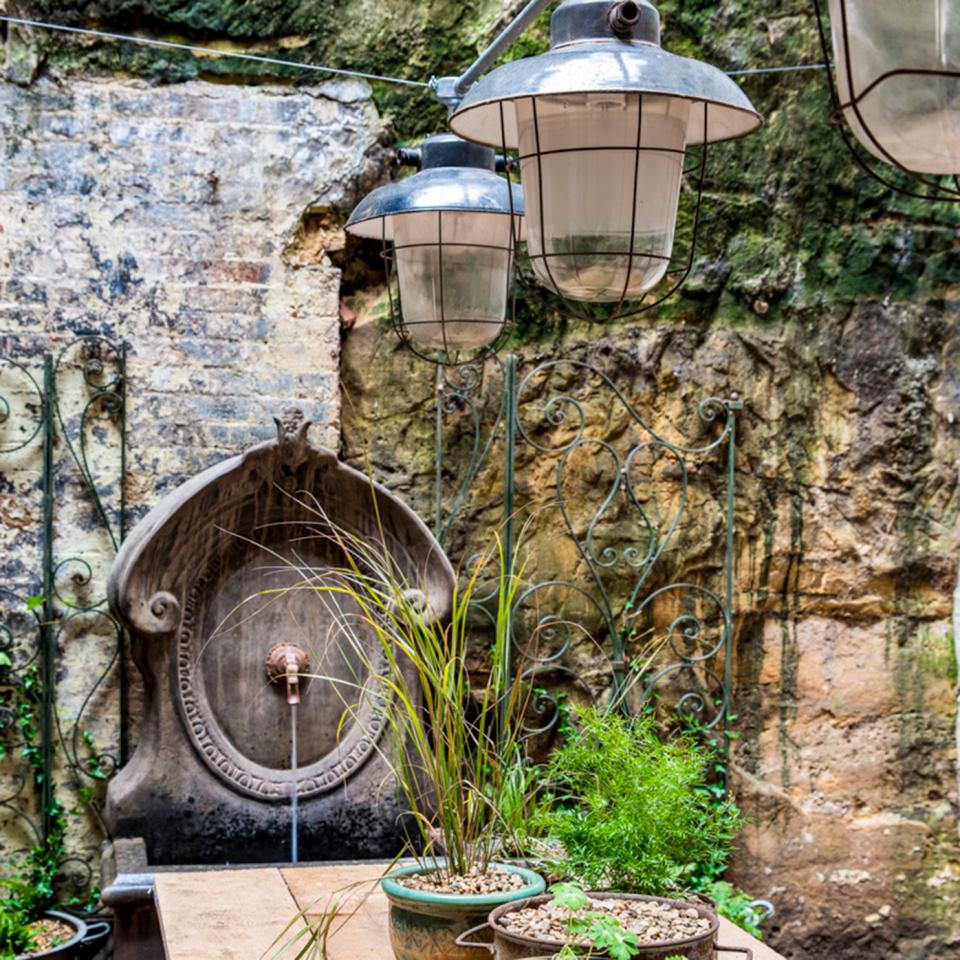 The Fernery courtyard
Hastings has long been in the shadow of its neighbour Brighton as a staycation destination, but if you are looking for authenticity, culture, style and charm, we think it's got its big brother beat.
Where we stayed
The House In Hastings sleeps 10 and is perfect for group getaways. It can be booked (only in its entirety) Monday to Thursday, from £1,450; weekends Friday to Monday, from £1,850; and full weeks from £2,250.
Don`t miss

---