Travel
Deep and crisp: mindful skiing in Alta Badia
by Lisa Harris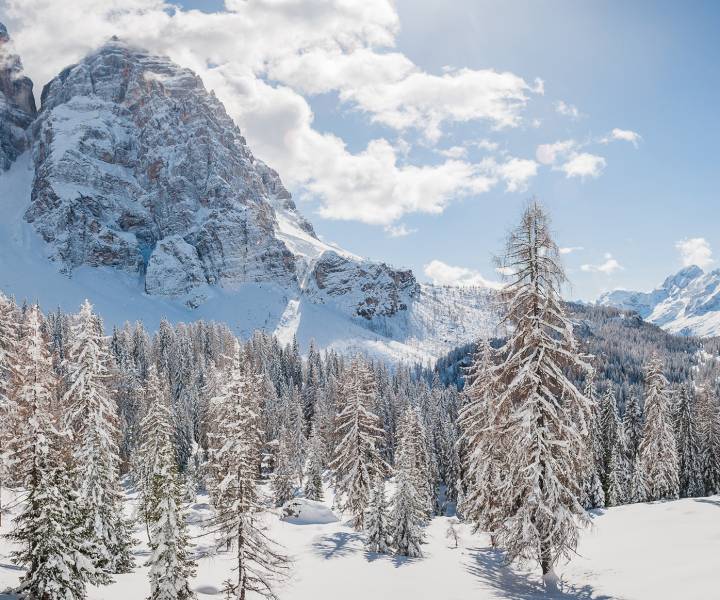 The pine trees and 'calming silence of the mountains
Lisa Harris tries a mindful skiing break high up in the Dolomites...
I'm, trying to hold my bum in, thrust my arms forward, and swing my legs back all at the same time – I've never been so mindful in my life, but I don't seem to be getting anywhere! I'm learning to cross-country ski, high up in the Dolomites. I'm here on a mindfulness holiday at the elegant five-star Rosa Alpina Hotel and Spa in San Cassiano, in the Alta Badia region of northern Italy. My little retreat includes morning yoga, a daily massage and cross-country skiing lessons to help me become more mindful.
This is the ultimate self-care getaway: the airport signs said 'Welcome to Innsbruck', but I think I've arrived in heaven. Mindfulness is about coming back to the present; being aware of your surroundings and conscious of how you feel in the moment. It's said to reduce stress and increase wellbeing, and everyone's at it: we're told mindful eating is better for digestion, mindful shopping will save us money, and there's even a craze for mindful boxing. I was curious to find out how mindfulness could improve a holiday...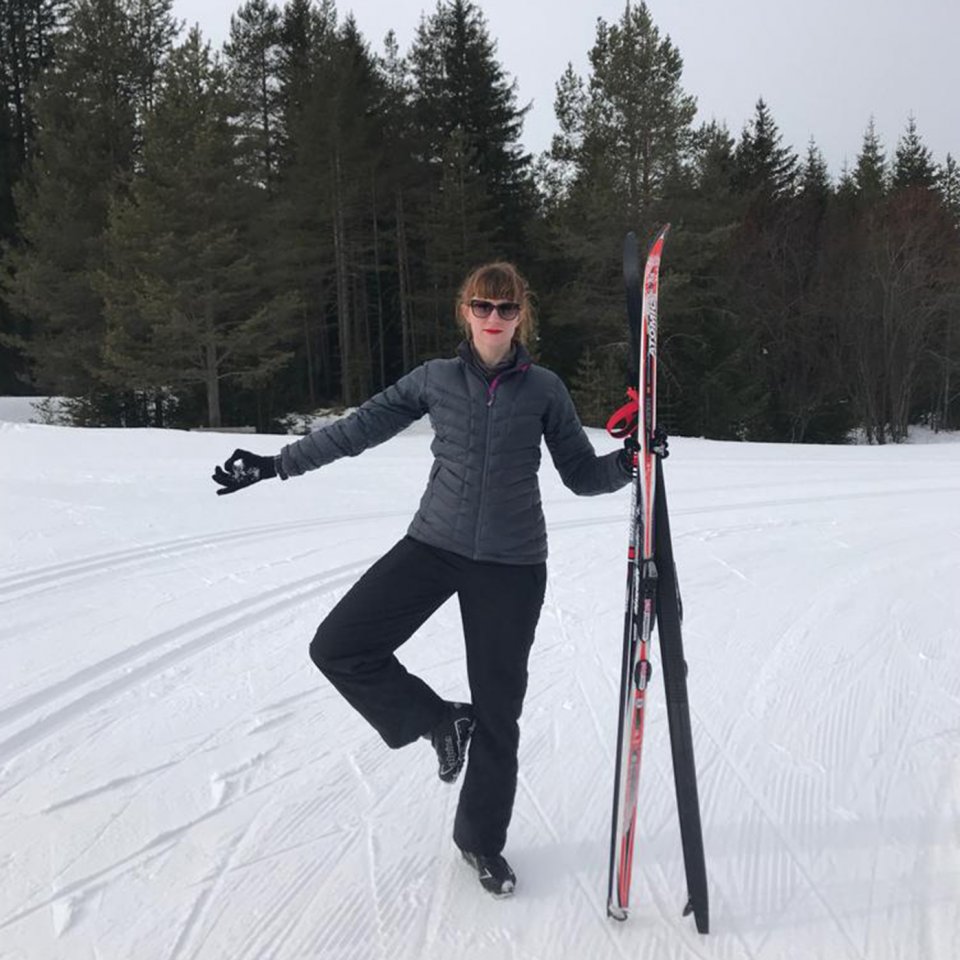 Lisa gets to grips with cross-country skiing
If being aware of your surroundings is the first step to mindfulness, then San Cassiano leaves you no option. Mount Piz dles Cunturines rushed up in front of me as I stepped out of the taxi. After checking in, I couldn't resist following the footpath to get a bird's eye view across the town with a spectacular sunset across the mountain tops. The hotel is nestled in the heart of this picture-postcard village. Locals speak Italian, German and Ladin dialect, and the hotel echoes this with baroque Greek statues and Mediterranean flourishes, alongside soft Alpine rugs, candles and wooden interiors.
Run by husband-and-wife team Hugo and Ursula Pizzinini, the hotel has been in the family for nearly 80 years. My balcony had an uninterrupted view over the snowy mountains, and the plush room was complete with log fire, an abundance of feather pillows, and a welcome box of chocolates (did I mention this was heaven?). The next morning, I rolled out of bed and straight into my yoga leggings. I'm used to classes in London, where city workers pack themselves into sweaty, dimly lit studios like sardines in search of nirvana. Here, however, I was downward dogging in a sunlit studio with floor-to-ceiling windows and more mountain views. Our yoga teacher, Angelica, gently encouraged us to breathe, stretch, and be in the moment. London felt very far away indeed.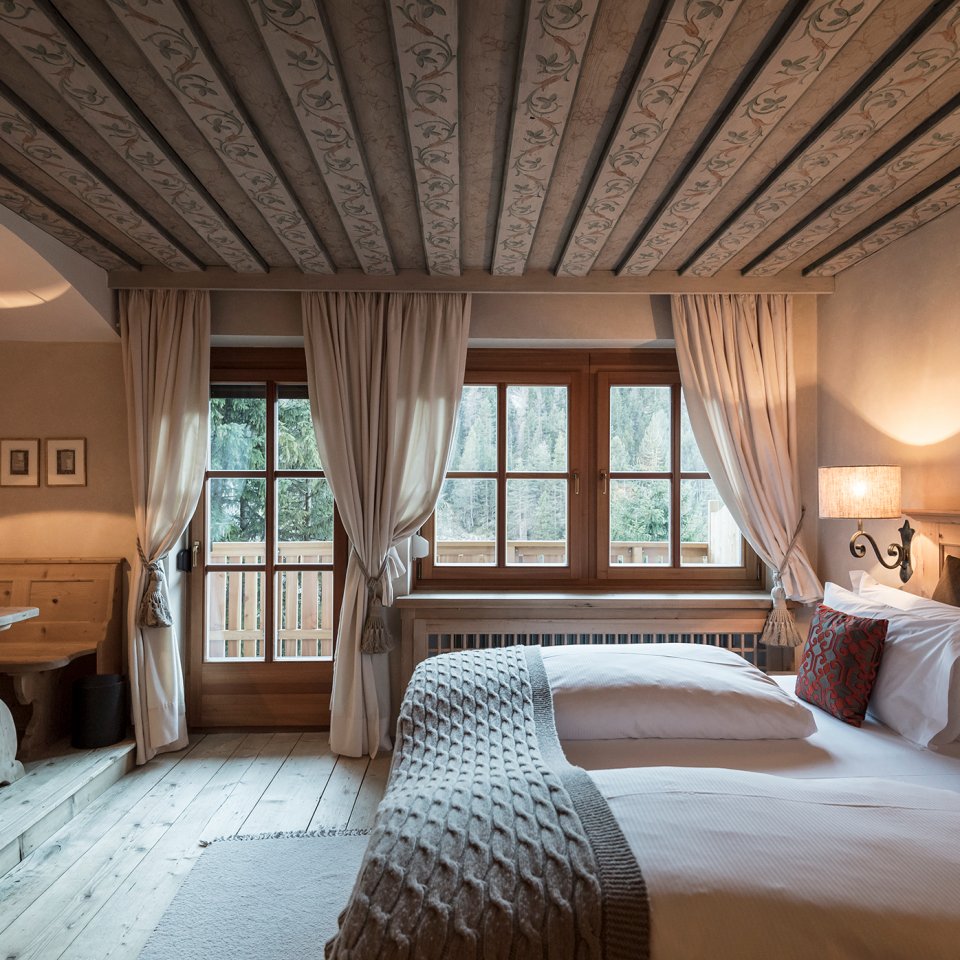 Lisa's plush room at Rosa Alpina
After a nourishing breakfast, I was fully charged for skiing. Our instructor, Giorgio, took us through the basics of cross-country skiing. While he glided effortlessly, I flailed around directionless. Giorgio was philosophical: 'Don't push yourself forward, allow the skis to carry you.' I was at the point of throwing my skis aside, when I remembered I was here to practise mindfulness. I tried again... Facing headfirst down a snowy hill, balancing on two inch-wide pieces of wood, doesn't sound like the best time to switch off – but it helped. I absorbed Giorgio's advice, allowed my mind to relax, and trusted my body to do the rest.
Before I knew it, I was gliding through pine trees, into the calming silence of the mountains. After all that exercise I was ready for some mindful eating. The hotel's three Michelin star Restaurant St Hubertus has pioneered a 'cook the mountain' philosophy, which only uses ingredients indigenous to the area. There's no olive oil, citrus or tomatoes here, so chef Norbert Niederkofler takes a playful approach that defies expectation, with prosciutto made from air-dried lamb, waffles enriched with bone marrow, and a tomato-like bruschetta made from fermented plums. The evening came to a close with a glass of local Franciacorta fizz, while being serenaded by the resident lounge singer around the piano. Mindfulness can sound abstemious or worthy, but my trip helped me fully appreciate it. Unburdened by daily life, holidays allow us to savour that glass of wine or mountain view a little more. And now I'd got a taste for it. I couldn't wait to take some mindfulness home with me – truly the best souvenir of all.
How to book:
Three nights at Rosa Alpina for 'Mindful Skiing' starts from €2,240, based on two adults sharing a De Luxe room on a B&B basis, including two private lessons, skis, poles and entry to the training circuit and cross-country trails, plus two yoga sessions. Visit rosalpina.it to book.
Don`t miss

---