Travel
Where to eat in….Belfast and Northern Ireland
by Hazel Paterson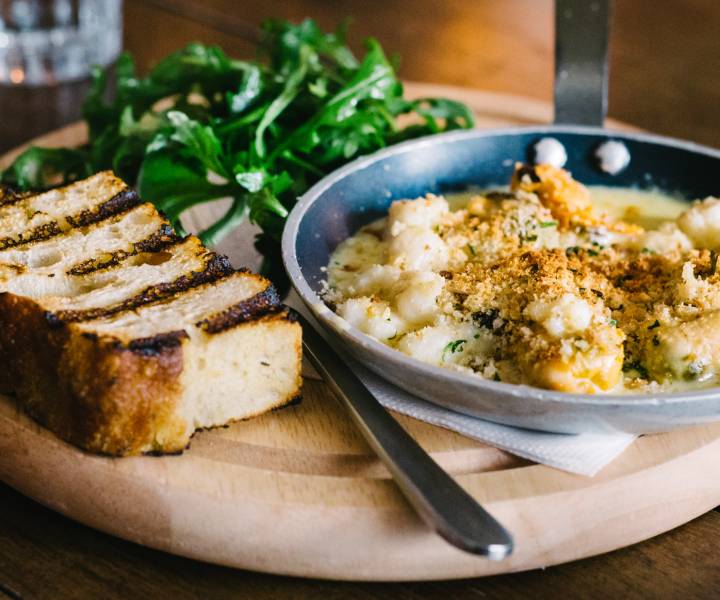 Seafood gratin at Coppi. Image: Hazel Paterson
It's 11:30am on a sunny Saturday morning in Belfast. My plane touched down just an hour ago and already I'm tucking into a steaming bowl of rich, golden, buttery champ at one of the city's oldest pubs, The Garrick – mashed potato, chopped spring onions, butter and milk - and sipping a glass of creamy stout. Here to explore the food and drink of Northern Ireland, I'm off to a flying start.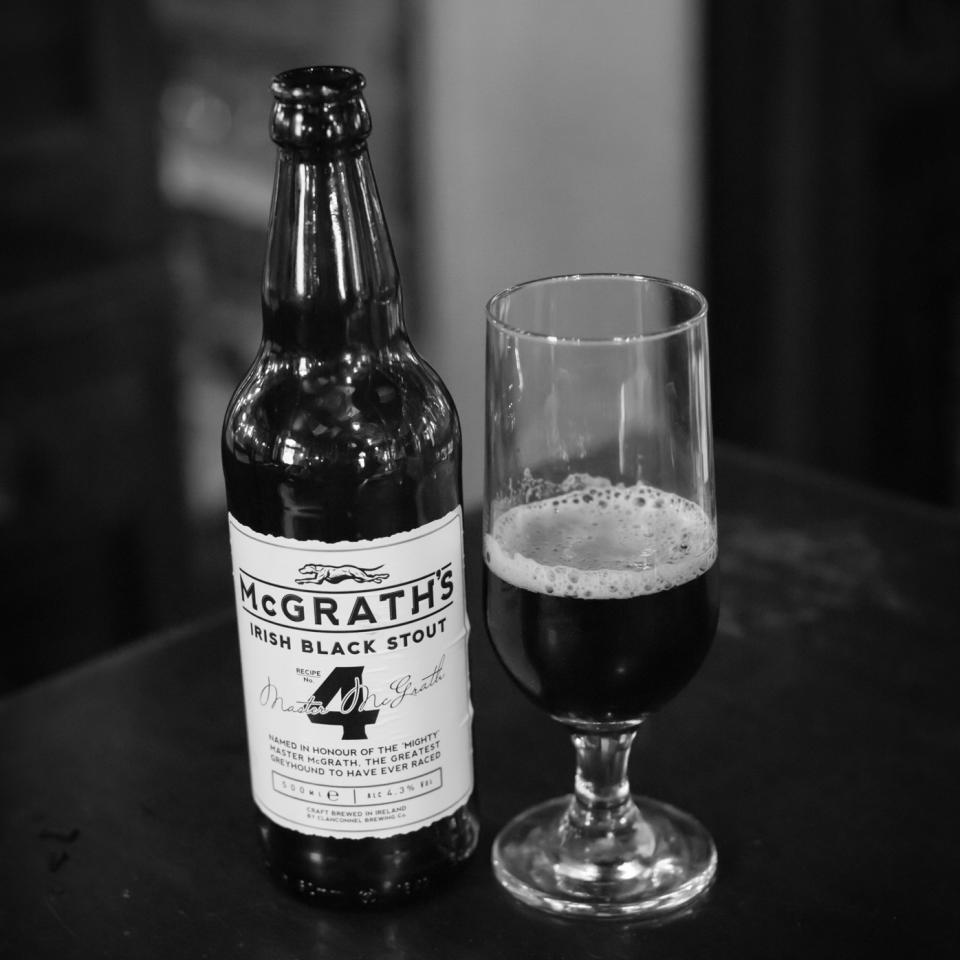 Stout at the Garrick Bar. Image: Hazel Paterson
I'm on a Belfast Food Tour nibbling its way round a city well known for its history of ship building and linen making but less so for its food, until recently. Over the last five years, Belfast has become a vibrant hub of top class restaurants, exciting pop-ups, artisan producers and cool cocktail bars.
The tour concludes in Coppi, a warmly lit, welcoming venue that creates Italian-inspired dishes using locally sourced ingredients. We tuck into creamy baked seafood gratin, full of plump prawns and freshly caught fish, still bubbling in its cast iron skillet, served with chunks of homemade focaccia. I leave the tour armed with recommendations of restaurants, bars and producers to visit.
We sample artisan chocolate at Co Couture, before heading to The John Hewitt bar where we drink glasses of crisp, sparkling MacIvors cider from nearby Armagh and nibble on umami-rich dried dulse seaweed that's been hand harvested and dried on the harbourside and which, it turns out, is an unexpectedly wonderful pairing.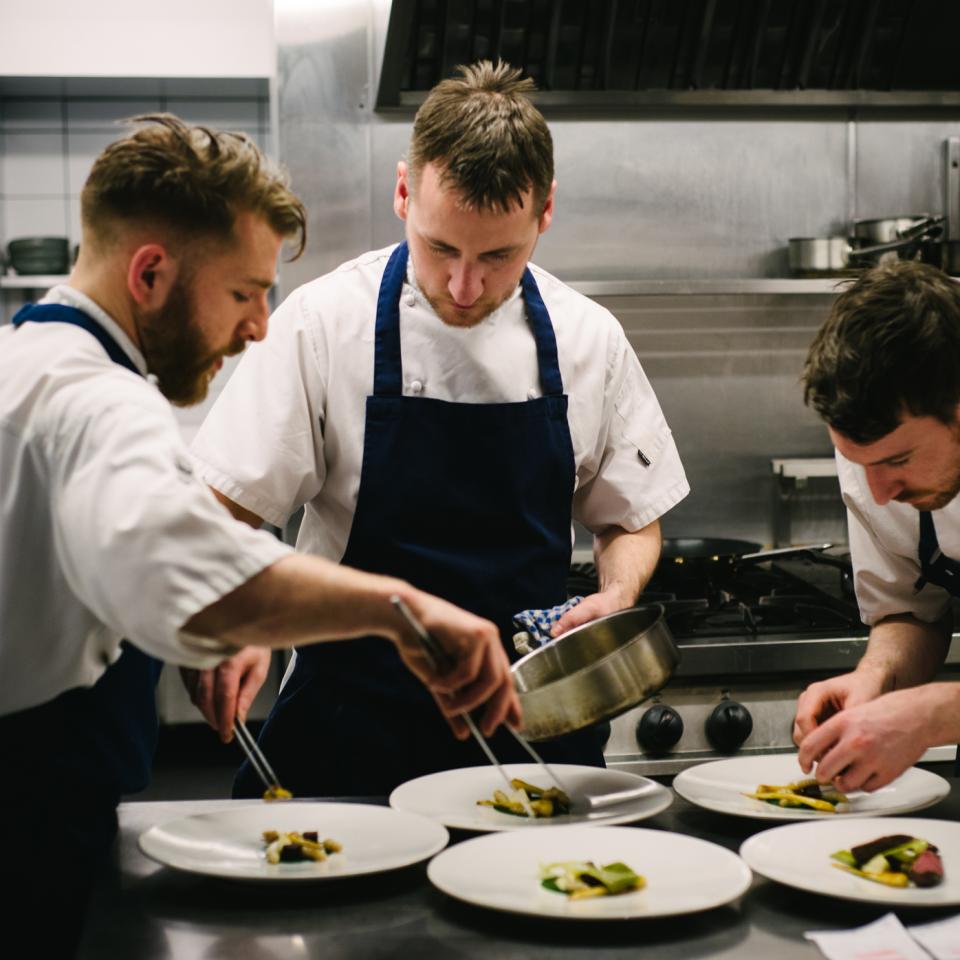 Head chef plates up OX. Image: Hazel Paterson
First on the list is the buzzy OX restaurant overlooking the River Lagan, where I am greeted warmly by Alain Kerloc'h, co owner with head chef Stephen Toman. Their hard work and dedication to the highest quality, seasonal ingredients has won them one of Belfast's two Michelin stars.
I am presented with a gin menu. Gin is a big deal over here and almost every restaurant and hotel I visit has one. I opt for Exiles Gin from County Kerry which uses botanicals including shamrock, red clover, honeysuckle and rowan berries and is served with shamrocks floating on its surface like tiny lily pads.
A five course tasting menu is blended seamlessly with the wine flight chosen by Parisian sommelier Juliette. Delicately cooked Lough Neagh smoked eel is wrapped within a thin film of crispy, salted chicken skin and rolled in a paper thin layer of crimson raw beetroot, the earthiness of which is perfectly balanced with a drizzle of sharp verjuice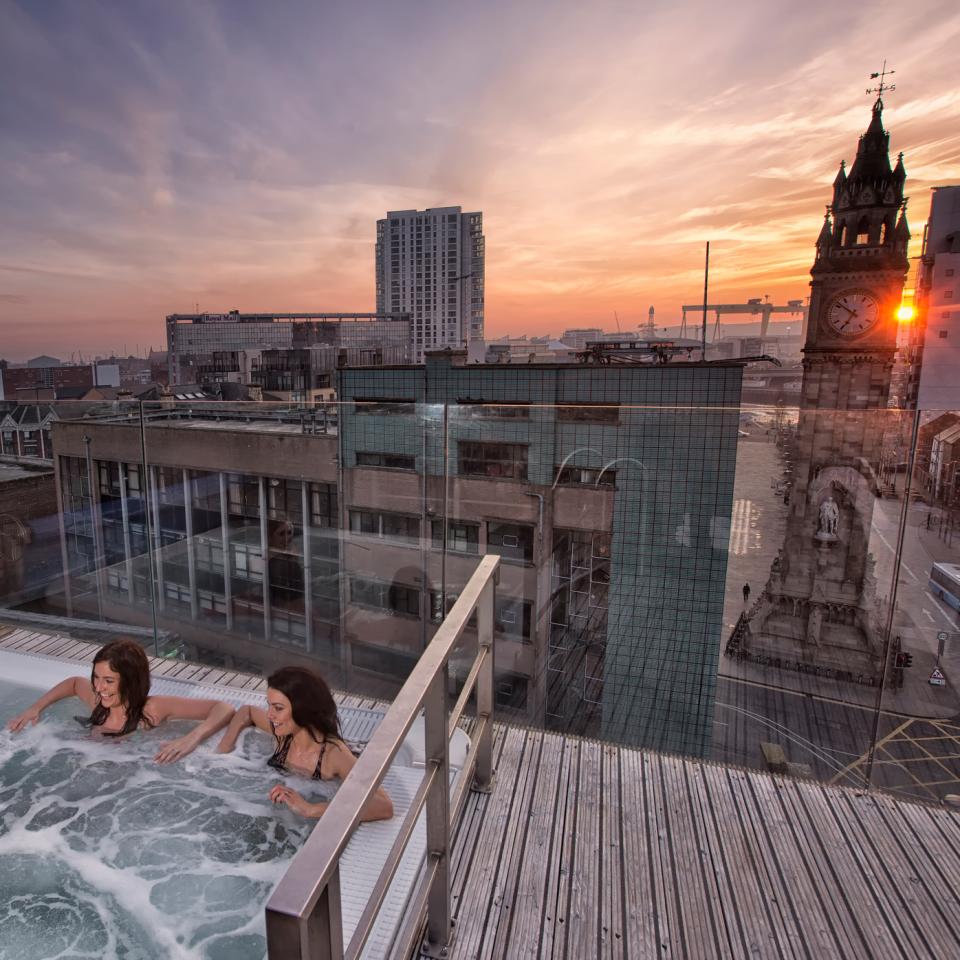 The Merchant Hotel. Image: Hazel Paterson
Following a wonderful night's slumber in the lavish Merchant Hotel I head to the bustling indoor St George's Market, a staple on the Belfast food scene since the 1890s. The Sunday market is a feast for all the senses, with its displays of glistening freshly caught fish, piles of local oysters and mussels, freshly baked breads, bubbling paellas and locally made cheese. I pick up jars of gin marmalade, white chocolate and pistachio tarts and hand-blended tea.
Leaving Belfast behind, I drive along the stunning Mourne Coastal Route where lush green fields full of grazing sheep and cattle lie to my right and the sparkling blue waters of the Irish Sea to my left. The route is speckled with idyllic picnic spots.
I spend the night at the picturesque Dunnanelly Country House set in 80 acres of sweeping fields and woodland near Crossgar. The morning brings swollen grey clouds and a gentle drizzle but I'm greeted by a roaring log fire and a brtHEeakfast to linger over. I love the locally smoked salmon, thick with the heady smell of a long but gentle cold smoke.
My next two stops take me to the Shortcross Gin Distillery on the sprawling Rademon Estate and then onto the home bakery of baker Mark, aka Krazi Baker. Weighed down with gin and freshly baked soda bread I finally arrive at Newforge House in County Armagh.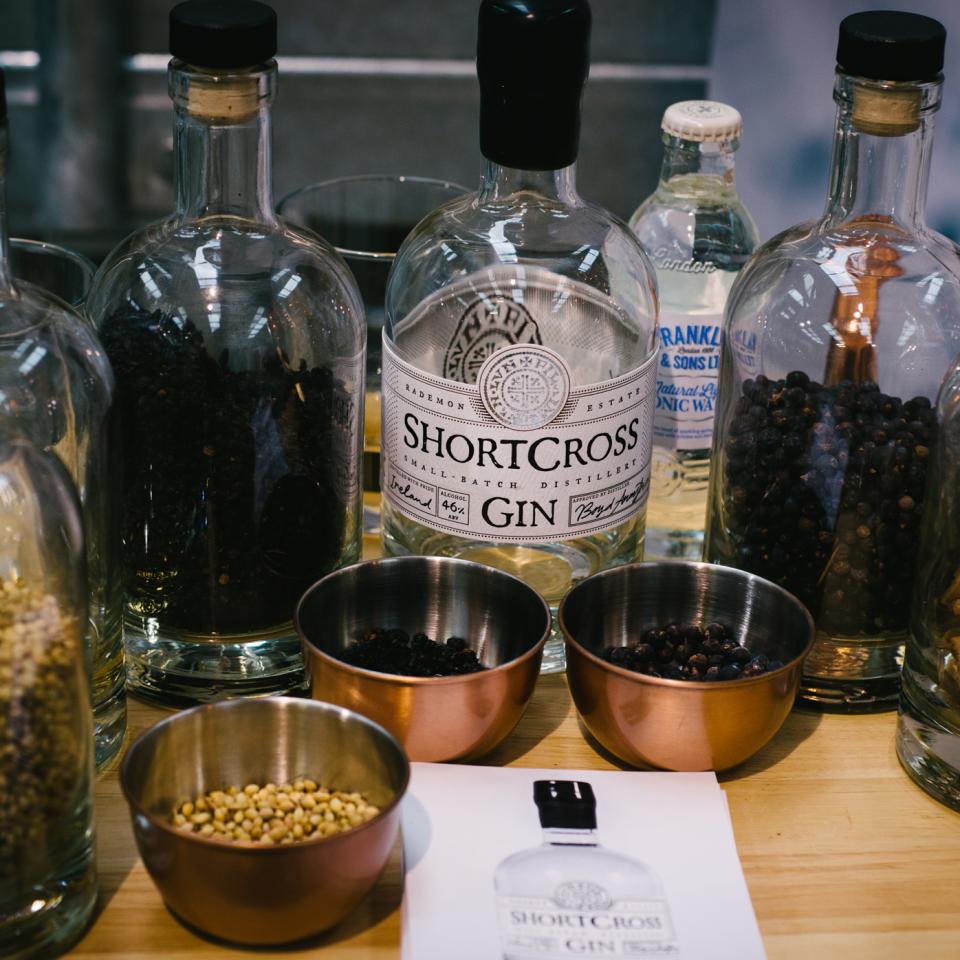 Short cross gin. Image: Hazel Paterson
Husband and wife team John and Lou Mathers run Newforge House, a must-visit for anyone with a passion for good food, Irish cheese and gin. John's menus are planned daily depending on what local ingredients are available, like the multi-award-winning Glenarm Shorthorn beef from Peter Hannan, dry-aged for 28-24 days in a chamber of Himalayan salt. The resulting beef is possibly the best I've ever tasted, with its concentrated flavour and meltingly unctuous fat that gently disappears on my tongue.
After a delicious breakfast of freshly pressed Armagh apple juice, home cured and smoked salmon, eggs from their chickens in the orchard, I head deeper in to Armagh, en route to the rugged north coast. I arrive in Limavady where I meet Leona and Richard Kane, the husband and wife team behind the multi award winning Broighter Gold cold pressed rapeseed oil. Their small shop is packed with fellow local artisan wares: balsamic vinegars, smoked salt and pepper, preserves and chutneys.
I travel along the picturesque coastline to the popular resort of Portrush which boasts golden beaches and perfect waves for surfing. I arrive at the luxurious ocean-facing Blackrock House where owner Nicola presents me with a Bushmills hot toddy and plate of buttery shortbread. The morning brings glorious sunshine, calm seas and Nicola's amazing breakfast of freshly made smoothies, granola, hot smoked salmon dusted with smoked dulse.
There's even a cheeseboard. I venture along the spectacular coastal route via the famous Old Bushmills Distillery and Giants Causeway to Broughgammon farm which specialises in cabrito (kid goat meat) as well as running a range of courses including Local and Seasonal Cookery and Seaweed Harvesting. Heading back to Belfast City airport, the boot of my hire car packed with all my food and drink buys, I decide Northern Ireland really is the UK's best kept foodie secret.
Getting there: Fly to Belfast City airport with Aer Lingus (aerLingus.com). For more information on travelling to Ireland go to Ireland.com.
Don`t miss

---