Travel
Discover America's Deep South, from Nashville to New Orleans
by Kevin Gould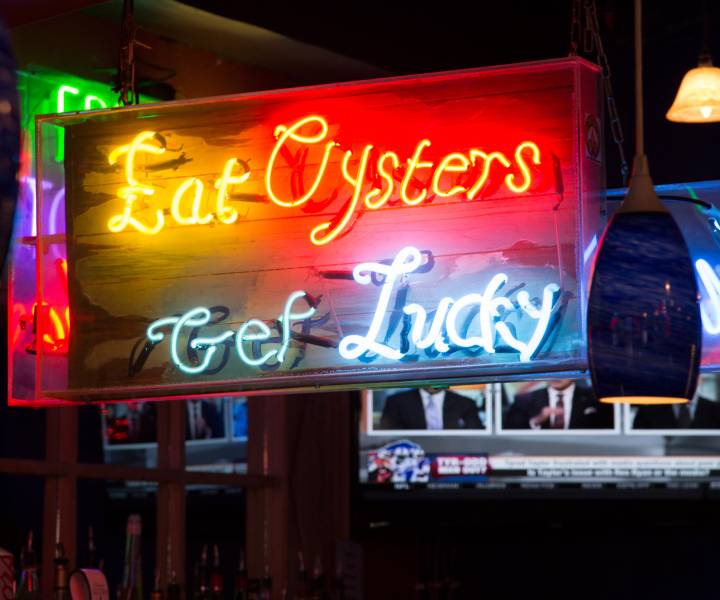 Image: Kevin Gould
Kevin Gould takes a road trip encountering hot chicken and spicy fried oysters along the way.
Within moments of arriving in Nashville, Tennessee, we're all talking in an exx-a-ggerrr-ated Southern drawl. I'm on a nine-day escorted tour of America's Deep South, with a small group of like-minded people, seeking soul music and soul food, hot rhythms and hot sauces, sweet country lyrics and sugar-soft desserts.
It's a short drive from Nashville's small airport out of town to the Gaylord Opryland Hotel and Resort – though with 2,800 rooms, its own FedEx office, a tropical rainforest with thundering waterfalls in the atrium, and illuminated guitars the size of my house, 'hotel' doesn't really do it justice. Yessirree, welcome to the South, where more is most definitely more.
We soon hit downtown Nashville, pulling up in front of a mural of Hank Williams riding a crawfish, for a tour of RCA's Studio B. In this musical mecca, Elvis, the Everlys and Willie Nelson all recorded hits. These pegboard walls first heard Jim Reeves' velvet voice, and iconic banjo player Grandpa Jones' fabled yodels. Heck, our group is even encouraged to lay down a track, and we're not half bad. But in truth, not half good, either.
The Country Music Hall of Fame reminds us once again that down South, excess is everything. The museum has more than two million exhibits. Elvis's gold-plated Cadillac is here, but even this is eclipsed by local honky-tonker Webb Pierce's Pontiac Bonneville convertible, its leather seats stuck with silver dollars.
Our group is whisked to a private room where Richard Leigh, a bona-fide multi-Grammy'd Hall of Famer performs a personal, intimate concert for us: just him, his guitar and a music stand, crooning tenderly through 'Don't It Make My Brown Eyes Blue'.
Honky-tonkin' is what y'all do on Nashville's 'District' strip. This entails hot-stepping from bar to bar, necking Pilsener and Jack chasers, and listening to the extraordinary musicians who play for shots and tips. The District also hosts many cavernous Western stores for all your turquoise-ostrich-leather cowboy boot and comedy Stetson needs.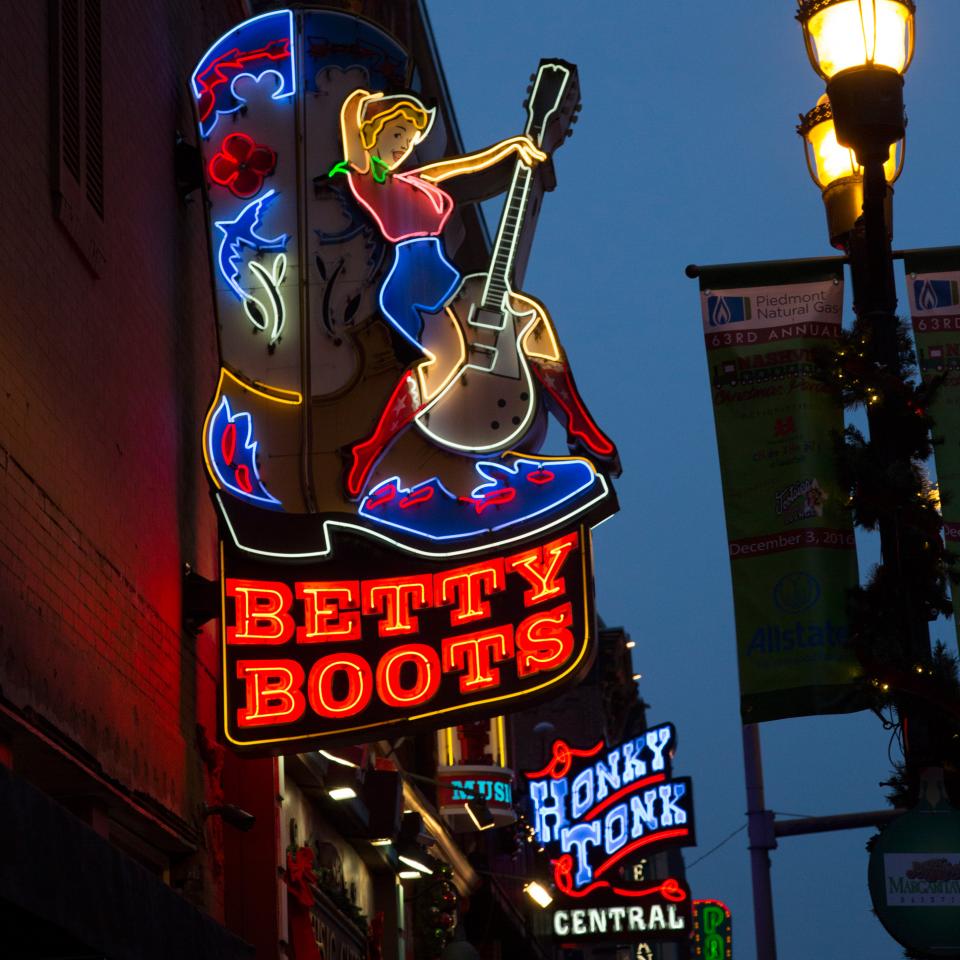 Image: Kevin Gould
At Cafe Lula, a plate of Nashville hot chicken, searing in both temperature and spice, is a deep-fried calorie bomb served over a slice of white bread and topped with a pickle. It shakes me to my new cowboy boots. Health note: hot chicken is addictive and I am to become a willing slave to it.
Then there's the Grand Ole Opry, the world's longest-running live radio show. It's a variety show in a historic theatre setting that starts with an audience-cheering contest and performers expressing their heartfelt thanks to The Lord, followed by music and dance from bands and singers and spangled square-dancers, all punctuated by infommercial radio announcements. It's cheesier than cheddar, and the most fun night ever. Yeehaw!
The road to Memphis is lined with cotton fields and thick, scary-looking, Deliverance-like forests. Dolly Parton grew up in those hillbilly hills, to the Scottish fiddles and Irish jigs of her ancestors. Now here's the Mississippi, fat, slow and beery, a bit like me this morning. And then in Jackson there's the Casey Jones Village, a themed heritage attraction where you can buy knick-knacks in the general store and eat lunch among behatted church ladies, soaking up the previous night's excesses with proper Southern 'comfort' food, such as collard greens cooked in bacon fat, and biscuits and gravy – a dish of savoury soft scones drenched in something runny. And deep, chilled reservoirs of iced tea, praise be.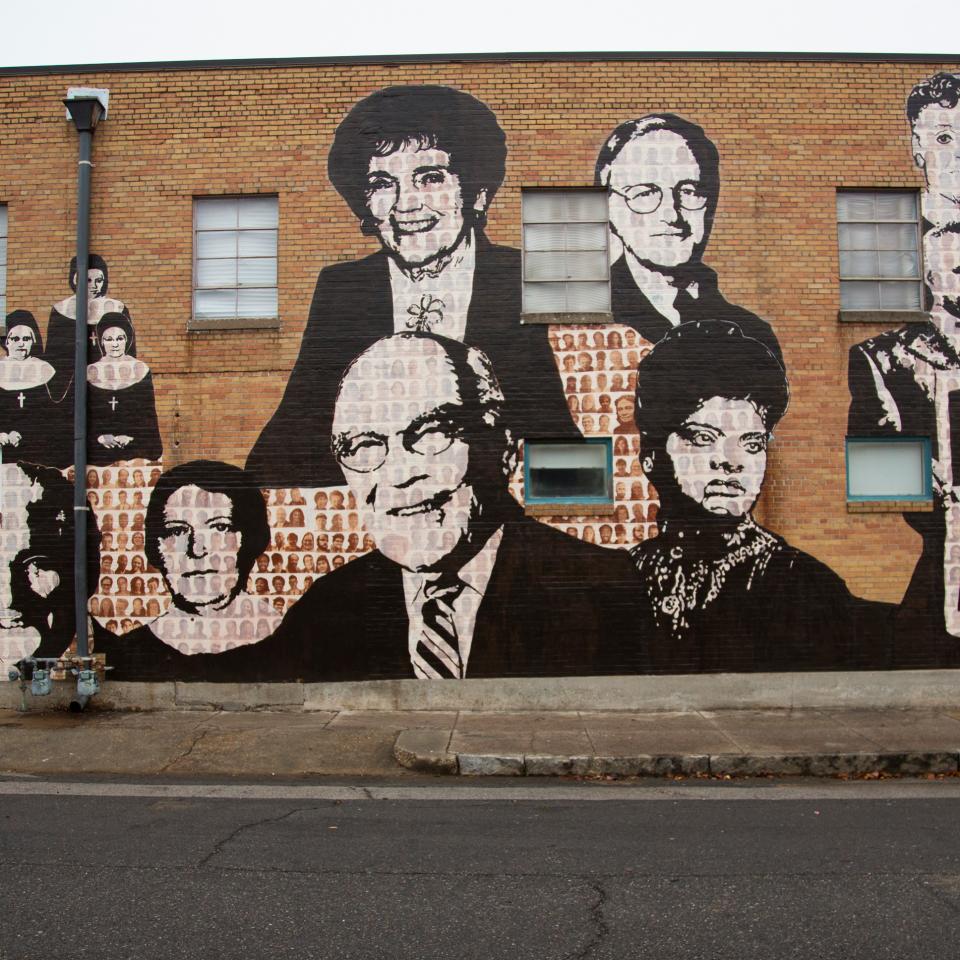 Image: Kevin Gould
First stop in Memphis is the National Civil Rights Museum at the Lorraine Motel, where Dr Martin Luther King Jr was assassinated. The museum is stunning in its non-judgmentalness. It describes, beautifully and sensitively, the reality of the rights struggle for tens of millions of Americans. Nobly, it leads us from lynchings and hate straight to hope. It is a heart-breaking and heart-lifting place.
Safe in the knowledge that I've packed Pepto-Bismol, I seek to soothe my soul with a $10 plate at 99c Soul Food Express on Main Street, where Mr Nash and his team serve mac'n'cheese as a vegetable, and more (perfectly) fried catfish than this cat can easily eat.
Memphis city centre feels surprisingly sleepy and small, but it sits astride a big magnetic musical ley-line. The Rock 'n' Soul Museum, next door to the Gibson guitar factory, is a Smithsonian Institution that teaches us how sharecropper soulers and country boys came together in the 1950s, creating the soundtracks to our lives by Sam & Dave, Carl Perkins, Charlie Rich and Otis Redding.
Across the tracks is the Stax Museum. In its 1970s heyday, the Stax label produced music right here, by local girl Aretha Franklin, as well as Booker T and the MGs, The Staple Singers, Ray Charles, Otis, Isaac Hayes, and so many more. I feel baptised in music, and filled with R.E.S.P.E.C.T.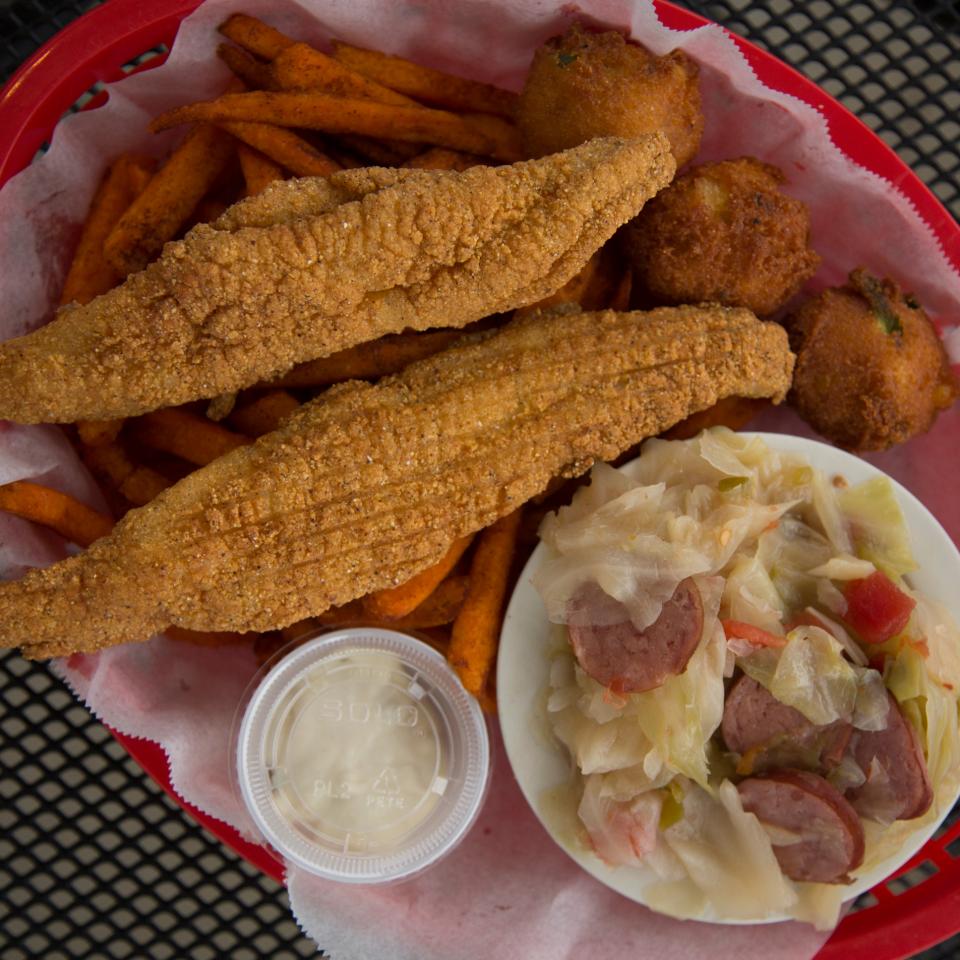 Image: Kevin Gould
On Beale Street, we dine well at BB King's still-rockin' club. One block over, we hit the legendary Sun Studios, whose modest walls have watched a galaxy of stars make recordings, including Ike and Tina, Johnny Cash, Howlin' Wolf. And, of course, Elvis.
And so to Graceland, hallowed ground in the US, where 600,000 followers come to worship each year. Our once-in-a-lifetime luxury experience is to be ushered in after closing time for an exclusive bespoke tour with George 'GK' Klein, Elvis's childhood friend, best man, confidant and lassoer of pretty handmaidens for The King's pleasure. Graceland is amazing by any measure, but to see it privately and behind the scenes while hearing GK's salty anecdotes – followed by our own barbecue in Elvis's Motor Museum – cannot be beat.
The drive further south cruises us past critter-filled swamps and over the Tallahatchie Bridge, under the beady eyes of enormous raptors circling high above. Now here's Natchez, Mississippi, with her beautifully preserved wedding-cake 'antebellum' mansions. These make the place a byword for grace and sweet Southern courtesy.
We stay overnight in true Gone With The Wind style at the antique-filled Monmouth, where Mr Roosevelt the master barman teaches us how to make Mint Juleps by muddling mint with sugar, and drowning this in bourbon. We don't need teaching how to drink them. Roosevelt's country accent almost deserves a translator, with each syllable stretched, twisted and milked of every calorie before it falls, dripping from his smiling lips.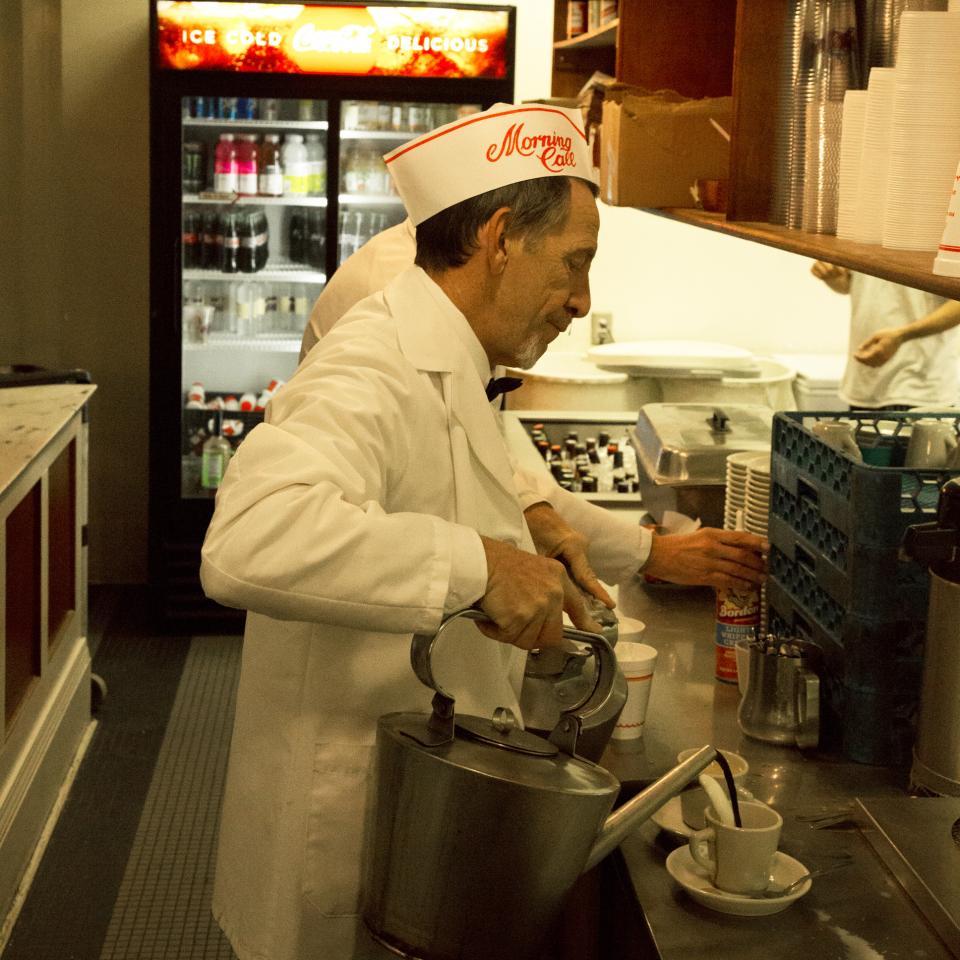 Image: Kevin Gould
Just before the border with Louisiana is a ribs-and-cracklin' store called Praise Da Lard. Which we do, before descending on New Orleans. More than a decade after Katrina, 'NOLA' is thriving anew, and dancing to her own special, sexy beat.
Our base, Hotel Monteleone, is smack in the French Quarter. It hosts wonderful live jazz in its Carousel Bar, which – yes! – revolves. This means your head doesn't spin until you get off. We're treated to a hilarious coach tour with local Jim Besse for whom a mounted statue of Joan of Arc is 'Joanie on the Pony'. I eat oysters in balconied bars and discover muffuletta to be a sandwich the size of a dinner plate, stuffed with cured meats, cheeses and pickles. This has nothing on the 'po' boy', for which I make the 20-minute Uber pilgrimage out to Parkway Bakery & Tavern in Mid-City, where a foot of bread is overfilled with spicy fried oysters (and a couple of slices of tomato, for health). The Parkway side vegetable is a packet of Zapp's voodoo potato chips.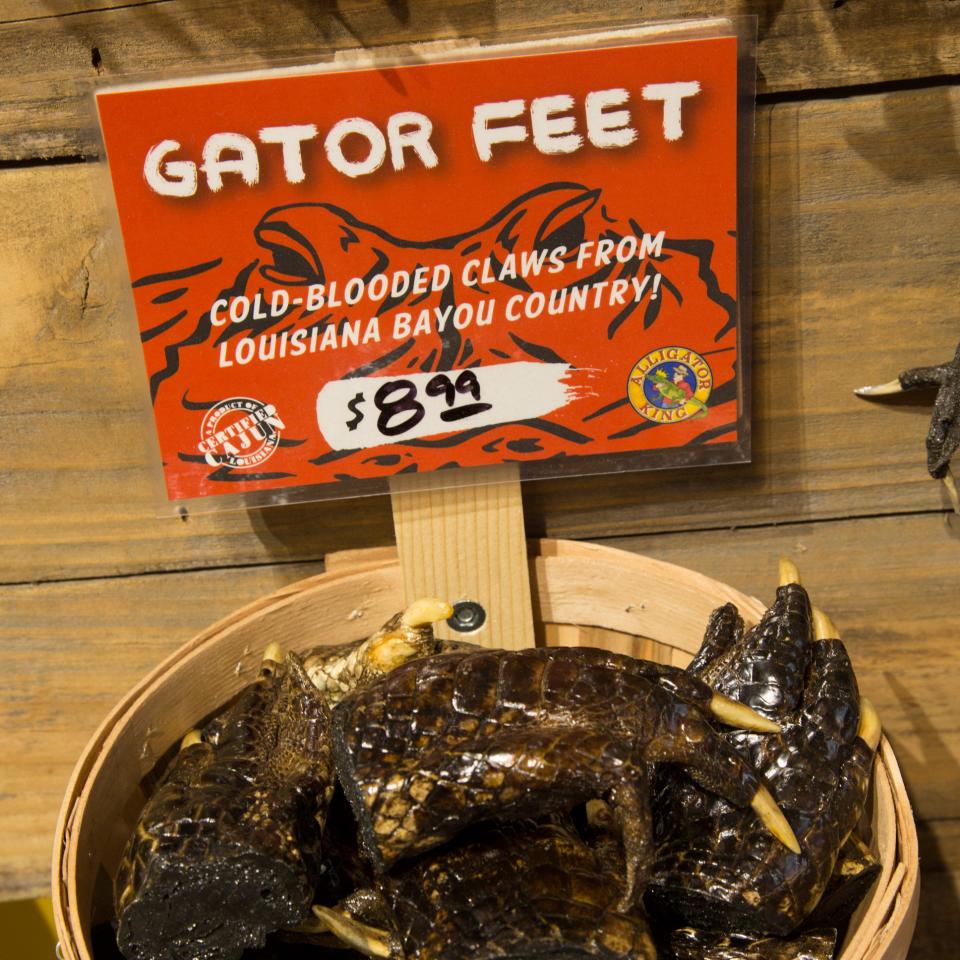 Image: Kevin Gould
We also attend a cookery school where chef Kevin Belton is a giant of a man with New Orleans' loudest laugh. Kevin teaches us how to make creole gumbo (the secret is lots of andouille sausage, and a sauce thickened with sassafras – or gumbo filé – powder), and étouffée, which is crawfish smothered in strong, rich sauce and served over rice. Then – in case we're still peckish, ha! – he makes us madly sweet pralines.
In the French Quarter, I fill up on hot beignets under snowfalls of sugar and hear music, music everywhere. At Arnaud's, I feast on Gulf shrimp that's soft and hot as sin, and I eat the city's best meal at Rosedale, chef Susan Spicer's newest restaurant. Her muffuletta features beautifully seared yellowfin tuna, and her Gruyère-gratinéed alligator andouille is as sassy as New Orleans itself. 'Here in the South, more is definitely more,' explains Susan. 'More music, more syllables, more courtesy. More humidity for sure, more history, more diversity. And – yes – more calories!'
Getting there
Luxury Gold's nine-day Southern Grace itinerary visits Nashville, Memphis, Natchez and New Orleans. For more information about travel in the US, go to visittheusa.co.uk.
Don`t miss

---