Travel
A gourmet pilgrimage to Jerusalem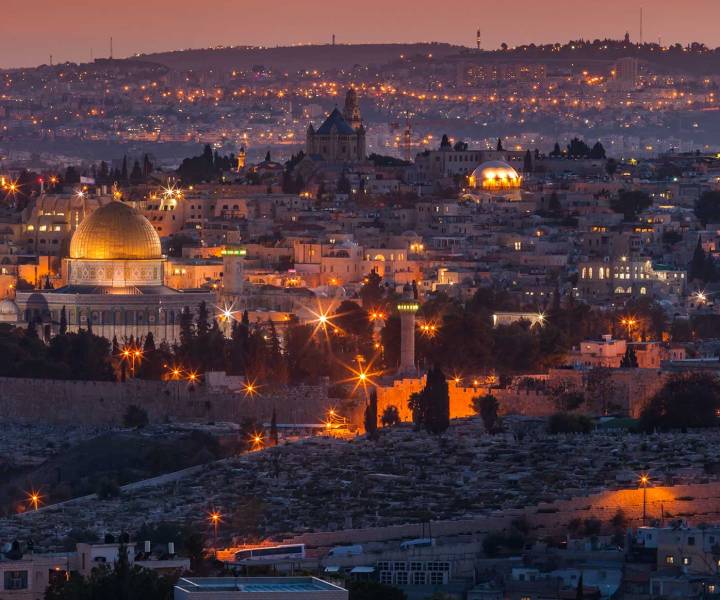 Image: Getty Images
Renate Ruge discovers a fresh breeze of culinary change blowing through Jerusalem's ancient streets...
Food always brings people together,' says local guide and cookery school teacher Yossi Friedman, waving towards huge, colourful sacks at Mahane Yehuda Market in Jerusalem. The past five years have seen extraordinary change in Jerusalem and this market is at its core. Moroccans, Yemenis and Jewish stallholders sell their produce side by side and each time you stop, you find yourself journeying back in time through the cultural traditions of the vendors.
I'm in a group of six foodie friends on a long weekend break and we're here to experience and taste as much as we can. It's day one and we're walking to the market over ancient cobbles. Shafts of sunlight warm the cool limestone alleyways. Palms tower over golden- roofed temples that glint in the sun. Spires of churches merge with minarets of mosques, acting as a lightning rod for pilgrims from all over the world. Sacred to three of the world's religions – Judaism, Christianity and Islam – you'll hear both the Muezzin call to prayer and the clang of church bells.
A 4,000-year history of invaders and crusaders has seen this pulsing, ancient metropolis besieged numerous times and completely destroyed at least twice, then reinvented as subsequent settlers built over the ruins of the last. Today, it's a melting pot of cultures and the unifying ingredient is food.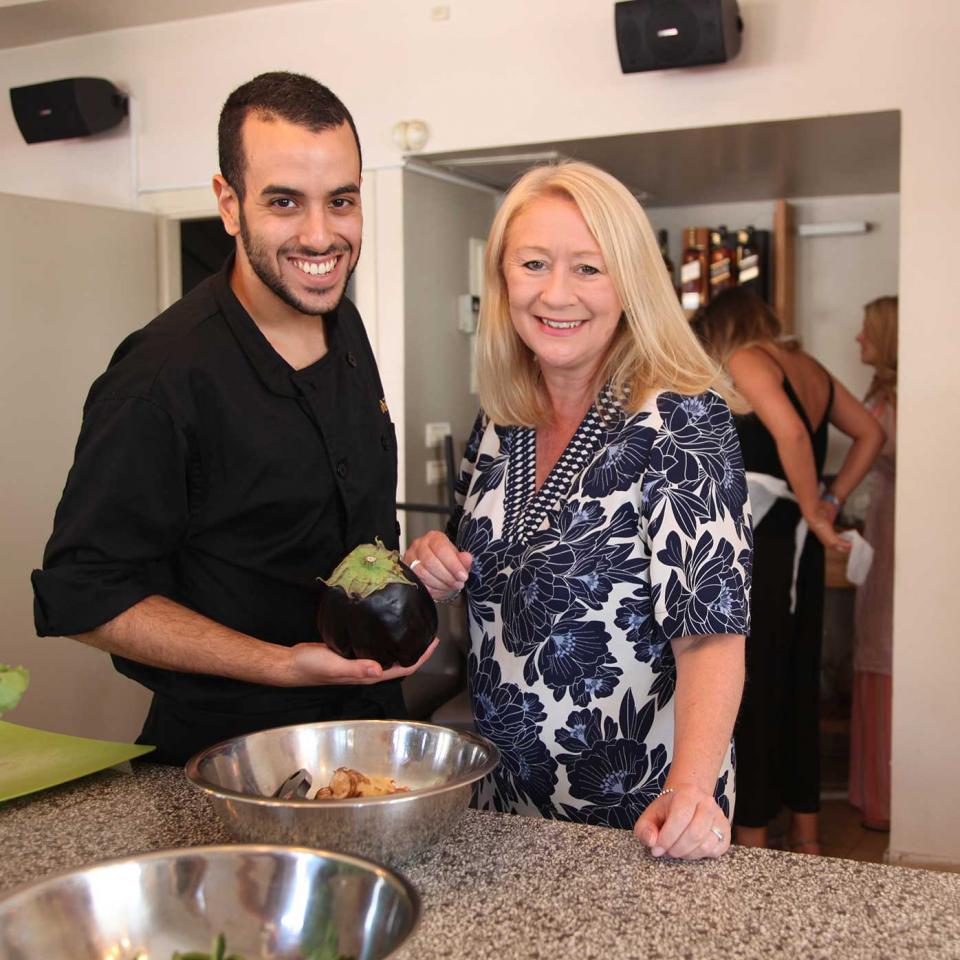 Our first foodie encounter begins at the market – or 'shuk' – hunting for ingredients to cook back at the Tali Friedman cooking school under Yossi's watchful eye. His flicker of a smile signifies what to buy at stalls laden with a rainbow of fruit and vegetables and a sea of dried fruits. The market tour is a sensorial experience – in other words, try before you buy. We sample Medjoul dates that taste like Christmas; dried strawberries, plump and jammy; deliciously sweet, crunchy, caramelised coconut flakes; falafel with hot pickled peppers and drops of tahini, squeezed from a huge stone press that processes sesame into a smooth and creamy raw tahini liquid paste.
Around 50,000 people shop here in a day and today is especially busy on the eve of the Shabbat – the Jewish Sabbath. Baskets laden, we follow Yossi through a hidden door up a spiral staircase to an airy cooking space, The Atelier. His sister, chef Tali Friedman, started the school and its 'sample, shop, taste and cook' concept in 2009, showing visitors how to use local ingredients in modern Yotam Ottolenghi-esque dishes. We don aprons and get stuck in to various tasks. Making our own lunch, we're slicing white fish for ceviche. Mango and slivers of spring onion top the seabass that's marinated in salt, lime juice and zest, herbs and olive oil.
I'm oiling, adding thyme and browning strips of skirt steak while Yossi crisps up a purple par-boiled cabbage in the oven. He tears off the outer leaves, adds toasted seeds and drizzles on tahini. Juicy pears are soaked in white wine and saffron, and tossed into a green leaf salad. We make apple pastries for dessert, peeling and dicing the apples and, after caramelising sugar, simmering them in a large iron pan on the stove, stirring in a dash of Calvados, a black vanilla pod and a pinch of cinnamon. Sweet aromas fill the room. As the cigar- shaped pastries bake, we lunch on the fruits of our labour with a drop of a wonderful, buttery Israeli Chardonnay and watch the shoppers below from our table up on the roof terrace.
Our hotel, Villa Brown, is near the Russian Compound, one of the oldest districts in central Jerusalem. Hot pink bougainvillea frames an arch opening to a charming garden. Inside, neoclassical and Ottoman styles are a reminder of the city's colonial era. The 19th-century villa has luxurious velvet drapes and jewel-coloured fabrics.
Small details, such as iced tea on tap, dates and sugary, strawberry shoelace sweets in a copper pot in the lobby, add that special touch. That night we go to the Citadel and, amid archaeological ruins, see a spectacular lightshow where moving images of the story of Jerusalem are projected onto its walls. Virtual reality images relate stories of King David, the Roman conquest, Muhammad, the Crusaders and Suleiman the Magnificent with a wonderful musical score.
As dawn breaks, we gather under leafy shade for breakfast and enjoy thick, black coffee as a succession of tiny mezze plates arrives: houmous; grilled halloumi drizzled in honey; feta with watermelon and herbs, and a basket of tiny pastries. Walking is the way to get around town, though trams and taxis are inexpensive (Jerusalem feels safe and, despite the odd sighting of armed soldiers, I'm comfortable to venture out alone). Today, our tour guide, Shelly, leads us to Mea Shearim, one of the oldest Jewish neighbourhoods in Jerusalem and home to ultra- Orthodox Haredi and Hasidic Jews.
A red hand on a stop sign halts our group and Shelly explains we are about to enter the area, also known as '100 gates'. Life in this community revolves around strict Jewish law, prayer and study. There's an expectation even for visitors to dress modestly – long skirts and sleeves for women, long trousers for men. Local married women wear hair coverings and men have long sideburns, known as peyot. Residents speak Yiddish and use Hebrew only for prayer. Our group is welcomed into a traditional Jewish home, a new initiative for tourists to understand more about local communities. Naomi Miller's sparse apartment is a cool escape from the midday heat. Beaming warmly, she's surprisingly frank about her culture and raising her 12 children. Leather-bound religious tomes fill bookshelves and a lone picture of a rabbi hangs where a TV has never been.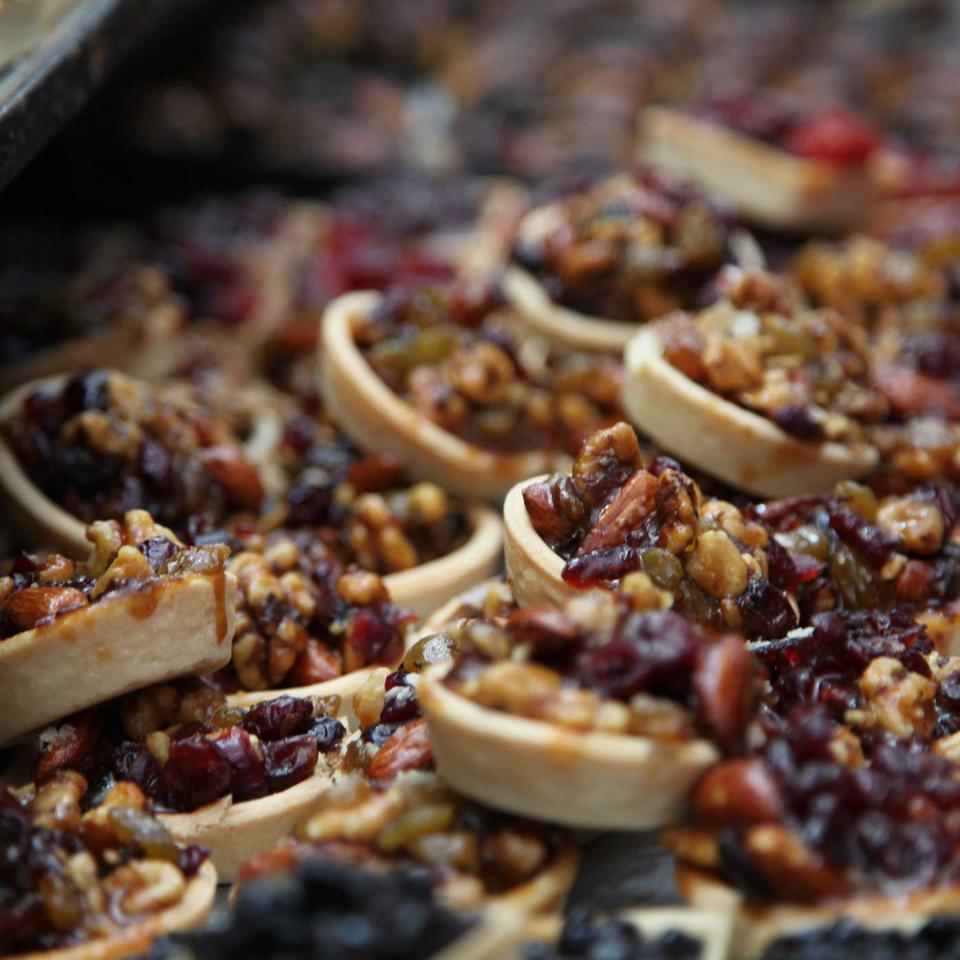 Next stop: the King David Hotel. Celebrities and heads of state stay here (Prince William, too.) A long line of autographs are scrawled on the floor of the lobby's marble corridor: Bill Clinton, Madonna, Mick Jagger, Barbra Streisand and Justin Bieber among them. Afternoon tea is served on the terrace next to a gleaming sapphire pool flanked by bleached-white loungers.
Here, we sip decent sparkling wine from the Golan Heights and nibble on fat figs and juicy yellow kiwis, tiny macaroons and fancy French fruit tarts. It's a far cry from the simple life at Naomi's. After tea, we window-shop the galleries at Hutzot Hayotzer, an arts and crafts lane, followed by beer- tasting at Biratenu boutique brewery. Home-brewed craft beers are the latest trend. We sip small glasses of liquid gold, one flavoured with pomegranate, and compare tasting notes while nibbling salted edamame at a barrel table before dining at Notre Dame Rooftop Cheese And Wine restaurant, where the food is served on a balcony terrace with stunning views over the Old City. It's home to a Christian church and, as it's Friday, fish is on the menu.
We spend a morning exploring the Old City (divided into four quarters: Armenian, Christian, Jewish and Muslim). Here, three markets converge around The Garden Tomb, where many Christians believe Jesus was buried and rose again. Weaving through the warren of limestone walls, you're as likely to see people wearing monastic robes and hijabs as jeans and trainers. Scents of frankincense and myrrh mingle with the aromas of spice and baking bread emanating from tiny bakeries. Crates of fat pomegranates produce fantastic juice at bars on every corner.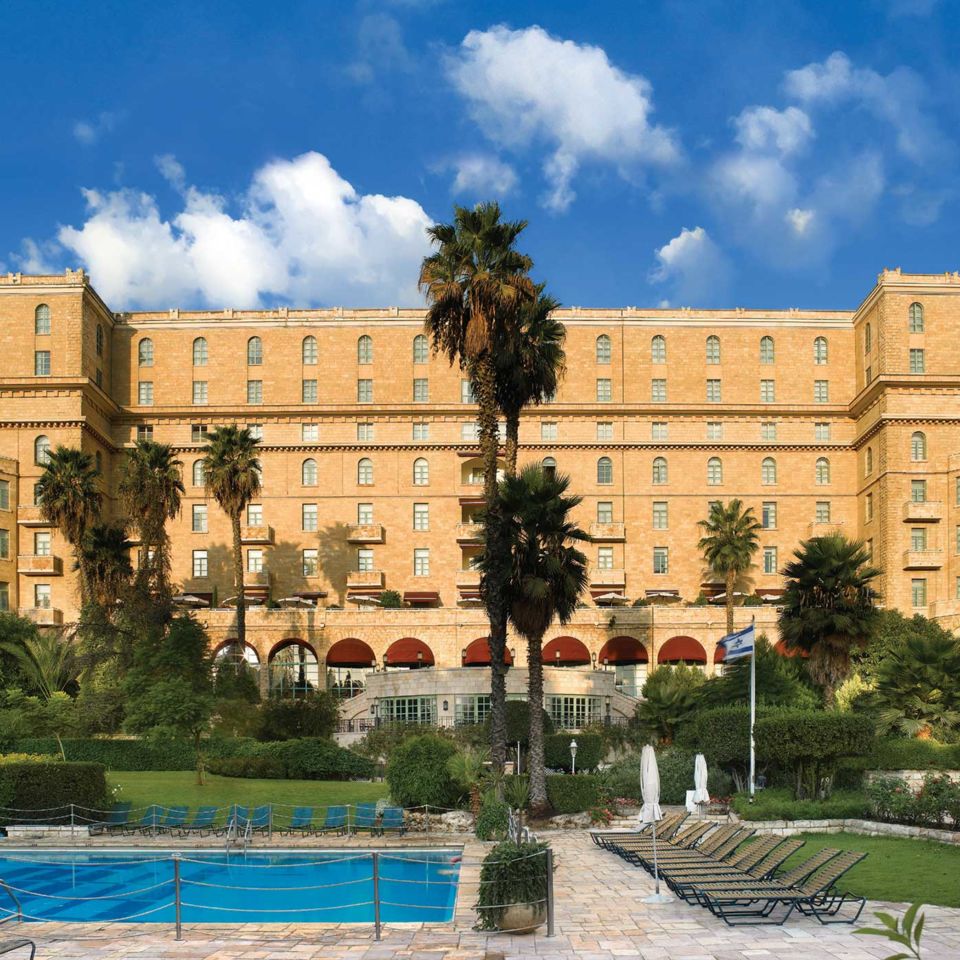 We walk knee-deep in water through Hezekiah's Tunnel in the City of David Tunnels Walk, where water has flowed since the time of the prophets. It's very Raiders Of The Lost Ark. An archaeological dig uncovered the underground tunnels through which the residents fled when the city was conquered. On the Mount of Olives, or Mount Olivet, the view from the mountain ridge is something to behold. Named after the olive groves that once covered its slopes, gravestones now reach to the horizon. More incredible views follow on a stroll around the Ramparts Walk, where gusts of wind blow a welcome breeze on my face.
On our last day, at the Western (Wailing) Wall, hundreds of people line up to leave small pieces of paper scrawled with prayers in its crevices, an unexpectedly calm and moving experience. Before heading to the airport, we stop for lunch in Ein Karem, a pretty area at the foot of the Jerusalem Hills. According to Christian lore, John the Baptist was born here. Karma restaurant overlooks verdant forest and golden temples. Baked eggplant comes with rosemary focaccia, prawns in a silver pan simmer in butter sauce, and inside a 'special casserole' covered with a pastry lid, there's a tangle of pasta and seafood.
Old Jerusalem? New Jerusalem? No matter. It tastes great!
Getting there
Wizz Air operates daily flights from Luton to Tel Aviv, with return fares starting from £149.98. Villa Brown double rooms from £190 per night; brownhotels.com/villa/the-villa.
Don`t miss

---