Homes
Plan the perfect night in
Whether it involves pyjamas, Prosecco or just pottering about the house, three high-profile women tell Victoria Young what makes their ideal solo night in.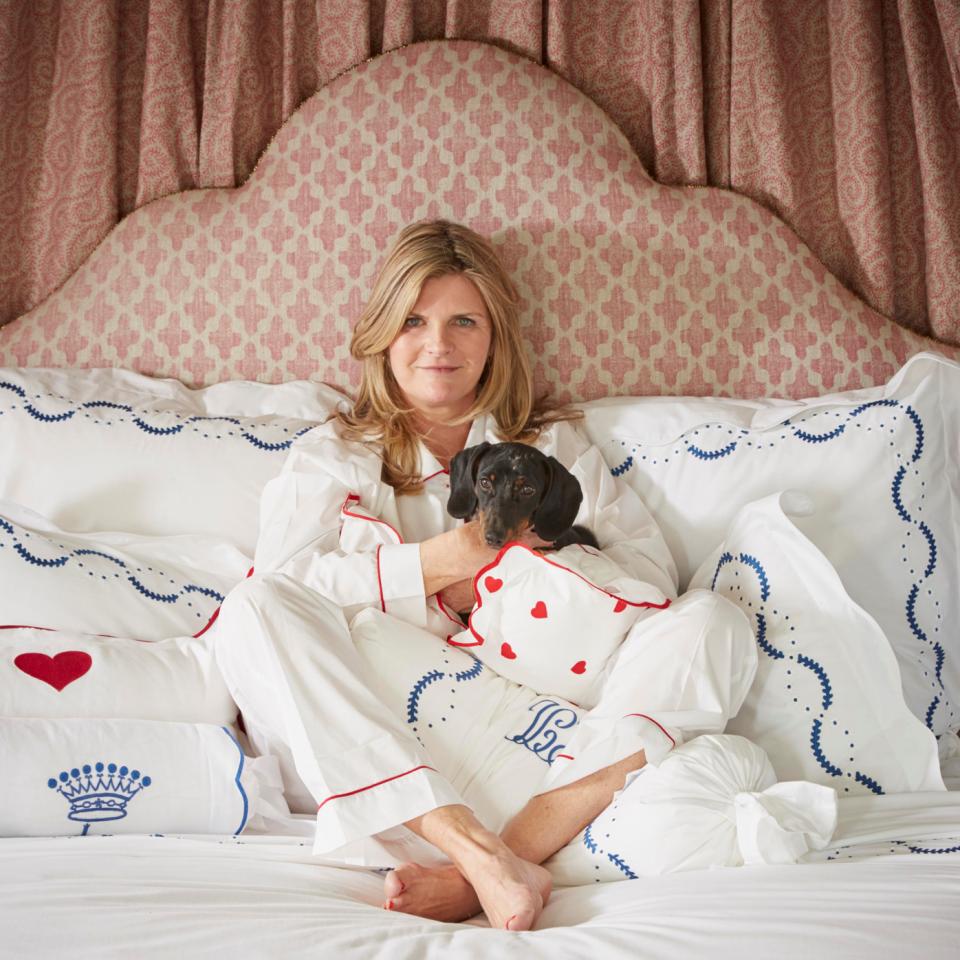 'Heaven is a long bath, tea in bed - and a podcast'
TV personality Susannah Constantine, 55, lives in Sussex with her husband, Sten Bertelsen, and their three children, Joe, 18, Esme, 16 and Cece, 13.
'I am someone who requires solitude, ideally 50% of the time, although I don't always get it. But I often take myself out for a run or a walk in the woods or just go into a different room to do some writing. There is a difference between alone time, which is through choice, and being lonely. When my family is around it's impossible to switch off until the last saucepan is washed and the kids are in bed, which is never before 9pm. A night in on my own is quite a rarity, so it is something I value and treasure.
It will start with watching my two favourite programmes, Escape To The Country and Flog It, on catch-up. I'll be wearing whatever I have worn that day which, more often than not, is jeans, a T-shirt and a sweater. I'll make sure I have some good healthy and quick food to make; some seabass with spring onions and red rice cooked in chicken stock, with a green salad. No wine, because I don't drink. Instead, I'll have a Coke Zero.
I've become very antisocial and don't really like talking on the phone. In fact, I still write letters to family and friends who live abroad. But I do like Facebook for keeping in contact with friends in other countries so I might look at Facebook for a bit.
If I am writing a book, as I am at the moment, I often write at night. I especially enjoy doing so when I'm on my own in the house, because I don't have to be up so early and can have a nap the next day if I've been up until 2am. There is something about the darkness that focuses my mind on my computer. I put music on my headphones very loudly; I like listening to hardcore rap, or acoustic or classical Spanish guitar music. And our two dogs always sit with me; they are my faithful friends and my guardians.
I'll definitely have a nice long bath – I'm not fussed about what bubble bath I use – while I listen to The Life Scientific on Radio 4. After that I'll make some herbal tea, find a bar of Green & Black's Milk Chocolate With Almonds, and go to bed to eat the bar in its entirety while I read. If I'm not writing late I'll be ready to sleep by 10pm, at which point I'll put on the radio or a podcast, because I like being lulled to sleep with a story. I usually go to sleep pretty quickly – unless I'm woken up by an idea for my writing, in which case I often get up and write for a few hours. But mostly, I'm out like a light and sleep very well.'
After The Snow by Susannah Constantine (Harper Collins, £12.99) is out now.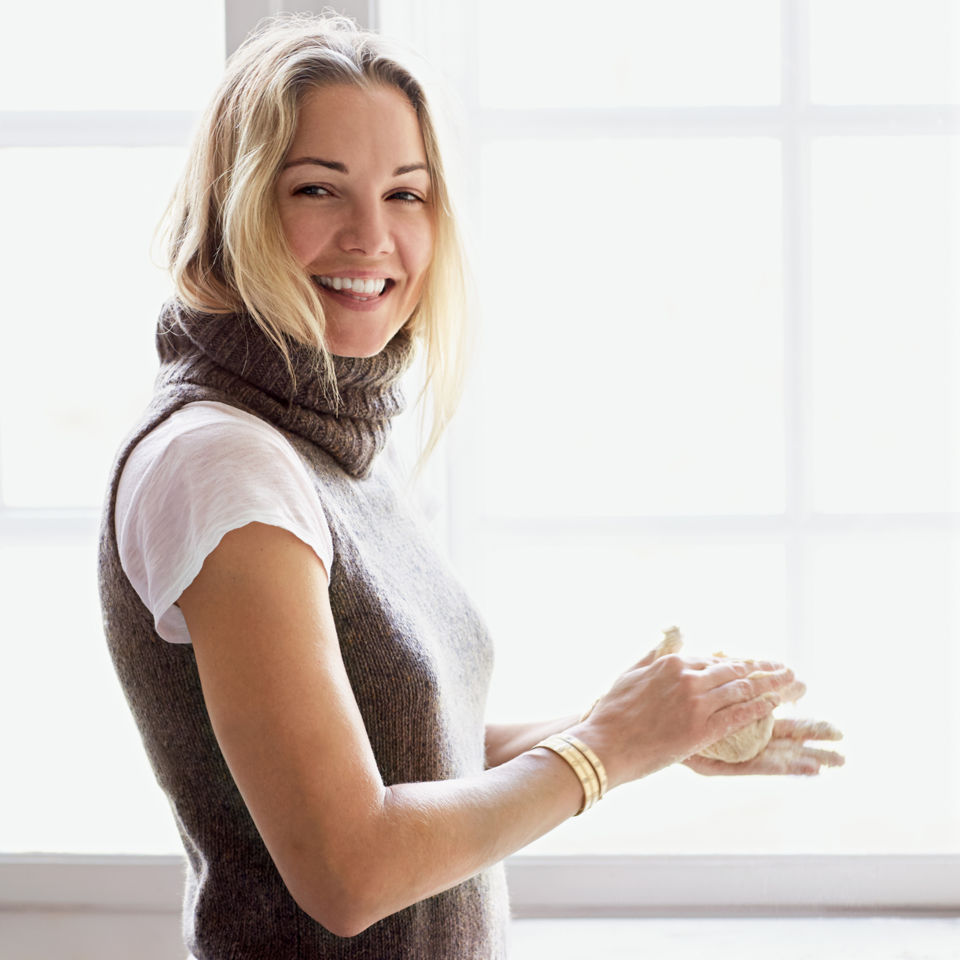 'I switch off by gazing at the stars and moonbathing'
Caroline Fleming, 41, is a Danish entrepreneur and TV personality. She lives in London with her children, Alexander, 13, Josephine, 10, and Nicholas, six.
'I adore company but with three children, I'm conscious of the need for time for myself, too! My week is very much organised around my children. I love to cook; it is my greatest passion, and every evening I make dinner with them. Thursday is 'Friends night', when I'll go out for dinner, but Fridays and Saturdays are always dedicated to my children: we have dinner and then all end up in my bed for movie night. I absolutely love spending time with them. But I couldn't be without alone time, because it's the time I get to recharge.
It's very rare that I have a night without at least one child at home. But they are all in bed by 8pm and then I'm quite adept at switching into 'me time' mode, although I am a typical Virgo: if I have any papers lying on my desk, I have to get all the practical and essential things done first. But after that, it's all about indulging in time for me. Comfort is important, so in summer I'll be wearing sweatpants and a cotton T-shirt and in winter I'm a big fan of cashmere trousers and top, for warmth and cosiness. I'm a big believer in positive thinking and I love going and lying in the garden, looking at the stars, moonbathing and reflecting. Everything in our world is so fast, it's really important to take some time to stop and make sure everything is balanced.
If I know I have a night to myself I will have gone to a fantastic local greengrocer and got an array of ingredients I want to experiment with. I'll make some wonderful stock and then, depending on what I feel like, make a Thai curry or a delicious soup. Cooking is my opportunity to speak on the phone to whoever I need a catch-up with, whether it's old friends or my grandmother or sister, who both live in Denmark. While I eat dinner I'll have a glass of red wine and read, and then listen to a gorgeous piece of music – I enjoy anything from Frank Sinatra to Kool & The Gang or Bruno Mars.
I rarely get round to watching TV; I'm more passionate about reading. I read every day, even if I get to bed at 4am. At the moment I am reading Medical Medium by Anthony Williams, The Enchantress Of Florence by Salman Rushdie, and The Awakened Family by Shefali Tsabary, but I'm just as likely to grab a Jackie Collins or something by Santa Montefiore. I love being transported away on an adventure.
I'm a huge fan of candles – I love anything tuberose and really like Floris and Diptyque. There is always a candle on the go and I love creating my own home spa ritual: a long steam, face-mask and a body scrub.
11pm and my bedtime routine is relatively low maintenance – I clean my face, brush my teeth, then read for anything from five minutes to an hour. Whether or not I sleep easily depends on what is going on in my life. If things are overwhelming it's very difficult to turn my head off. But over the years, I have learned to breathe myself into a state of almost meditation, which is the best way for me to fall into a lovely sleep.'
Cook Yourself Happy: The Danish Way by Caroline Fleming (Jacqui Small, £25) is out now. Follow Caroline on Instagram @carolineflemingofficial
'I chill out with mocktails, Ghanaian food and non-stop Netflix'
TV presenter June Sarpong, 40, lives in North London.
'I have quite an active social life and do a lot for charity so with that, plus work, there's often something going on every night of the week. But no matter how busy I am, I make sure I have one night a week where I do nothing. And that is my luxury to look forward to. I really like solitude – a bit too much if I'm honest! My job is so busy that having time to myself to decompress and just mooch around the house is really important. I love nothing more than vegging out at home – usually in no make-up, tracksuit bottoms and a T-shirt.
Cooking – and eating – is always a big feature of my night in. I love Ghanaian food and my speciality is jollof rice, which is like a biryani crossed with a tomato risotto, but spicier, with chicken or vegetables. I was vegan for a while, but I didn't last long and I must say it does taste better with chicken!
Music is a huge part of my life and I always have music on when I'm eating – and doing everything else! I like everything from modern R&B to jazz to pop; my iPod has everything and I love it all.
I don't drink and I never have done, so I am the tea, juice and mocktail queen. My favourite mocktail is crushed kiwis and cucumber with lime juice, cloudy apple juice and fresh mint. It's gorgeous.
In my twenties I'd sit on the phone for hours with my friends but I don't like talking on the phone any more. I don't do Facebook or Instagram but I discovered Twitter a year ago and I'm a big Tweeter. I love it and wish I had started earlier.
If I'm trying to be clever I'll read a book, but it's much more likely that I will binge on Netflix. I have just finished Ozark with Jason Bateman, which I loved, and I also really enjoyed Friends From College. I'm done with appointment-to-view TV; I'm a back-to-back girl! I think everything should be on demand because we live such busy lives now! For me, this by far the easiest way to switch off.
My skin-care routine is really important. I developed adult acne in my mid-twenties, which was horrendous, and I battled it for a good decade. Eventually, I found a routine that worked for me, and I have to be religious about it or else I'll get spots straight away. So, without fail, I always wash, tone, moisturise – at the moment I am using Sunday Riley, which really works for me, and I really like Mychelle products, too. Then I use a face mask and a serum by The Organic Pharmacy. If I don't, I will get a spot in the morning.
Before I go to sleep, I meditate, usually in bed. I started properly three or four years ago and it's become a big part of my life. I mainly focus on breathing, and I like to pray at the same time, before dropping off. When I've got a night to myself I go to bed early – by 10.30pm. I'm very lucky with sleep: I could sleep anywhere, even sitting up on a train. It's never been a problem for me which is lucky, as no matter when I go to bed I always wake up at 6am!'
Diversify by June Sarpong (HarperCollins, £16.99) is out now. Follow June on Twitter @junesarpong
About the author