Health
New season eating: winter to spring food swaps
Still trying to shake off winter? Now's the time to revamp your menu, restock your fridge and spring-clean your diet...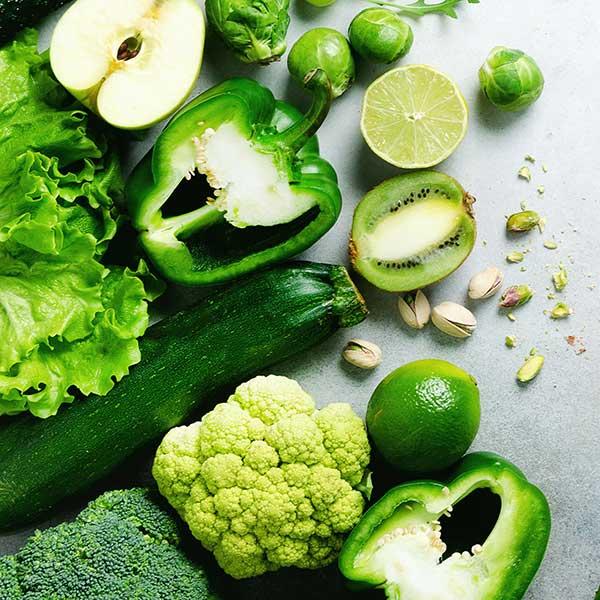 During the long, cold months, we crave comfort food to warm us up, so if you've emerged for hibernation feeling lethargic and bloated, now is the time to spring-clean your diet. 'Many of us find comfort in startchy carbs and sweet treats when it's cold, but these foods can lead to bloating and unwanted weight gain,' says nutritionist Rob Hobson, co-author of The Detox Kitchen Bible (Bloomsbury, £25). 'Springtime offers a great opportunity to get your diet back on track and start afresh.' And refreshing what you eat doesn't have to mean radical detoxes or juice fast; instead, focus on shedding the comfort-eating mindset and opt for lighter, fresher food that's minimally processed. Try these steps:
Clean out your larder and fridge
Put some time aside to make sure your cupboards are packed with fresh, seasonal foods rather than leftover chocolates and a packet of Hobnobs. 'It's hard to eat well when there's no tasty, nutritious food in the house,' says Ian Marber, nutritionist and author of ManFood (Piatkus, £13.99). Throw or give away anything that might derail you, and go shopping for light, fresh foods for snacks and meals. Hobson recommends a plastic sealable storage box full of chopped veg, as well as houmous, berries, boiled eggs, lean meats and wholegrains.
Go back to basics
According to Dr Hazel Wallace, we should all be aiming to move away from packaged convenience products. 'Choose foods that are as close to the earth as you can get and, most importantly, cook from scratch,' she says. 'I'm a doctor and a really busy person and I understand the struggle, but I want people to realise that healthy eating is accessible. If you're home late from work, for example, have a nutritious, homemade soup to hand that you can heat up and enjoy with a slice of wholemeal bread.'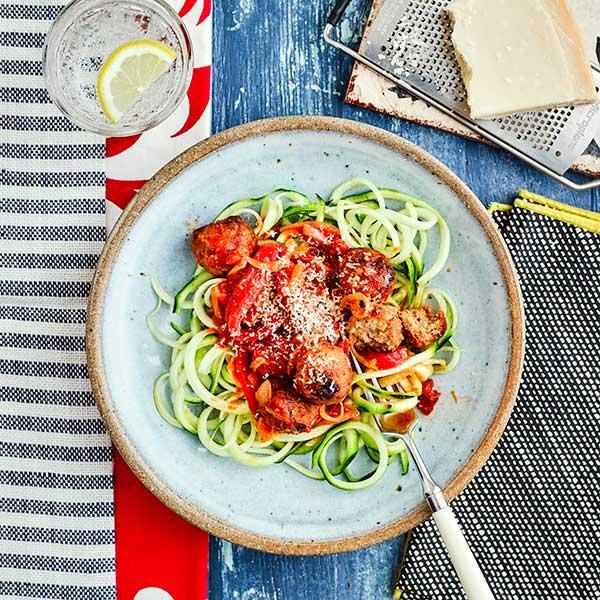 Try swapping pasta for courgetti. Image: Mike English
Eat one veggie meal a day
Join the 28% of meat-eating Brits who have reduced the amount of meat they eat and make one meal of the day vegetarian. Eating a daily plant-based meal – including a piece of fruit or two for pudding – means you'll easily hit your five-a-day target and stock up on vital vitamins. Unsure of where to start? Simply swap a meat protein for a plant-based or veggie protein. In stews, use chickpeas instead of beef or chicken; in salads, try eggs, nuts, beans and seeds.
Slash the sugar
'Sugar is a dietary Achilles heel for many people, so do your best to cut down on how much you eat,' says Rob Hobson. When we eat sugar to excess, the body releases insulin as it tries to regulate blood sugar, and this raises the risk of weight gain, diabetes, high blood pressure and heart disease. To cut your sugar intake, Dr David Unwin, a GP specialising in diabetes and low-carb eating, suggests avoiding all added sugar, and cutting down on white carbs such as bread, pasta and rice.
Try intermittent fasting
Research suggests that intermittent fasting (IF)* – alternating between periods of eating and periods of fasting – brings with it a range of health benefits as well as weight loss. According to the latest studies, IF may improve cognitive functions and blood-sugar control, lowering the risk of type 2 diabetes. It also allows the body to take a well-earned rest from digesting and processing food. The popular 5:2 diet, which recommends choosing two days a week as 500-calorie 'fast' days, is one way of doing IF, but many people find a shortened 'eating window' easier. This involves consuming all your daily food within a set period – 10am until 6pm, for instance – which leaves 16 food-free hours a day. The Eat-Stop-Eat method recommends fasting once or twice a week, aiming for a complete break from food for 24 hours at a time. 'Many religious and cultural groups have been fasting for thousands of years, but we now recognise the myriad health benefits it offers,' says dietitian Susie Burrell. 'Embracing some form of regular fasting is likely to be a good thing for all of us, even if we don't resort to the most restrictive regimes.'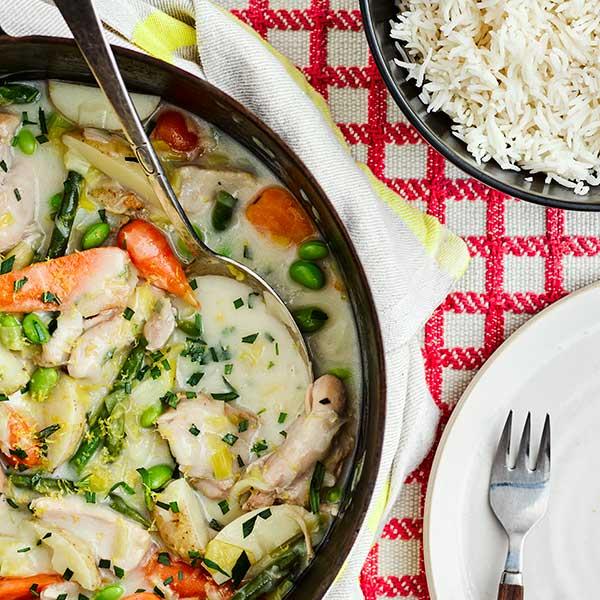 Zingy chicken casserole. Image: Mike English
Your seasonal swap shop
These easy but high-impact food swaps will boost your energy, improve your health and help you shed a few pounds. 'Rather than a restrictive diet, try smaller changes,' says Rob Hobson. 'Modify your favourite dishes with lean meats, low-fat dairy and tomato-based sauces. Choose foods that are lower in sugar and saturated fat. Switch refined carbs, such as white rice, pasta and bread, for wholegrain varieties, and go for healthier puddings made from fresh fruit, dried fruit, nuts and seeds.'
Swap pasta for courgetti
It's time to dust off that spiraliser and put it to work. Courgettes are nutritious and, when eaten in place of pasta, add extra health benefits to your meal, as well as slashing the overall calorie content.
Swap energy bars for unprocessed snacks
You might think a protein or energy bar is a healthy way to feed your snack craving, but nutritionists urge us to avoid shop-bought bars (which are often heavily processed), and focus on actual food instead. 'For snacks, buy nuts in bulk and portion out a handful into a sandwich bag, maybe adding some blueberries,' recommends Dr Hazel Wallace.
Swap heavy sauces for fresh herbs
Marinades, dressings and sauces can all contain hidden calories, but herbs and spices add flavour without increasing your daily calorie count.
Swap meat in stews for pulses
Not only is this a cost-effective way to bulk out meals so they go further, but adding pulses to casseroles and stews will also bring a host of health benefits. For example, eating pulses regularly has been linked to lower risks of heart disease and type 2 diabetes. Add a couple of handfuls to your casserole or Bolognese.
Swap mayo for avocado
Searching for something creamy to add to your sandwich? Choose avocado rather than mayonnaise. Not only are avocados loaded with healthy fats and nutrients, but the mild taste means they'll complement whatever you're pairing them with.
Swap fatty cuts for lean ones
This swap will save calories and cut back on unnecessary fat. Choose lean minced beef, chicken breast with the skin off, lean steaks, and grilled fish.
Now try our recipes:
Smoky pork meatballs with courgetti
Zingy spring chicken casserole
Raspberry and peanut butter breakfast bars
*Check with your GP before changing your diet
About the author