Health
9 ways to start running
by Hannah Ebelthite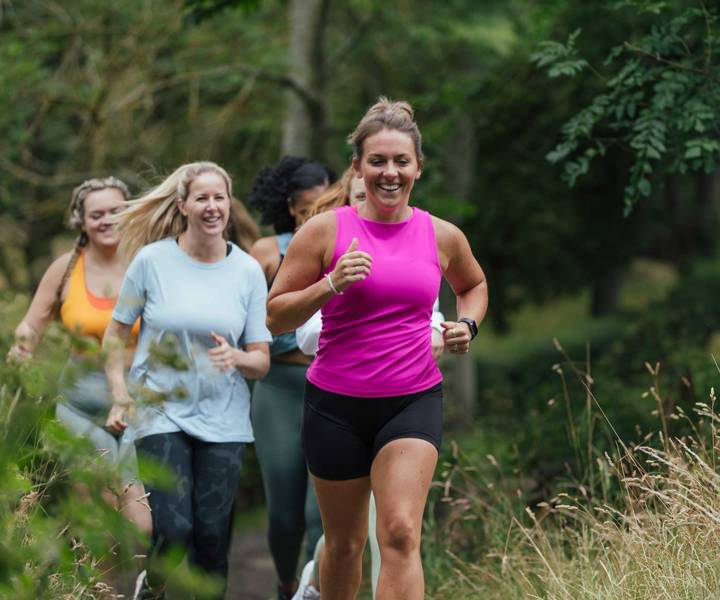 Lady running. Image: Getty Images
Inspired by the 50,000 people taking part in the London running Marathon? It could be you! Hannah Ebelthite explains how to get going – whatever your age
Over the years I've flirted with many forms of exercise. The one I'm most faithful to, though, is running. It gets me out in the fresh air, topping up my vitamin D levels. It's made me some lifelong friends. It doesn't ask for a fancy gym membership – and it lets you justify that post-run slice of cake. That 'runner's high' isn't a myth, either.
Like other forms of exercise, running causes feel-good chemicals called endorphins to course through your body. Running also helps low mood and depression, and increases your fitness, lowering resting heart rate and blood pressure. And because it's a weight-bearing exercise, it also protects bone density – increasingly important with age. It's no wonder statistics show 7 million people run at least 1twice a month in England, with
1. Start with a walk
Every good run starts with a walk. It's one of the best ways to warm up, mimicking the movements you'll be doing as you run. And if you're a beginner, incorporating brisk walks is a good way to get your fitness up. The 'Couch to 5K' programme is a tried and tested walk-run method that gradually shifts the ratio of walking to running, until you're able to go for 30 minutes or 5km without stopping. One of the best is the NHS Couch to 5K app (downloaded a staggering 6.5 million times), which offers you a choice of celebrity coach, and takes just nine weeks to complete.
2. Just five minutes
The beauty of running is you don't need lots of equipment or to pre-book a class – you can just pull on your trainers and go. 'So if you're not feeling like exercising, just tell yourself you'll do five minutes,' says coach Karen Weir (runwithkaren.com). 'Habit change is about making it super easy. When the time's up, you're free to go home. More often than not, you'll find that after five minutes you've started to warm up and get into the swing of it. But if you haven't? That's still five minutes more exercise than if you'd stayed on the sofa.'
3. Find a running buddy
When an activity is sociable it becomes more appealing – something to look forward to. You can encourage and motivate each other, and share tips. Chatting as you run is a great way to pass the time, and an excellent measure of fitness, too, says Karen. 'At first you might find it hard, if not impossible, to run and talk. Give it time and you'll soon be holding full conversations – which is a good sign you're running at the right intensity and not overdoing it.' Finally, having a friend to run with makes you accountable – there's no blowing off that 8am rainy run if they're waiting in the park. There are even apps to help you find a running partner, whatever your fitness level. Try sportpartner.com or joggingbuddy.com.
4. Commit to cross train
Cross training means finding another form of exercise – ideally strength-based – that adds variety, complements your running and conditions you to run more safely. 'This is important as we get older and need to strengthen our muscles to protect our joints,' says Shona Campbell, a Sussex- based physiotherapist and clinical Pilates teacher (steyningphysiotherapy.net). 'People underestimate how important core strength and a strong upper body, back and arms are for runners. All-over strength improves your posture and this makes your running more efficient and injury-proof.'
5. Don't forget to stretch
Many a running niggle or injury comes from muscles that start to tighten up, which can transfer strain onto other parts of the body. 'You need to prepare your body for running, especially as you age,' says Shona. 'Don't just get up from sitting for hours and expect to launch into a sprint. A five-minute brisk walk, jog or marching on the spot will do. Then add a few dynamic (moving) stretches, such as walking lunges or toe touches. After your run, cool down by walking for a few minutes so your heart rate starts to lower. Then try some stretches, holding each for around 20 seconds. A free app like Start Stretching helps you learn a simple routine.
6. Try Parkrun
Parkrun is a community of runners who get together in parks and outdoor spaces to run or walk a timed 5km course. For nearly 20 years, it's taken place every Saturday at 9am; it's run by volunteers and it's free to enter. It's inclusive, friendly, there are no time limits and a volunteer tail walker means no-one ever finishes last. All you have to do is register at parkrun. org.uk to get your personal barcode and find your nearest event. Then turn up with your barcode and run.
7. Join a club
Don't be intimidated by the speedy club runners you see at the London Marathon. While many running clubs have a competitive arm, the vast majority are more about a shared hobby. Most meet at least once a week and will have groups for different levels and speeds – you'll often find a walk-run group as well as beginners. 'Running clubs tend to be cheap to join and you can benefit from expert advice and coached sessions,' says Karen. 'Like parkrun, there's a sociable element, you'll meet experienced runners with advice to pass on and good routes to share. Head to: englandathletics.org/find-an-athletics-club or runtogether.co.uk for lists of local groups.
8. Enter a race
If you're someone who's motivated by goals, consider entering an event and making that your training target. Every weekend you'll find charity, club and fun runs taking place all across the UK, at all different distances. Race for Life, for instance, has raised nearly £900m for Cancer Research UK since it started nearly 30 years ago (raceforlife.org.uk). Check out findarace.com for ideas.
9. Recover properly
Listening to your body is important at any age, but particularly for any post-50s who are just starting to run. Don't force runs if you're not feeling fully recovered from a previous session; running every other day, as opposed to every day, is recommended. Days off from running don't have to be complete rest days, though. You can always do cross-training activities such as cycling, swimming, yoga or anything else you enjoy.
Don`t miss

---