Health
Summer survival guide: how we beat the heat
Lavender oil, plasters, top knots and wall charts: Michelle Ackerley, Liz Earle, Emma Gannon and Lyndy Redding reveal their summer survival tips.
Liz Earle MBE, 54, is founder of Lizearlewellbeing.com. She lives with her husband, Patrick, and five children on a farm in the West Country.
'I go Nordic walking, which my kids find so embarrassing'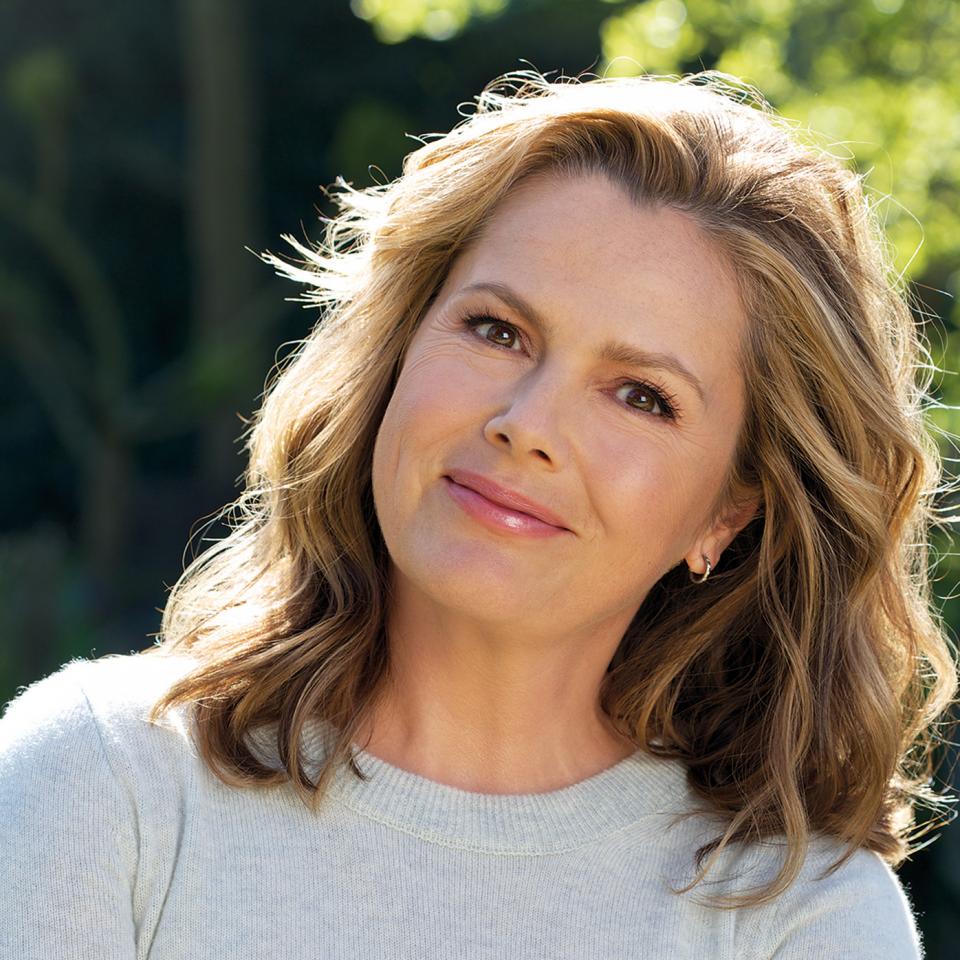 'In the summer, I try to be organised and make lists. Fail to prepare: prepare to fail. I start with the school calendar and mark off key dates so I can plan work around it, and I try to be home for most of the holidays. Conference calls and FaceTime are helpful for me as a working mum.
'We are lucky to live in the country, so the children are happy to be den-building outside. You don't have to go on expensive outings – if children have other children around them they entertain themselves.
'My friend, the garden writer Sarah Raven, inspired me to grow flowers as a crop; I have rows of flowers in my vegetable patch that are just for cutting, to bring a bit of the outside into the house. My Friday evening activity in summer is picking lettuces and cutting flowers. It's mindful – appreciating the smell, enjoying how they look.
'Skincare-wise, my routine is really simple year round. But when the sun's out, I use mineral sunblock on my face, neck and backs of hands, and protect my face with wide sunglasses and a roll-up straw hat I keep in my bag. We do need vitamin D so I'll have my arms out. I run outside rather than on a treadmill – just for 20 or 30 minutes. Getting out in the fresh air is a great way to clear your mind. My teenage son sometimes comes with me but he's much faster and passes me on his way back! I love Nordic walking and I have a pair of walking poles. My children think it's so embarrassing, but it's a great upper body workout so I'll put up with their ridicule!'
How I beat the heat
• Pure lavender essential oil is very good for dabbing onto bug bites and minor sunburn; I keep a bottle of it in my bag.
• Floris talcum powder keeps skin dry and comfortable in the heat. The Cefiro fragrance is especially summery.
• Single-use plastic bottles are so bad for the environment. I always carry a water bottle with a filter in it so I can fill it up from the tap wherever I am.
Michelle Ackerley, 32, is a presenter on BBC's Crimewatch Roadshow and Council House Crackdown, and has guest presented on The One Show. She divides her time between London and Alderley Edge, Cheshire.
'I always wear less make-up in the summer'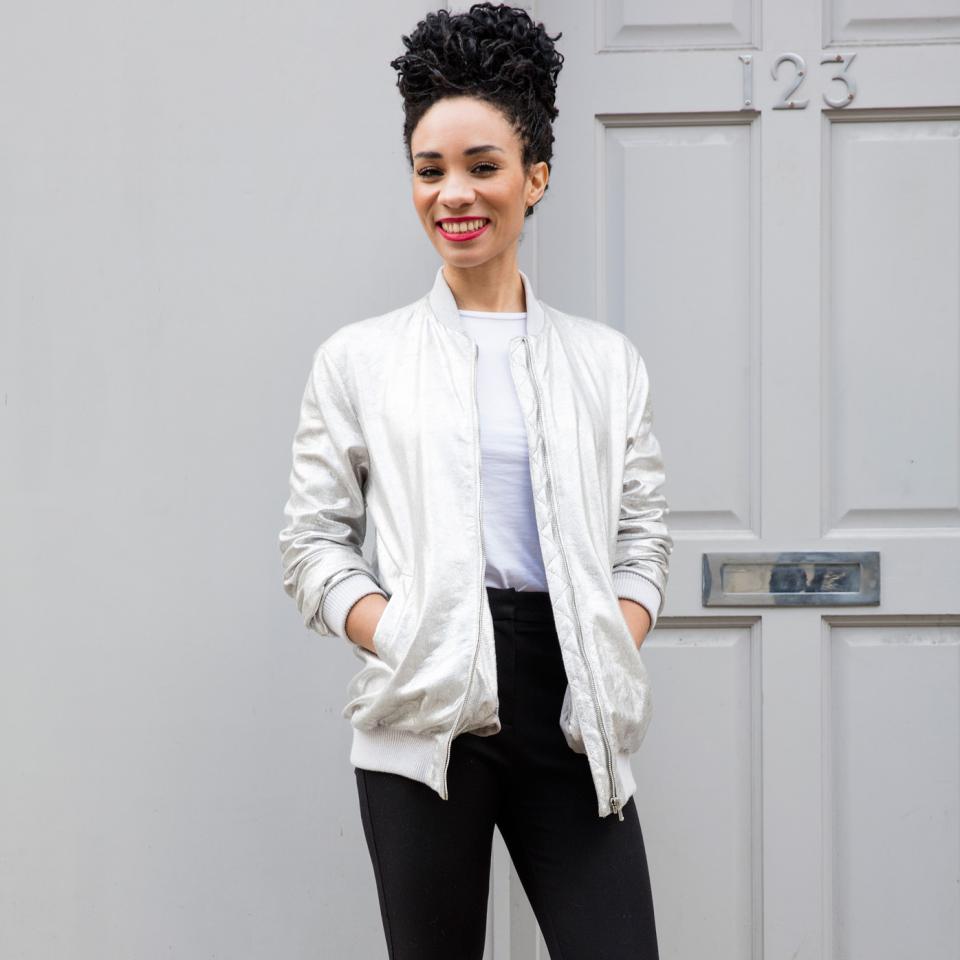 'On a sunny morning, I'll be up and out walking before work; I try to get outside when the weather's nice. During the summer, I spend a month on the road doing Crimewatch Roadshow, which means I'm up every day at 4am so it's often hard to fit exercise in. As soon as I wake up I brush my teeth and do two minutes of squats to the timer on the toothbrush.
'I'm on and off trains all the time, and in my bag I always have scented cleansing wipes. After a long day travelling there's nothing better than cleaning the day off your face. I also take antibacterial gel and handcream everywhere. And I'm never without a mini deodorant and perfume!
'I love summer clothes. For me, it's all about bright, bold colours and getting my hair back in a top-knot. When it's really hot I like the feeling of being a bit more free, and wearing sloppy T-shirts with funky heels.
'I relax when I go home for the weekend. I'm extremely close to my family – my mum, dad and brother are my best friends. My parents live round the corner and I've lived in the area for most of my life. During the summer, Mum and I do Fizz Fridays! One of our local bars does a happy hour with Prosecco, so we'll meet there, then Dad will finish work and come down, and friends will join us throughout the evening.
'On holiday, I get up early for a swim. It's nice to get exercise in before it gets too hot. Plus there's more time for sunbathing later.'
How I beat the heat
• At the weekend I like to buy a few key ingredients to make fresh packed lunches for the week ahead. I love salads or gazpacho. Something with flavour that gives a little kick when you're flagging.
• Everyone can get away with looking a bit more natural in the summer, and I always wear less make-up. It's hot, it's bright, everyone's in sunglasses, no-one notices!
• Going from a full day's work to an evening thing is a very quick change involving military precision, so I plan ahead. Jeans and heels are always good.
Emma Gannon, 27, is a blogger, lecturer, author and podcaster. She lives in London.
'I carry three pairs of sunglasses around with me'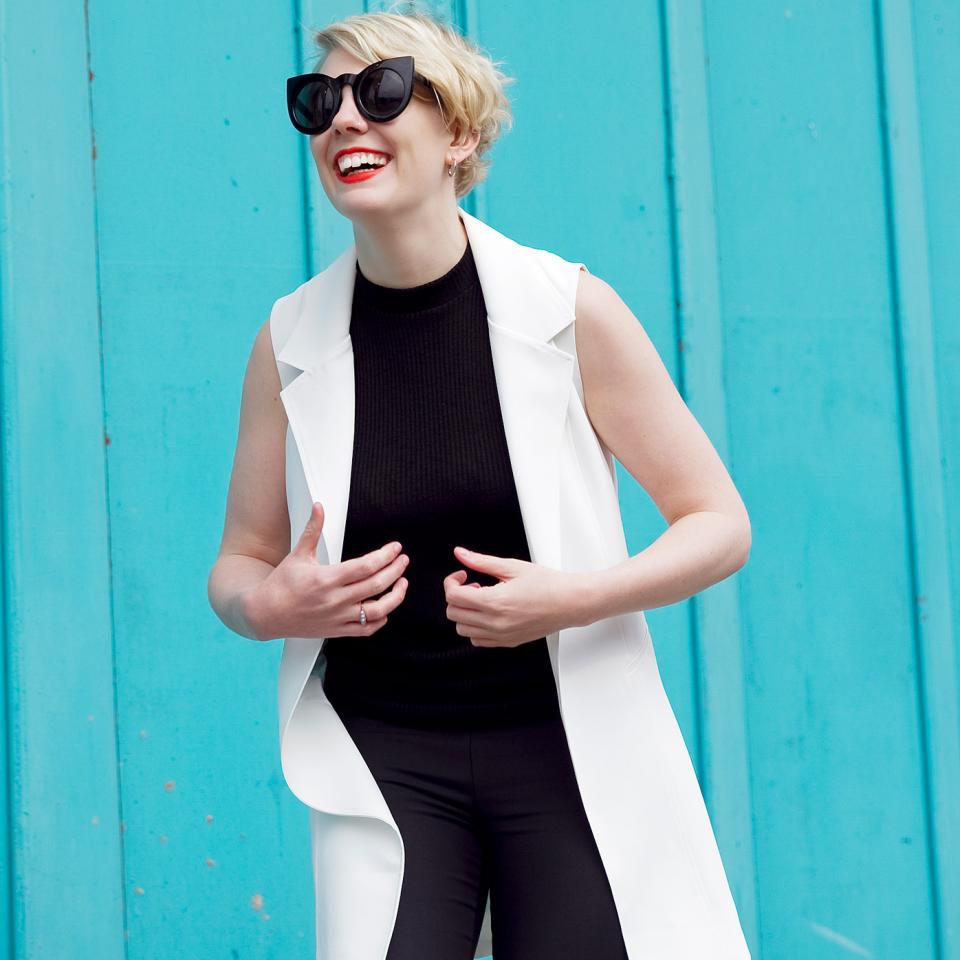 'In the summer, I take a bottle of water everywhere; you never know when you might be stuck on public transport in the heat. I have 'two litres' engraved in my memory and I think in the summer I actually hit that target because I'm outside and moving more!
'I keep my wardrobe simple with stuff like short denim dungarees and plain dresses, but go big on statement sunglasses and shoes. I carry three pairs of sunglasses around with me and I'm obsessed with espadrille wedges with ankle ties.
'There are definitely more invitations when the sun's out. I have to be quite strict with myself as its tempting to drink more. I went to a book launch the other night but I had a flight for work at 4am the next day. I was looking around and everyone was having such a good time but I had to be strong and tell myself, 'Just have one or I'm going to hate myself.'
'Life is busy and the best way for me to de-stress is to get away. I've learnt that I don't need a two-week break with all the planning and prep that entails. Three days away in a great hotel that has everything you need can be just as restorative. There's so much admin and scheduling in my life that when I go away I don't want to think about anything. I want everything to be as easy as possible.'
How I beat the heat
• In the summer I always carry water, plasters, mini sun cream – and a book, so I can plonk down on a park bench and read between meetings.
• I wear light layers so I can remove something on the tube if it gets too hot.
• Cooling face mists are great in the summer – they help set your make-up and cool you down. Ones with aloe vera or cucumber are my favourites.
Lyndy Redding, 44, set up luxury catering company Absolute Taste 20 years ago. She lives with her husband, Otis, seven-year-old son Joshie and their dog, Truffle, in London.
'I get a massive wall calendar to keep track of everyone'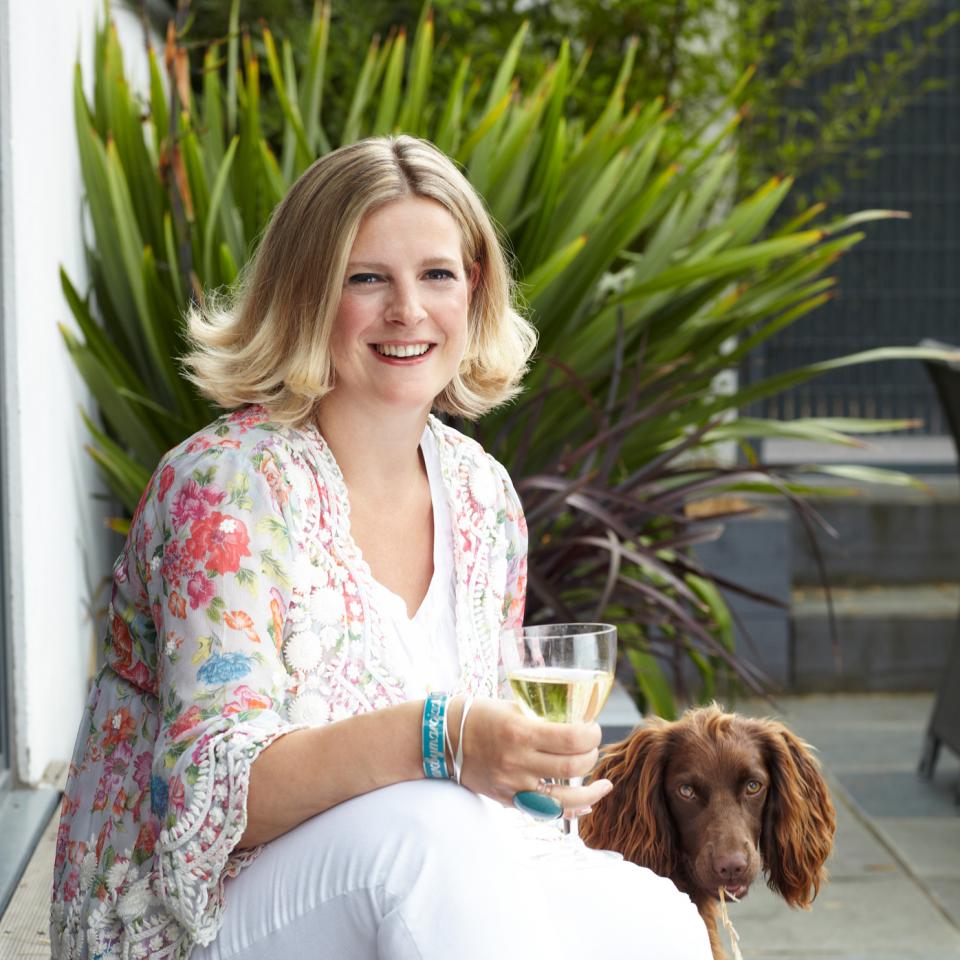 'Thank goodness for kids'clubs! The summer holidays are hectic and I can only take a little bit of time off, but things are set up so much better nowadays when it comes to kids with working parents. Joshie goes to cricket, football, tennis and golf clubs, and he loves them. We also schedule more play dates in the summer. Then in the evening we all end up going to bed at the same time – the dog as well! It's a bad routine we've got into, but we'll talk about the day, and when Joshie falls asleep we put him in his own bed. It's slightly ridiculous that we have a whole house to be in, and all four of us squash into a one metre-square space, but it's one of our favourite times.
'I find that getting myself ready is simpler in the summer. I go brown quite easily so I wear less make-up, and dressing is very straightforward – it's ballet shoes, no tights, hair in a ponytail. I started wearing my summer wardrobe at the beginning of April, as soon as the sun was out. Lots of cream and pale blue: done!
'In August, we take two weeks off and head to our cottage in Cornwall. I absolutely love it, it's such a special time. I've travelled loads, but I don't think you can beat it down there when the sun is on the sea. My husband says I'm much nicer when I'm in Cornwall, because the weight goes off my shoulders! I go to the butcher, baker and farm shop, and we eat a lot. We make crab sandwiches and go and play on the beach all day.
'When the weather doesn't play ball it's still beautiful, and there are lovely local pubs with log fires. I love going to the beach all wrapped when you can lean back and not fall over against the wind. Then you get indoors, get the fire going and have supper in front of the telly. Fresh fish, cherry tomatoes… gorgeous.'
How I beat the heat
• I have a massive wall calendar that has all the family's plans on it, so during the school holidays, everyone knows who's where and when.
• Summer food can be so simple but tasty: it doesn't get much better than asparagus, homemade hollandaise and a little bit of rocket.
• I grow my own carrots, radishes, courgettes, lettuce, tomatoes and Swiss chard are good at this time of year.
About the author