Food
Why 2018 is the year of the vegetable
by Emma Hughes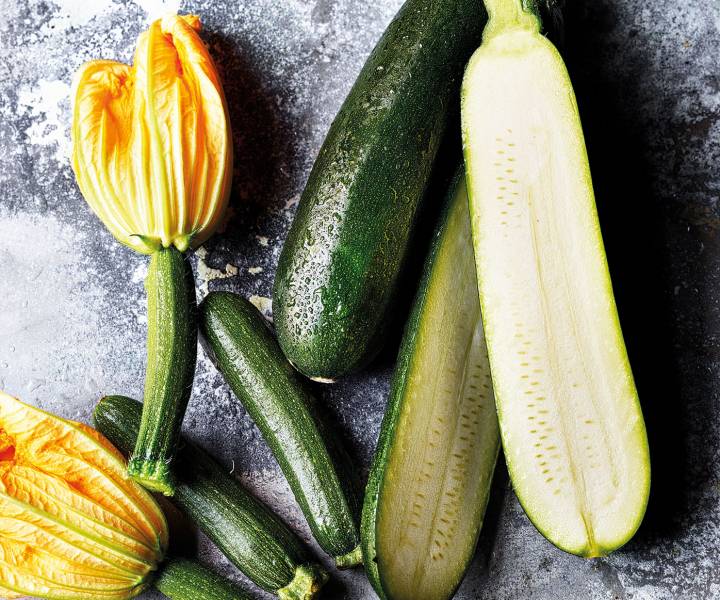 Image: Kris Kirkham
How did a nation raised on bangers and mash fall in love with plant-based eating? Emma Hughes finds out why vegetables are having their moment.
It wasn't long ago that 'vegetables' in Britain meant over-boiled carrots or greying beans - sad little concessions to healthy eating that you'd force down before you got to your nice juicy steak.
But over the past few years, there's been a revolution: vegetables have become cool. At trendy London restaurants like Marcus Wareing's Tredwells, there's still meat on the menu, but it's the greener, leaner dishes the guests rave about – spring mushroom mousse with caramelised shallots, or grilled onions with chickpeas and mint.
In fact, there's been such a swell of interest in plant-based eating that there's even a dedicated festival in the pipeline – Plant Life, due to take place at Camden's trendy Roundhouse at some point next year. Tables will be loaded with KFC – that's Kentucky-fried cauliflower – and ticket-holders will sip cocktails as they listen to live music.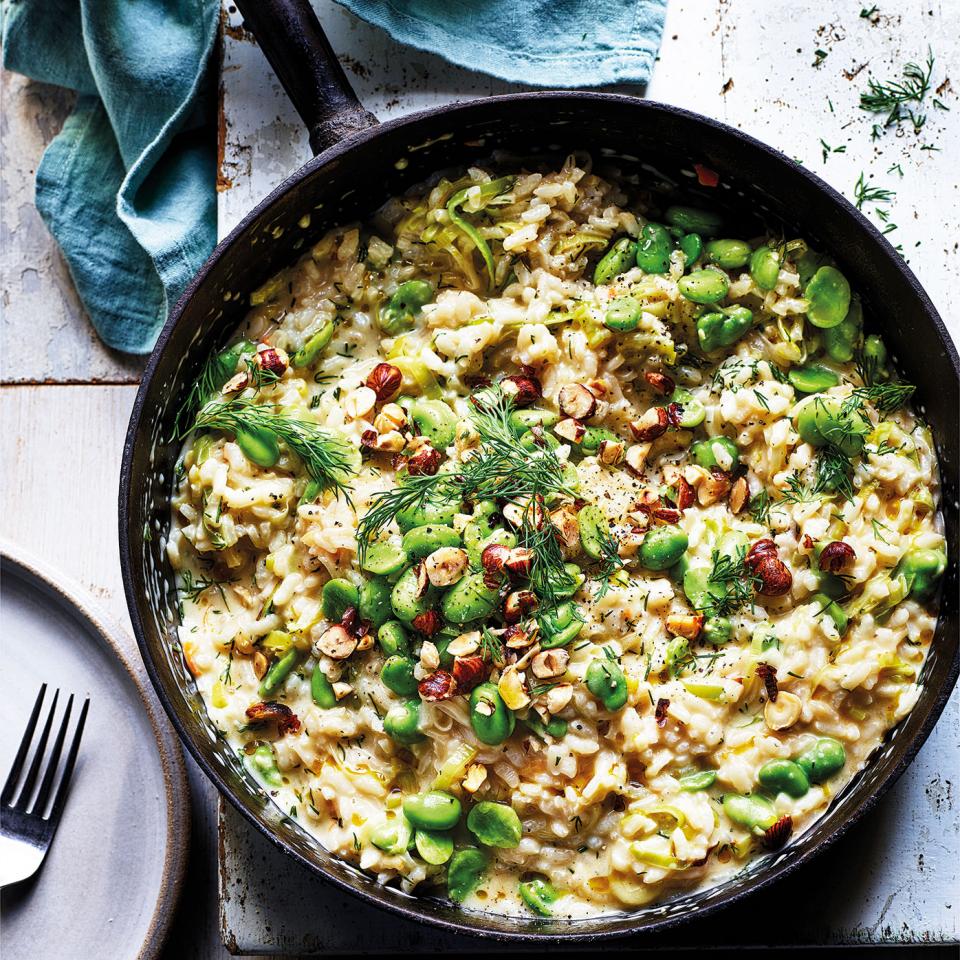 Broad bean, dill and hazelnut risotto
'I'm not telling anyone to give up meat,' says co-founder Richard H Turner – which makes sense, as he's one half of traditional butcher Turner & George. 'I just think we should be eating less of it. And I really want to showcase all the fantastic vegetables we're growing here now.' By making them the focus of every dish served at the festival, his aim is to encourage people to think about them as the main attraction, rather than just a sideshow.
A lot of us seem to be ready to listen: according to market researchers Mintel, more than a quarter of British meat eaters made an effort to reduce their meat consumption in the first six months of last year, citing a mixture of animal- welfare, health and environmental concerns. But we're still a nation of food lovers, and we still want meals that are inventive and delicious. To meet demand, supermarkets are raising their game: you can now stock your trolley at Sainsbury's with butternut squash 'lasagne' sheets, ready-spiralised courgette noodles and smoky pulled jackfruit to use instead of pulled pork.
Vegan junk food
Out and about, it's the same story. In Camden, people are queueing up for new opening What The Pitta!'s all-vegan doner kebab wraps, made with spiced 'soy-protein' chunks ('a lot of our customers are meat reducers, rather than strict vegans,' co-founder Cem Yildiz has said). There's even a trend for plant-based 'dirty food': over in east London, The Spread Eagle – London's first fully vegan pub – is doing a brisk trade in meat-and dairy-free nachos and burritos. (Club Mexicana, the street-food stars behind the menu, made a name for themselves serving up beer-battered 'fish' tacos made from tofu at festivals). Meanwhile, Manchester, Sheffield, Bristol and Glasgow's buzzing restaurant scenes are dominated by chefs thinking outside the meat-and-two-veg box.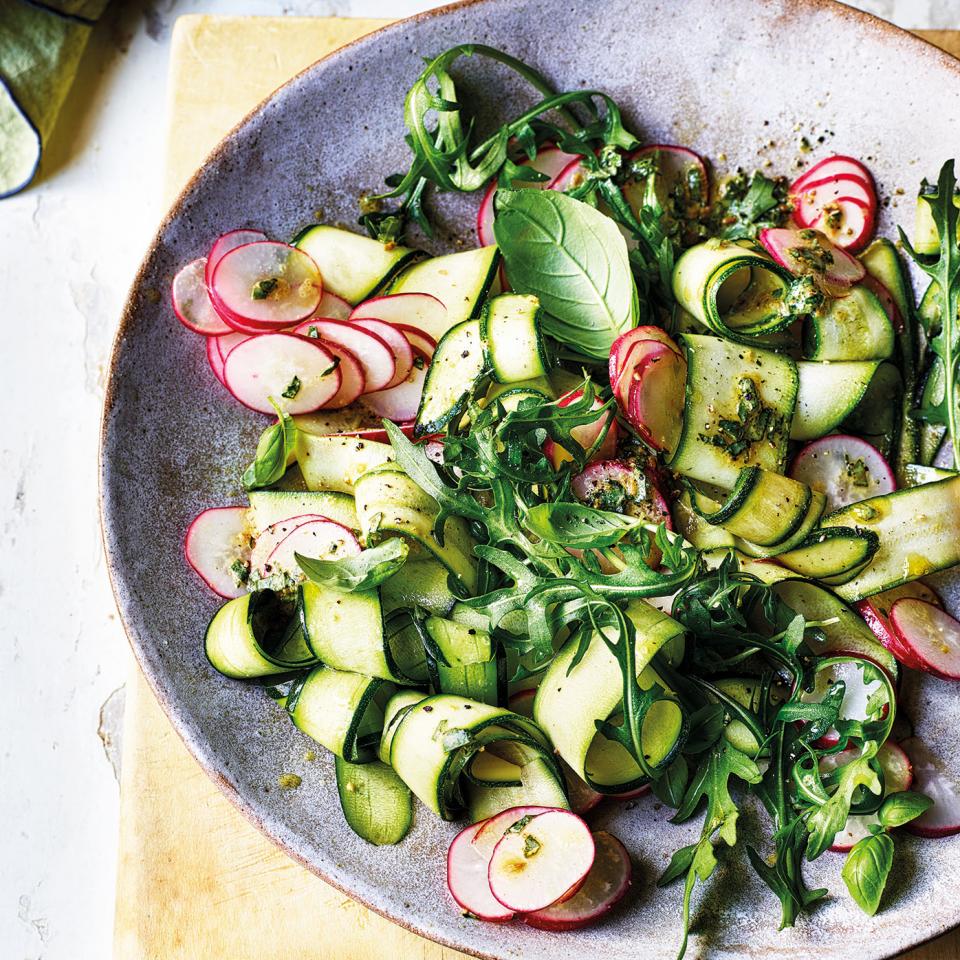 Image: Kris Kirkham. Courgette and radish ribbon salad with basil dressing
But is all this just a flash in the pan? Food writer Meera Sodha doesn't think so. 'There's been a big shift, and I feel a lot of it will be permanent,' she says. For her, it's a question of consciousness. 'In the past we haven't been aware of the issues around the mass production of meat, like animal welfare and environmental concerns, but people on TV like Hugh Fearnley-Whittingstall have tried hard to focus our attention on them.' She describes herself as a 'part-time vegan' and, although she's written plenty of meat-based recipes, her book Fresh India (Fig Tree, £20) is made up entirely of delicious, everyday vegetarian ones, from beetroot and paneer kebabs to blackened sweetcorn chaat. 'It's much easier now that there are so many vegetarian and vegan recipes – there's such a variety out there, and it's really exciting. People used to assume that you'd be living off worthy, dull stuff, and that just isn't true.'
It's easy to forget that eating meat at every meal is a very modern habit. Before farming became industrialised, meat simply wasn't available enough for it to be anything other than a once-or twice-a-week treat. And during the Second World War the Dig For Victory campaign made plant-based eating a patriotic duty: vegetables you grew on your allotment were exempt from the ration, so potatoes, carrots and leafy greens were central to most meals. As a diet it may have been dreary, but it was frugal and we were healthier than we ever had been before (or, some dietitians would argue, have been since). With the arrival of large-scale farming in the 1960s our consumption of animal products skyrocketed – along with obesity, heart disease and type 2 diabetes.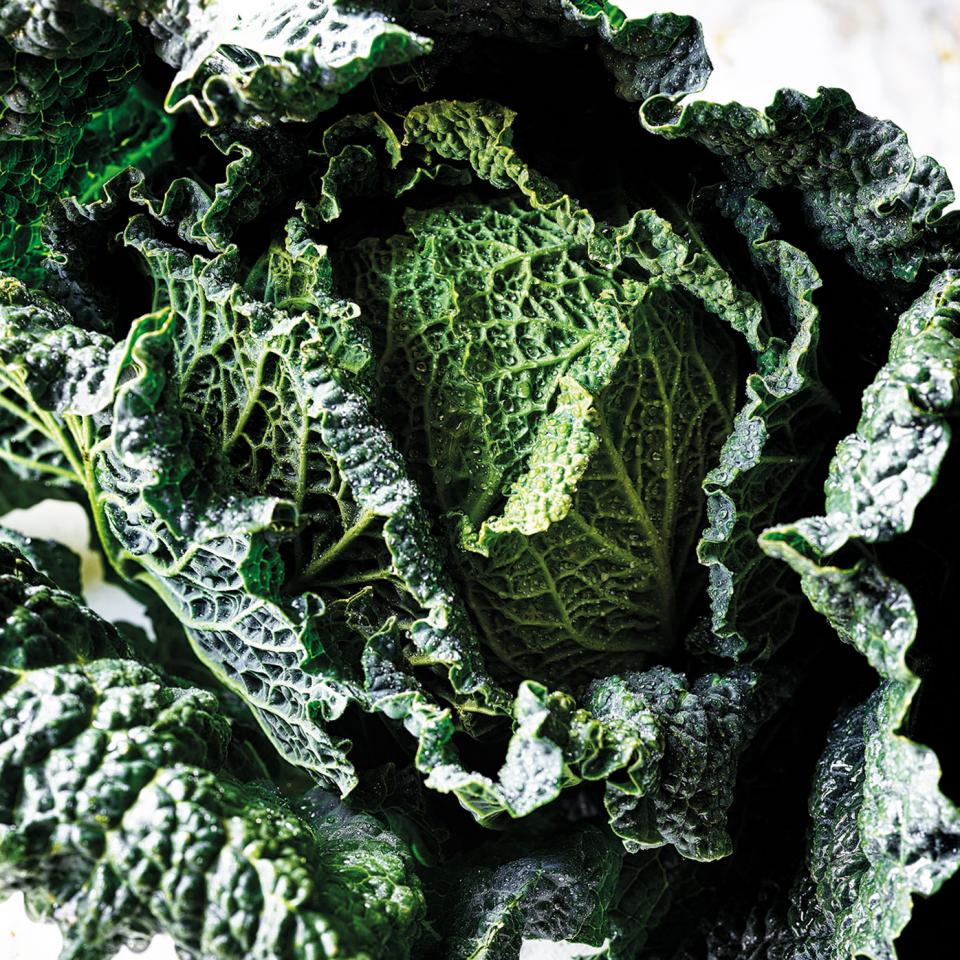 Image: Kris Kirkham
Global good
It isn't just our health that can benefit from shifting to a vegetable-focused diet – it's the health of the planet. Plant-based eating has a much lower environmental footprint (producing a kilo of beef uses up 15,000 litres of water, and greenhouse gas emissions from livestock farming are far higher than those from arable farming), which a majority of scientists believe makes it a far more sustainable model in the long term. It's no exaggeration to say that the future of the planet could be shaped by the decisions we make at dinnertime.
But what if we're worried that making those decisions will leave us feeling a bit – well, deprived? The trick, says Meera Sodha, is to explore long-established ways of eating that don't revolve around meat. 'So many cultures don't eat a lot of it, and have more reliance on vegetables, rice and grains,' she says. 'In India, Hindus have been vegetarian for centuries, so this incredible cuisine full of big, bold flavours has developed – it celebrates vegetables for what they are. It's a great starting point.' 'It's all about expanding your diet,' agrees Richard H Turner.
Now, with warmer summer days and an abundance of leafy bounty on the shelves, it's the ideal time to make a change – and give a truly balanced way of eating the green light.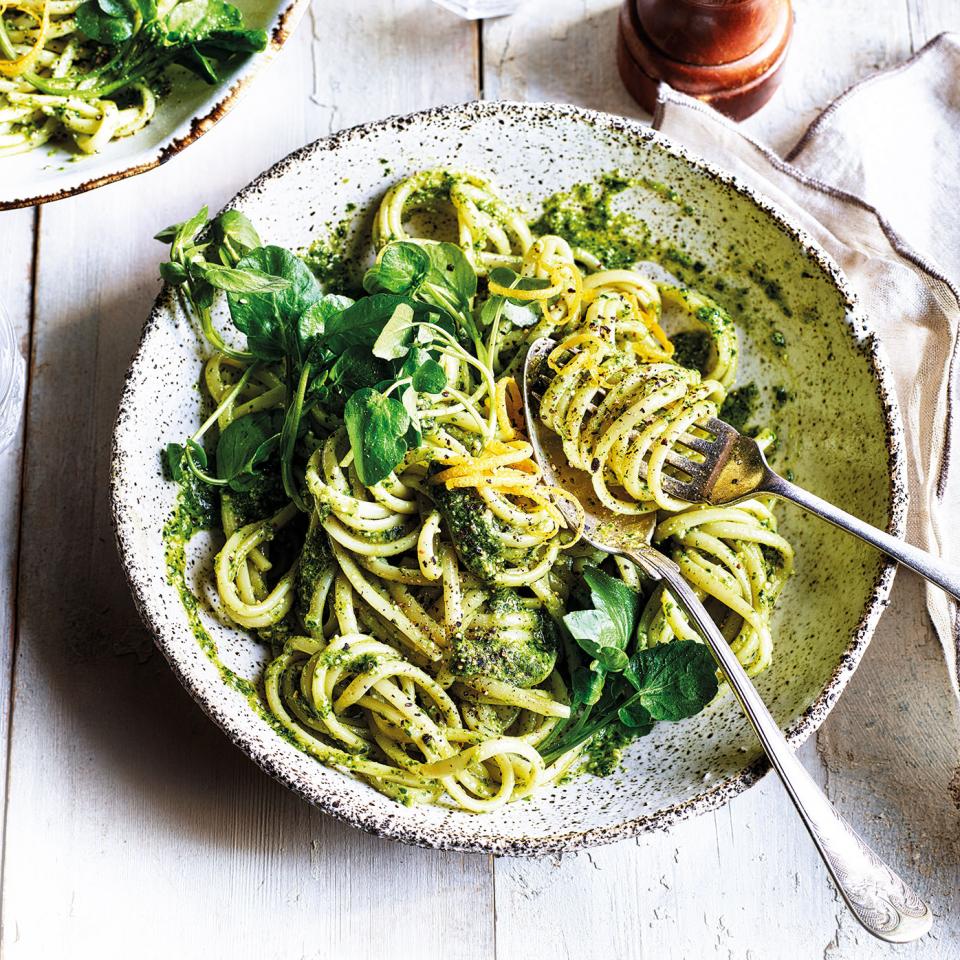 Image: Kris Kirkham. Watercress pesto and lemon linguine
Meet the new meat alternatives
It's not all about tofu any more...
Jackfruit: Low calorie and high in fibre, this Indian export has gained cult status among foodies, thanks to its 'meaty' texture. Try it with a smoky sauce as a stand-in for pulled pork.
Seitan: It's made from wheat gluten – and, when cooked, it looks and feels just like meat. Great for vegan kebabs and pizza toppings.
Tempeh: An Indonesian speciality, tempeh is made by pressing soybeans into a loaf shape, then fermenting and slicing it. Higher in protein and calories than tofu, it's delicious fried and served with a sticky sweet-chilli glaze or satay sauce.
Where to eat your greens
Veggies make up most of the menu at Yotam Ottolenghi's super- popular Piccadilly spot – think roasted aubergine with feta yogurt and spiced potato cake with tamarind.
With its mismatched vintage furniture and small-plates menu, this cosy, cool café is the star of Glasgow's vegan scene. Try the vibrant mezze selection, or mushroom wellington with
all the trimmings on a Sunday.
Zero waste is the goal at this game-changing restaurant in the North Laines: vegetables that might otherwise have been thrown away take centre stage, with meat, fish and dairy as supporting acts.
This American-style diner in Manchester's Northern Quarter is leading the way: everything from the burgers to the
fried 'chicken' and the buffalo loaded fries is 100% vegan.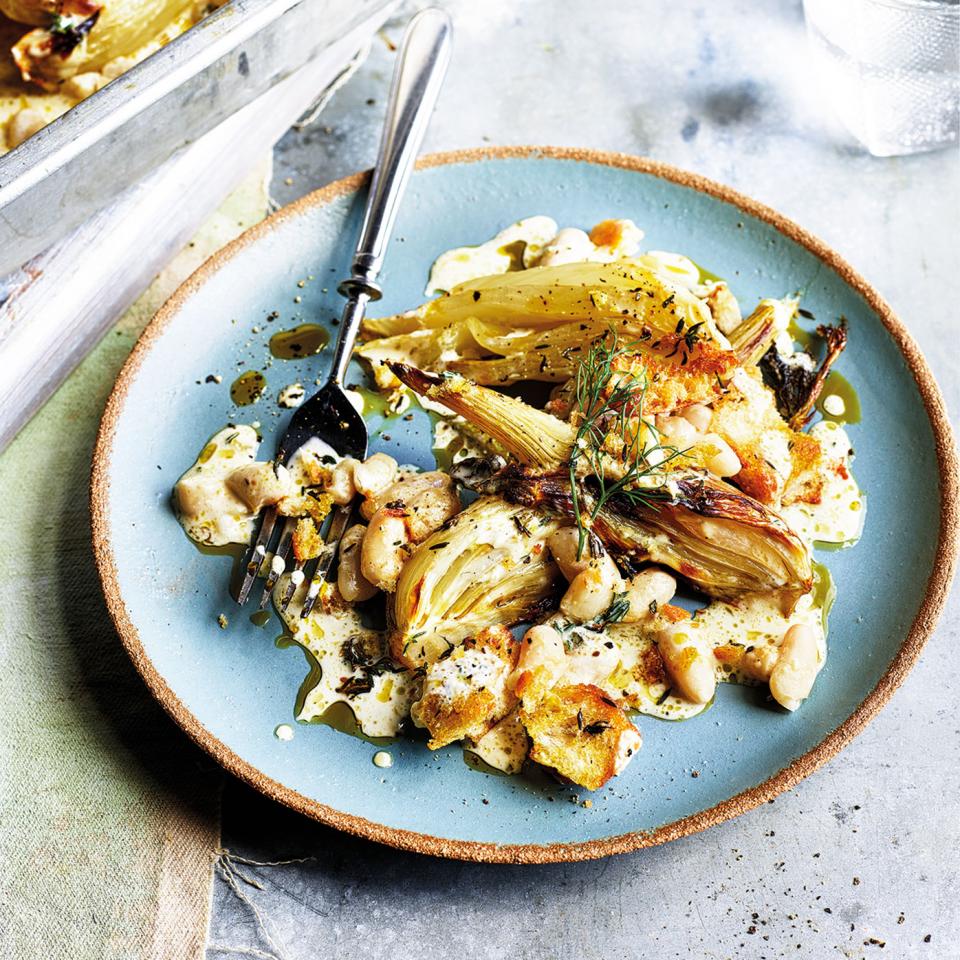 Image: Kris Kirkham. Fennel gratin
Don`t miss

---