Food
Use it up – Smoked paprika, thyme & garlic spice mix
by Emma Franklin
If you've tried the fabulous veggie paella from our September issue, chances are you've got a wee tub of smoked paprika, thyme and garlic spice mix kicking around your cupboard waiting to be used again. And if not, it's worth adding it to your spice collection so you can try these easy and delicious recipes.
Sweet 'n' smoky lamb rub
Mix with 1½ tbsp smoked paprika, thyme & garlic spice mix with 2 tbsp vegetable oil, ½ tsp sugar, a pinch of salt and some coarsely ground black pepper and rub onto lamb chops or cutlets before grilling for a few minutes on each side. Serve with lemon wedges for squeezing over.
Mediterranean veggie couscous
Roughly chop 1 aubergine, 1 orange pepper, deseeded, 2 courgettes and 1 large red onion into large chunks and halve 250g baby plum or cherry tomatoes. Toss the vegetables with 2 tbsp olive oil, 1 tbsp smoked paprika, thyme & garlic spice mix and some salt and pepper, then tip onto a large baking tray and roast in a very hot oven for 30-40 minutes until the veg is tender and slightly charred at the edges. Meanwhile, soak 250g couscous in 350ml hot vegetable stock. Toss the cooked veg with the couscous and finish with some fresh basil.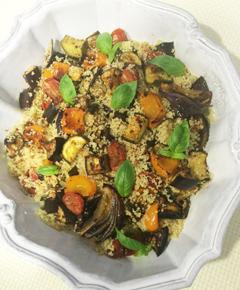 Colourful couscous
Pork belly & orzo casserole
Cut 500g boneless pork belly into bite-sized chunks and brown on the hob in a casserole dish with a splash of oil. Remove with a slotted spoon to a plate, then fry 2 sliced red onions until translucent, add a diced red chilli and 1½ tbsp smoked paprika, thyme & garlic spice mix, and cook for a couple more minutes. Return the pork to the pan, add a bay leaf, 2 x 390g cartons chopped tomatoes and 500ml chicken or vegetable stock, season with salt and pepper and bring to the boil. Cover and simmer gently for 2 hours or until the pork is tender. Increase the heat and bring to the boil, then throw in 125g orzo and simmer, stirring regularly, for 10 minutes until the orzo is just al dente.
Beer-braised turkey chilli
In a large casserole, soften 1 dicedlarge onion in 2 tbsp oil. Increase the heat to high, add 1kg turkey thigh mince and fry until opaque. Add 2 heaped tbsp tomato purée, 3 tbsp smoked paprika, thyme & garlic spice mix and 2 peeled and diced carrots and fry for 2 minutes. Add 1 x 330ml bottle light ale, 250ml chicken stock and bring to a simmer. Drain and rinse 1 x 400g tin black-eyed beans and add to the casserole. Add 1 tbsp demerara sugar and season with some salt and pepper, reduce the heat to low and simmer, uncovered, for 30 minutes. Stir in 50g dark chocolate and taste for seasoning. Serve topped with grated Red Leicester or Cheddar cheese and sliced spring onions.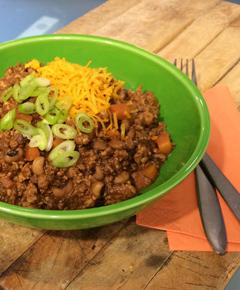 Chilli with a twist
Spiced corn butter
Mix 100g soft unsalted butter with 2 tbsp smoked paprika, thyme & garlic spice mix, 25g finely grated Parmesan, the zest of ½ lemon and some freshly ground black pepper. Spoon onto a sheet of clingfilm, roll into a log by twisting each end of clingfilm, then wrap well and chill until firm. Unwrap, then cut into rounds and serve on hot boiled or barbecued corn cobs.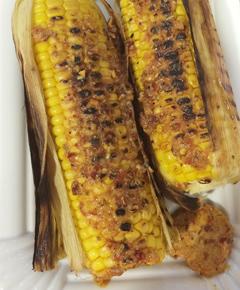 Don`t miss

---