Food
Phil Vickery: master of gluten-free baking
by Sarah Alcock
The Cake and Bake Show is giving all you gluten-free bakers a real treat this year...
Phil Vickery is making his debut at the show this year and he's coming armed with his masterful knowledge of gluten-free baking, and a load of incredible gluten-free recipes. We did try to wangle a tasting preview of said recipes but failed miserably, on a positive note, we did succeed in getting a preview of top tips from Mr. Vickery about gluten-free baking to share with you.
'Coeliac disease is not just avoiding wheat...'
"Novak Djokovic came out and said 'Ooh, I'm gluten free' and now Andy Murray is apparently trying it, and it makes you think that it's just a fad. Coeliac disease is a serious life-long auto-immune disease that affects your gut and other parts of your body; not just an intolerance. When you start getting celebrities jumping on the bandwagon for certain things you have to be slightly careful because it might just be the right thing for them at the time."
Find out more about Coeliac disease
'I got into gluten-free baking because...
"I had a Christmas puddings company and I couldn't buy organic flour at a fair price so in the end I just used rice flour, which made it, of course, gluten-free.
We were giving out samples of our rice flour at a food show a few years ago and loads of people walked past me and said, 'I'm a coeliac, I can't touch it'. They couldn't believe what we were selling was actually gluten-free. When we showed them our Coeliac Society logo on the packs one lady said, 'I'll have 10, and my friend will have 12,' and I suddenly thought, Oh my God this is a really big problem."
Using the right flour...
"When I first started developing recipes the actual base flours you could buy were just paying lip service to gluten-free and they weren't particularly good. Nowadays the gluten-free self-raising and plain flour that you can buy are really good, however they don't tell you the quantities of the flours that are in it. Some of my recipes will use a shop-bought flour so people can get hold of it from the shops but I think that for some recipes it's best to mix up your own....
For breads
, yeasted products and quite heavy savoury products like pastries you need to have a higher protein content, so I use a soya flour mix that is higher in protein than normal flour.
For cakes and bakes that use self-raising flour, the shop-bought ones are pretty good, but I also add a little extra xanthan gum to help the dough stretch without gluten, starch, which makes the whole thing lighter, and gelatine or agar, which helps set the structure."
'At The Cake & Bake Show I'll be cooking...'
Some savoury, some sweet, but mostly gluten free.
• Gluten-free chocolate peanut butter and fudge cookies
• Gluten-free roasted banana walnut cake with maple icing
• Gluten-free tangy beetroot and blackcurrant muffins
• Polenta traybake with lemon raspberry fondant
• Stout bread with sweet onions and poppy seeds
• Gorgonzola cheese melts
And of course, making my own gluten-free flour mixes (we reckon this will be super useful).
Here are our best gluten-free recipes and one from Phil!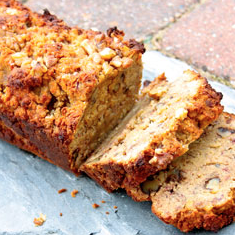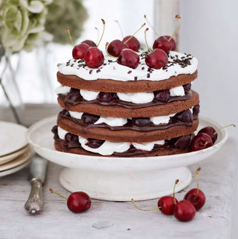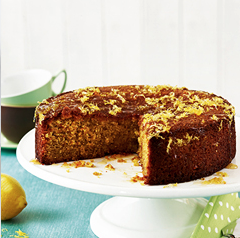 Don`t miss

---