Food
July's winning reader recipe - peach, Parma ham and mozzarella salad
by Sarah Alcock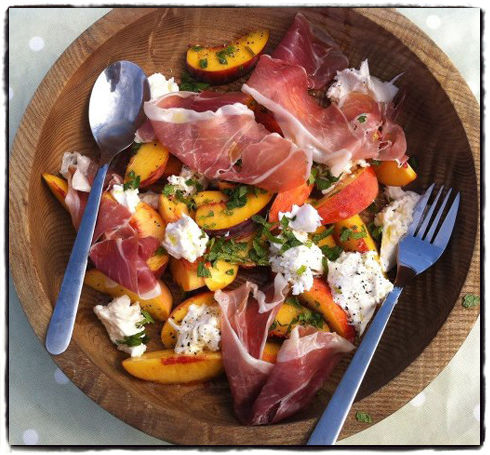 You voted on the blog for Karen Thurston's peach and mozzarella salad, so here it is. Make it for a lazy summer lunch in the garden served with toasted ciabatta and a glass of something bubbly!
If you would like the chance to have your recipe featured on our blog, email a picture of your homemade dish and a short description to feedback@sainsburysmagazine.co.uk.
Serves 4 as a light lunch or starter
Ingredients
6 ripe peaches or nectarines
2 x 125g packs Taste the Difference buffalo mozzarella, drained
8-12 slices Parma ham
2 tbsp extra-virgin olive oil
1 tsp clear honey
juice of ½ lemon
1 tbsp finely chopped mint leaves
Method
Cut the peaches or nectarines in half and remove the stones. Cut into slices and transfer to a large serving bowl. Spoon over any extra juice.
Tear the mozzarella into pieces and scatter it over the fruit. Drape over the slices of Parma ham.
In a jug, whisk together the oil, honey and lemon juice, and season to taste with salt and freshly ground black pepper.
Scatter the mint over the salad and drizzle with the dressing. Serve straight away.
Tip
For an autumnal twist, swap the peaches for slices of ripe pear and the mozzarella for Gorgonzola; scatter with toasted walnuts instead of chopped mint.
Don`t miss

---