Food
5 dinner party tips from River Cottage
River Cottage is all about championing and cooking seasonal and sustainable produce. Digital content editor Sarah went to The Imperial in Fulham to eat an eight-course (yes, eight!) tasting menu by Steven Lamb, River Cottage's resident smoking and curing expert. Not only did the menu feature loads of seasonal produce, but it threw up some great ideas for how to prepare these ingredients at home when entertaining...
Roasted onion squash, sourdough, purple sprouting broccoli and smoked Lincolnshire poacher
I've never served squash like this before as I always feel I have to chop it all up before roasting or stuff it to the brim. This was simply cut down the middle, roasted very slowly and topped with Lincolnshire poacher cheese so it melted into the soft flesh. Any melting cheese would work such as Comté or Gruyère. Serve it as a side or starter.
Slow-cooked purple cauliflower, almonds, cumin, yogurt and flatbread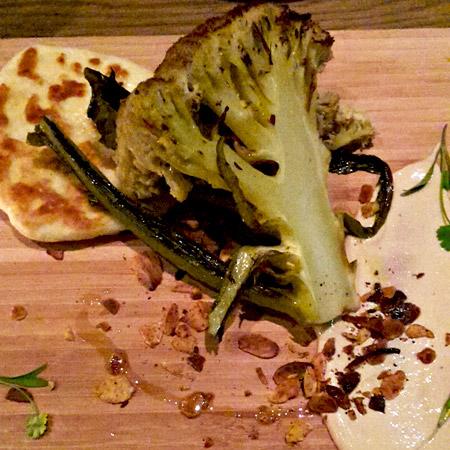 Who doesn't love cauliflower with a bit of extra spice?
Cauliflower is having its day. The spiced cauliflower was roasted whole so it was tender (including the leaves, which I'll definitely never throw away again!). The sweet yogurt made with mustard and syrup went perfectly with the very savoury cauliflower. It was scattered with toasted almonds for a bit of texture. What a great idea for a vegetarian main course.
Pan-fried flat fish, smoked butter, celeriac purée, celeriac crisps, winter leaves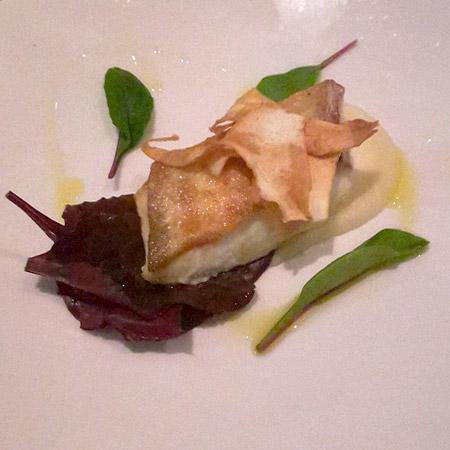 The most deliciously simple celeriac purée
Purée and crisps is a simple thing to do at home if you're trying to impress at a dinner party, and it's so easy. Celeriac purée can be made in the same way as mashed potato, but use a blender, sieve or potato ricer at the end to give it that really smooth texture. They made crisps using the celeriac skin (waste not, want not). Scrub the skin then simply bake at a high heat in the oven after coating with oil and salt.
Served as a palate cleanser, the sorbet was smooth like ice cream and I couldn't believe it didn't have any kind of cream in it. Making sorbet like this should be left to the chefs, but if you want to include a palate cleanser at a dinner party, a simple granita is a much easier dish to make and ready in just 20 minutes. Try our lemon and limoncello granita.
Rhubarb crumble, lemon and lime custard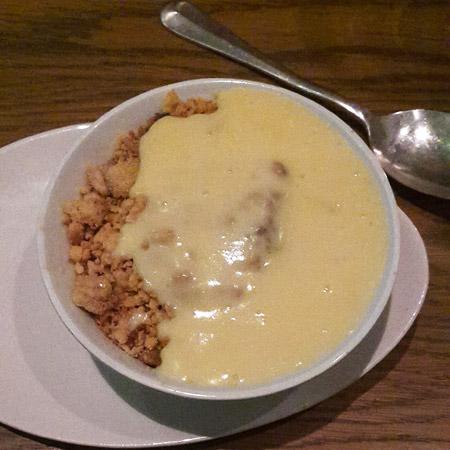 Mouth-watering, zesty crumble. Mmmm...
This was the best crumble I've ever had. The in-season forced rhubarb was stewed with a bit of lime, then topped with sweet, nutty crumble. The best bit was definitely the custard which was flavoured with lemongrass and kaffir lime leaves. It gave it a delicious zesty, Thai-inspired flavour. To make it at home, just bash some lemongrass and tear kaffir lime leaves and leave both to infuse your milk before making your regular custard.
About the author