Food
Eric Lanlard's chocolate and hazelnut muffins - In the test kitchen
Serves: 6
Here in the office, we really love chocolate. Barely an afternoon passes without someone handing round the sweet stuff, so when Eric Lanlard's new book Chocolat (Mitchell Beazley, £18.99) landed on our desks, there was no question which recipe we'd be trying first: cocoa-rich muffins dense with fudgy chocolate hazelnut spread – ideal for a tea-time treat. Eric suggests you serve them with a sprinkling of roasted chopped hazelnuts, but we've come up with a few other topping ideas you might like to try, too:
• Freeze-dried raspberry or strawberry pieces (you'll find them in the baking aisle)
• Carrot or button chocolate decorations – use a little icing sugar mixed with water to stick them to the cakes
• Melt a handful of white marshmallows in the microwave and dip the cakes into them to coat
• White chocolate chips
• A simple dusting of icing sugar
• Or simply devour them as they are while still warm!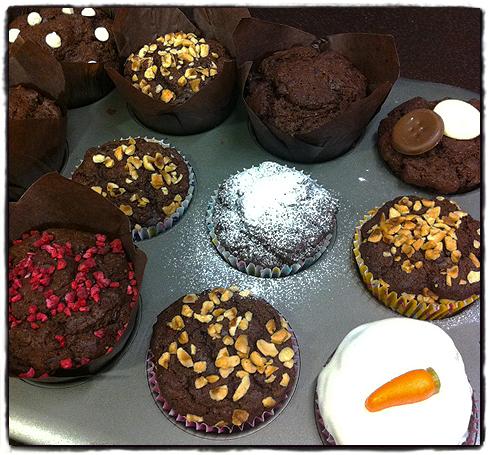 You can bake these in regular muffin cases, but we love these high-sided tulip-shaped varieties for a bit of extra glamour. They can be a devil to fill, though – the high sides mean you're likely to get cake batter all over the place. To make it easier, spoon your cake mix into a disposable piping bag, snip a wide hole in the end, then pipe straight into the cases.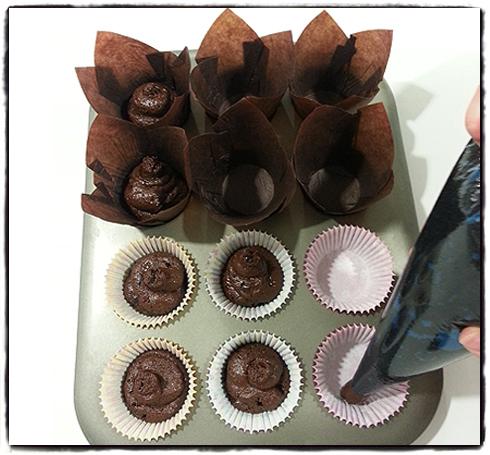 What's your favourite chocolate treat? Tell us in the comments box below.
CHOCOLATE AND HAZELNUT MUFFINS
Ingredients
75g dark chocolate, roughly chopped
50g chocolate and hazelnut spread
175g self-raising flour
½ tbsp baking powder
25g cocoa powder
50g golden caster sugar
2 medium eggs
1 tsp vanilla extract or paste
5 tbsp vegetable oil
4 tbsp whole or semi-skimmed milk
75g dark chocolate chips
50g roasted chopped hazelnuts (optional)
Method
Preheat the oven to 180°C, fan 160°C, gas 4. Line a 6-hole muffin tin with paper cases.
Gently melt the chocolate and chocolate spread together in a heatproof bowl set over a pan of barely simmering water.
Remove from the heat and leave to cool for a few minutes.
Sift the flour, baking powder and cocoa powder into a large bowl, then stir in the sugar.
In a separate bowl, beat the eggs, vanilla, oil and milk together using an electric hand whisk.
When combined, stir in the cooled chocolate. Fold the wet ingredients into the dry ingredients using a rubber spatula or metal spoon – don't over-mix. Stir in the chocolate chips.
Divide the mixture between the muffin cases, filling them three-quarters full, then sprinkle the hazelnuts (if using) over the top.
Bake for 20-25 minutes, or until a skewer inserted into the centre comes out clean.
Transfer to a wire cooling rack, leave to cool, then decorate with your chosen topping.
About the author