Food
Cook the books – Eat Drink Paleo cookbook
'Will it be mammoth steaks?' 'Pterodactyl and chips?' 'Cow's brains?'
My kids are trying to guess what I'm about to serve them up for Saturday lunch, having promised them 'caveman food'. I'm trying out a recipe from the new Eat, Drink Paleo Cookbook (Michael Joseph, £16.99) – the latest in a surge of recipes responding to the new interest in the Paleo diet.
Inspired by our hunter-gatherer ancestors, this diet focuses on whole foods such as meat, fish, vegetables, fruit, nuts and seeds. All the recipes in the book, say author Irena Macri, are grain and gluten-free and contain no legumes, processed sugar, artificial ingredients or chemicals...very on trend!
Celebrities including Anne Hathaway and Sir Tom Jones have been following it – and reported benefits include feeling more vibrant, getting better sleep and generally feeling more alive. Bring it on, I say, we could all do with some of that...
What did I cook?
So, having browsed through the book I settled on something that looked quick and tasty – mustard thyme quail. Mmm – not very caveman sounding, I think the kids might be heading for a bit of a let-down. But knowing that they'll love the flavours, I press on – although for a Saturday lunch, I downgrade the quail to chicken thighs (the recipe says it works just as well with chicken).
I whiz up the zingy marinade in minutes – which includes Dijon mustard, lemon zest, fresh thyme, turmeric and garlic – then massage it onto the chicken and pop it into the fridge to marinate for 15 minutes.
The recipe suggests serving it with baked leeks and carrots – sounds like a good idea – so I pop them in the oven along with a few sneaky little potatoes, and cook the chicken alongside.
Hey presto, about 40 minutes later, with the house full of delicious aromas, lunch is ready – the kids complain that it's not weird enough, but tuck in and declare it 'delicious – can we have it again soon?'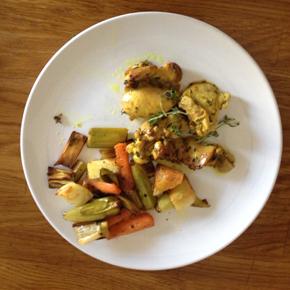 Mustard Thyme Quail
Serves 5
For the marinade
½ tsp turmeric
1 tsp Dijon mustard
2 tbsp fresh thyme leaves
2 garlic cloves, diced
½ tsp ground black pepper
1 ½ tsp sea salt
Zest of 1 lemon
2 tbsp lemon juice
125ml virgin olive oil
For the quail
5 whole quails
10 sprigs of fresh thyme
5 garlic cloves, peeled
5 slices of lemon
5 pieces of 30cm long butcher's string
To serve
2 medium cucumbers, sliced into ribbons
Handful of Thai basil
My favourite thing about quail is that you can have the whole bird to yourself and pull it apart, biting the succulent, tasty meat right off the bones. Nothing like licking oozing juices of your fingers.
Preheat oven to 190C (375F).
Place all marinade ingredients in a food processor and process until well incorporated. Smother all over the quail bodies and inside the cavities. Stand aside for 15 minutes.
Stuff 2 sprigs of thyme, a garlic clove and a slice of lemon inside each quail. Tie the legs with butcher's string and place in a deep roasting tray. Cook in the oven for 35 minutes. Remove and leave to rest under aluminium foil for 10-15 minutes before serving.
You can use the same marinade to roast a chicken, spatchcock or pigeon birds. Bake leeks and carrots on the lower shelf for a perfect side dish.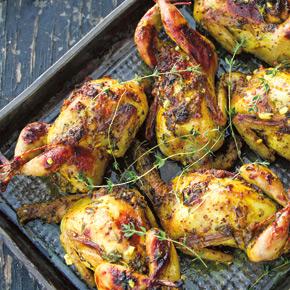 The book
If you're interested in getting in to Paleo cooking, this book is a good place to start. Irena explains in detail the principle behind which foods are allowed, and which ones are not (don't expect to eat any pasta or rice). She even includes her favourite blogs and websites like Paleo Britain, Cave Girl Eats and What Katie Ate, so you can go beyond this book when following a Paleo routine.
If you opened the book to the recipes, you wouldn't know this was a cookbook for a specific way of eating. The recipes, according to my kids, were too normal with the likes of lasagne, fish fingers and raspberry and honey chocolate torte interspersed with some more niche dishes like Asian chicken cakes, cauliflower couscous and chai banana porridge.
Would I cook from this book again?
Yes, definitely, but there are a few more fiddly, time-consuming recipes with lengthy ingredient lists (I probably don't need a porridge recipe with 15 ingredients) that I'll probably give a miss. There are some that I'll definitely come back to however. Next on my list is the banana muffins with strawberry butter...
EAT DRINK PALEO by Irena Macri is published by Michael Joseph and available from Amazon.
About the author