Food
6 things... to cook with turkey
Why do we always forget about turkey? Because it has a bit of a bad rep from the old turkey twizzler days, or do we just not know what to do with it? Catching up with TV chef Phil Vickery, we realised it's silly not to cook this inexpensive and low-fat meat outside of Christmas time, and that it's perfect for a whole range of midweek meals.
We watched turkey fan Phil cook up some yummy turkey dishes using some unexpected flavour combinations. Turkey with prawns, anyone?
Here are 6 great ideas to tempt you back to turkey:
1. Think turkey's too dry? Try velveting.
Coat 500g of turkey with half an egg white combined with one tablespoon of cornflour, a tablespoon of oil and a pinch of salt. Leave for up to a day before cooking (chill in the fridge), and it will prevent your turkey from drying out.
2. Summertime turkey alfresco
Sauté your turkey, then add warmed mango, pineapple, lime juice, a pinch of sugar and some chopped mint. Trust us – this is juicy and refreshing.
3. Quick curry
Cook chilli, cumin, cardamom and turmeric in a pan. Add some turkey and add a squeeze of lemon juice, then coriander and paprika to finish. Simple and delicious.
4. Zesty stir-fry
Phil shared one of Ken Hom's top tips, which is to start by blanching your peppers and harder vegetables for a few seconds, as our domestic kitchen pans don't get as hot as restaurant woks. Then stir-fry with your turkey, add soy sauce, and a tablespoon of lemongrass purée for an exciting, zingy finish.
5. Surf and turf-ey
Cook your turkey, add some freshwater prawns, a dash of fish stock, a splash of oyster sauce and serve.
6. Who doesn't love spaghetti and meatballs?
Sarah Randell's turkey meatballs with linguine are a sure-fire hit for any age and any occasion. Just try it!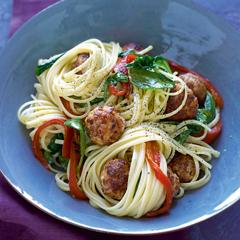 About the author