Food
5 easy ways to cook game
Do you ever cook game? You might order it in restaurants, but very few of us would opt for cooking pheasant over chicken at home. Sainsbury's looks set to change that, as it is stocking 13 new game products from November until February – everything from venison sausages to pheasant fillets.
We were given a lesson in cooking game at home from the king of Irish cuisine, Richard Corrigan (and his sous chef, Owen). He gave us some very easy but incredibly delicious ideas. So next time you're in store, don't walk past that whole partridge – pick it up and serve it à la Corrigan.
VENISION CEVICHE WITH CRAB APPLES
After a trip to South America, Owen came up with this delicious take on ceviche using venison. 'Don't be afraid of using zest with venison,' he says. The sour lime and fresh-tasting chilli with crunchy sweet crab apples (or you could use blackberries, cranberries – anything in season, really) tasted amazing against the melt-in-the-mouth, very meaty venison. This would make a fantastic – if slightly flamboyant – dinner party starter.
VENISON, RED CABBAGE SLAW AND WALNUTS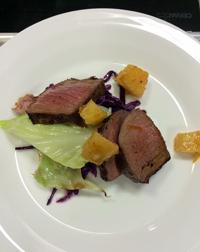 Pick up a pack of venison steaks and try seasoning them with pepper and orange zest before cooking. 'Venison is best served on the red side,' says Richard – so not too long in the oven after searing. Then serve with sweet quince (or pears), red cabbage slaw and walnuts. The sweet fruit again works so well with the rich, meaty venison.
GRILLED PARTRIDGE WITH SWEETCORN, PRESERVED LEMON AND CHORIZO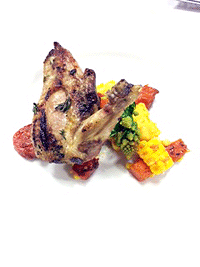 This is a great simple way to serve any kind of grilled bird – chicken would work well, too. Roast diced pumpkin with chorizo and preserved lemon, then mix with sweetcorn kernels to serve alongside grilled partridge. Partridges are only tiny, so you'll need a whole one each. This is a great way to use up pumpkin, too. It cooks in no time and goes really nicely with sweetcorn.
POACHED PHEASANT WITH APPLE, CHESTNUTS AND PICKLED PUMPKIN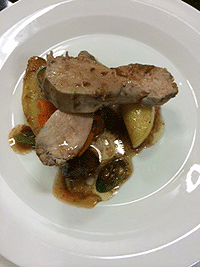 Richard gave us the great idea of using freezer bags and a pan instead of a fancy restaurant sous vide. Put a pheasant breast in each bag with orange zest, a tiny piece of dark chocolate, a dash of Calvados, a cinnamon stick and a small chilli, then seal.
While that's cooking, caramelise a couple of apples in sugar, and add chestnuts. If you want to be super-fancy you can make pickled pumpkin by shaving into thin strips and putting in a bowl with salt, vinegar and pickling juice.
Your friends will think you've got Richard hidden somewhere in your kitchen if you serve this up for dinner!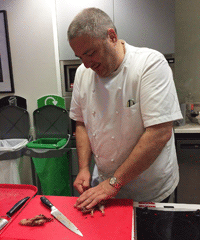 About the author